Enterprises sometimes find it daunting to complete a development project as per a specific timeline due to the scarcity of tach talent. Sometimes, a mobile app developer is on leave, a PHP expert is on vacation, or a testing expert is ill at the moment.
Permanently hiring another expert team player at high priority might not be a viable option when the deadline hovers on the head. Here, you would be required to take a smart move using an instant hiring model, namely staff augmentation.
Staff augmentation is a safe and flexible hiring model for companies. It allows recruiting an experienced professional on a temporary/project-wise basis.
Table of Contents 
What is IT Staff Augmentation?
How Does Staff Augmentation Work?
What is the Difference Between Staff Augmentation & Managed IT Services?
Why Consider Staff Augmentation?
When Should you Leverage Staff Augmentation?
What are the Benefits of Staff Augmentation for You?
What is Staff Augmentation?
IT Staff Augmentation is a flexible hiring model in which you hire technical and non-technical resources on demand. Instead of hiring a pool of talent within your organization, get external resources support for your ongoing project.
Simply say, staff augmentation services help you avail the desired external resource to meet your current project requirements. In the context of software development, SA allows you to hire skilled developers having expertise in a particular technology.
Key features:
* On-demand external resource hiring
* Instant availability of developers, testers, and other professionals
* Hire for current project to meet deadlines
* Get real-time resource assistance on a contractual basis
* Augment organization capacity & fulfill the talent gap
How Does Staff Augmentation Work?
Enterprises must have proper resources and extensive talent at their disposal to ensure timely project completion. In the absence of the required skilled professional, staff augmentation services come in handy to meet the talent requirements. Here is a closer look at how SA works for you.
Determine your requirements: The initial step in the process is determining your needs for a particular technical or non-technical expert. It ensures whether you require a developer, tester, migration expert, or any other professional. Also, determine the skills required, time, and budget for hiring external talent.
Sourcing the talent: Next is to look at a reliable talent source. Not all staff augmentation service providers are equal in terms of providing the required resource. Ensure the staff augmentation partner based on available talent, boarding time, expertise, and previous set of work.
Quick on-boarding: Once you onboard a talent, next is defining the roles and responsibilities. It ensures that there is no confusion about performing the required task and that too in a specific timeline.
What is the Difference Between Staff Augmentation & Managed IT Services?
When selecting a suitable external IT talent hiring model, you might across managed IT services and staff augmentation. Not two models are same and you can see the difference between the two in the following table.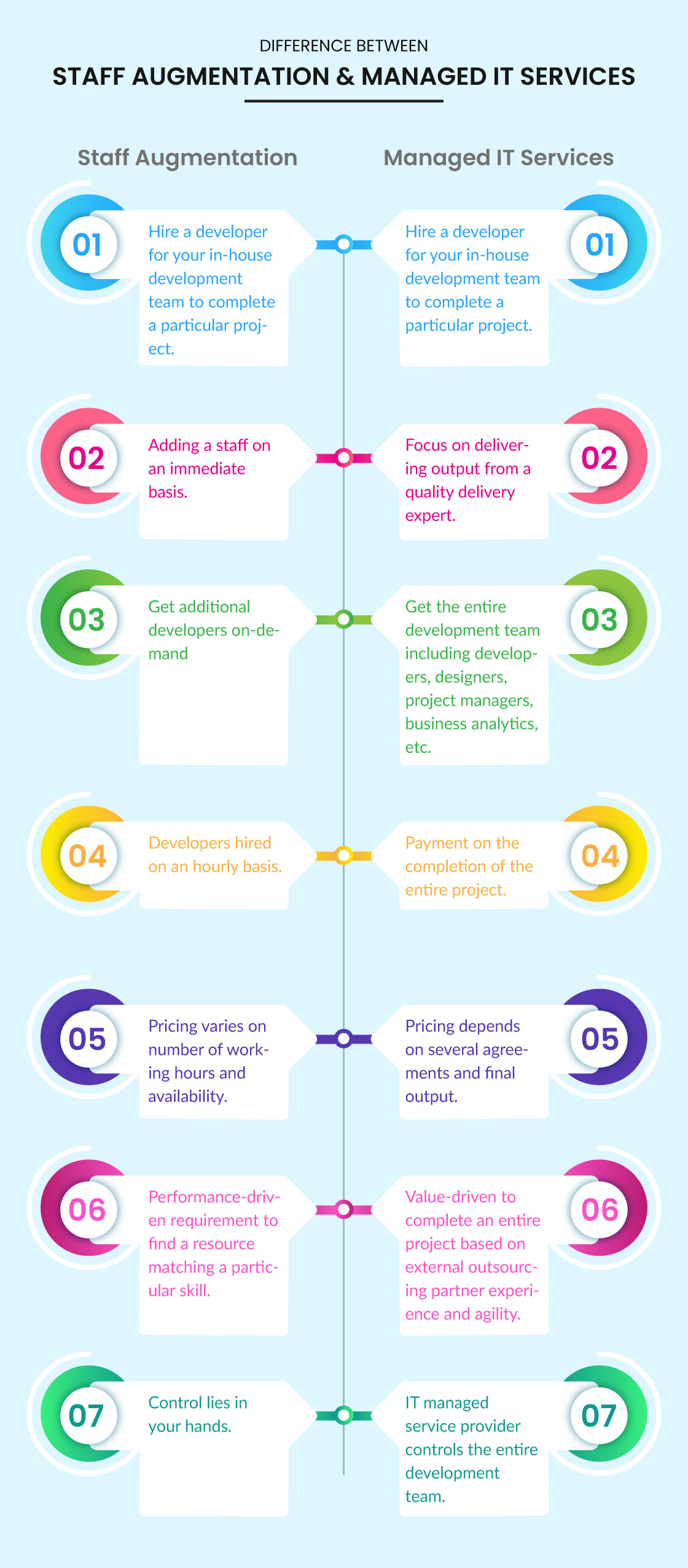 Why Consider Staff Augmentation?
Unexpected or temporary staffing problems can hinder the ongoing project's progress and delay the completion timeline. Implementing the staff augmentation strategy is an effective approach to getting expert professionals without a lengthy hiring process.
On the other hand, there are several reasons for augmenting your staff with an external resource.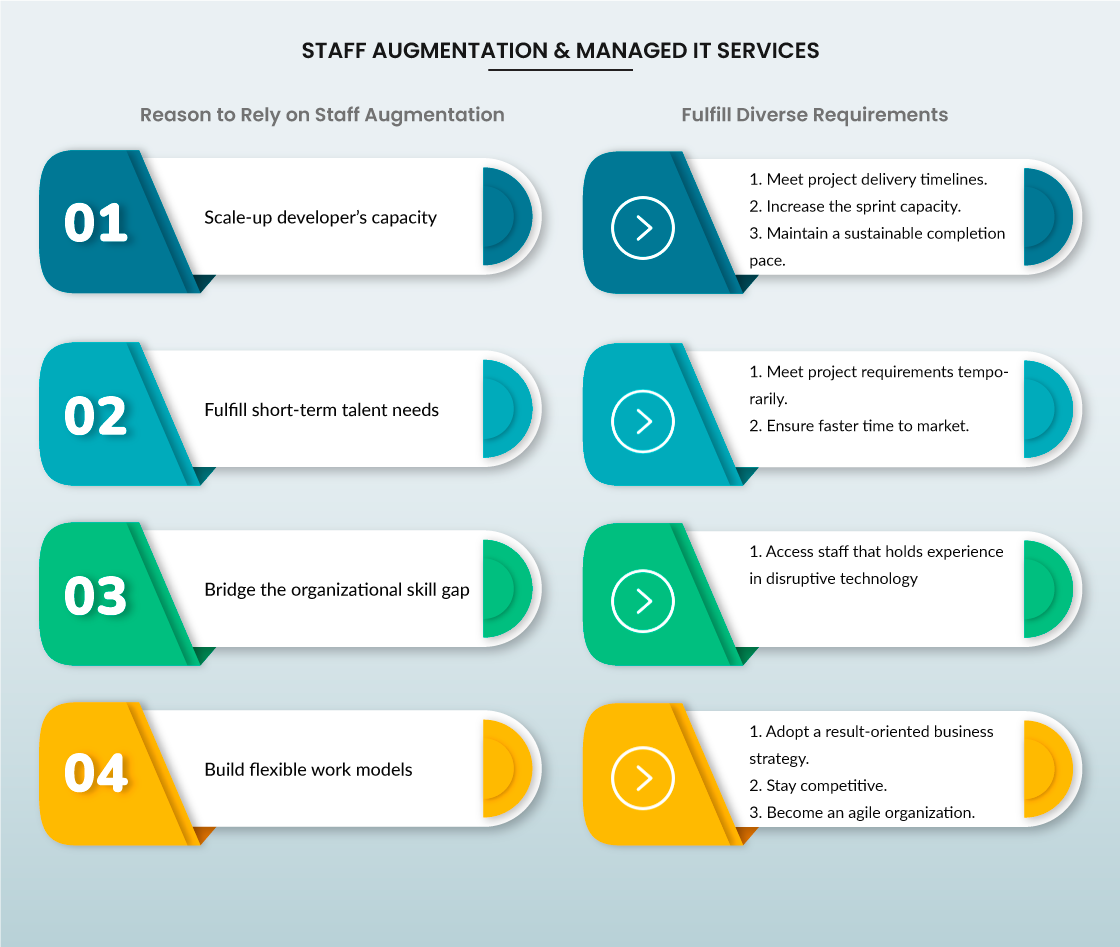 When Should you Leverage Staff Augmentation?
Increase Staff Capacity: Augment the required staff when you find the need for the urgent spike in resource capacity without undergoing a lengthy process. Increase the team capacity by hiring a talent working with your in-house team within your organization or remotely.
Use Specialized Skills: When you require an exclusive skilled person in your time, count on staff augmentation. Build a flexible team of professionals within the organization without facing the cumbersome recruitment process.
Bridge to Hire Instantly: Staff augmentation acts as a bridge to provide capacitive professionals with the right skills and at the right time.
What are the Benefits of Staff Augmentation for You?
Staff augmentation is an easy go-to option when permanent staff appears challenging or expensive for your organization. Check out some ad-on benefits of relying on augmenting your staff whenever find necessary.
Enhance Productivity: In this model of hiring, you have the flexibility to hire professionals from an outside organization working on your project. A dedicated talent will work on your project without interruptions or delays, and further showcase enriched productivity.
Cost Saving:One of the significant benefits of staff augmentation for external resource hiring is narrowing down the cost. You need not spend a hefty amount on recruiting permanent staff members in the organization. The cost of augmenting your staff from an external partner comes nominally only to the fees you pay to the service provider.
Save Time: It takes less time to hire a developer from an external hiring partner compared to permanent hiring. You need not get involved in filtering a range of candidates, rounds of interviews, training, and final orientation. Staff augmentation providers manage it all and provide you with a ready pool of talent.
Staff augmentation is a reliable solution for organizations to diminish costs while hiring a particular technical or non-technical staff member. It provides you the flexibility to hire developers instantly and that too at a low cost to meet essential business requirements.