Day to know this Amazing World
The building blocks
Introduction to Android:
What is Android Technology?
Open Source? / Operating System? /Development Platform? / Hardware?
Versions of AndroidDiscussion on versions right from the first one termed as Android Beta to the latest version codenamed Marshmallow. (6.0)
History of Android
Development Concepts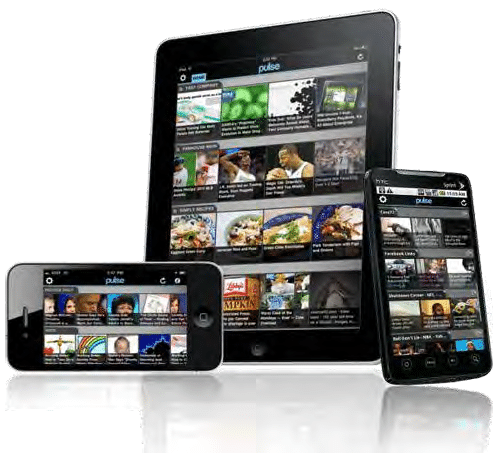 OHA (Open Handset Alliance)
Open Handset Alliance : 84 corporate Giants work for Android Development
How an Android application and device comes into the market?
Selling an App on an individual or organizational level
Architecture of Android:
Basics of the Android Operating system to understand the relation and workingof an application with the compatibility of hardware
Linux Kernel
Virtual Machine – Porting Platform of an App
"Dalvik Virtual Machine" vs "Java Virtual Machine"
System Layers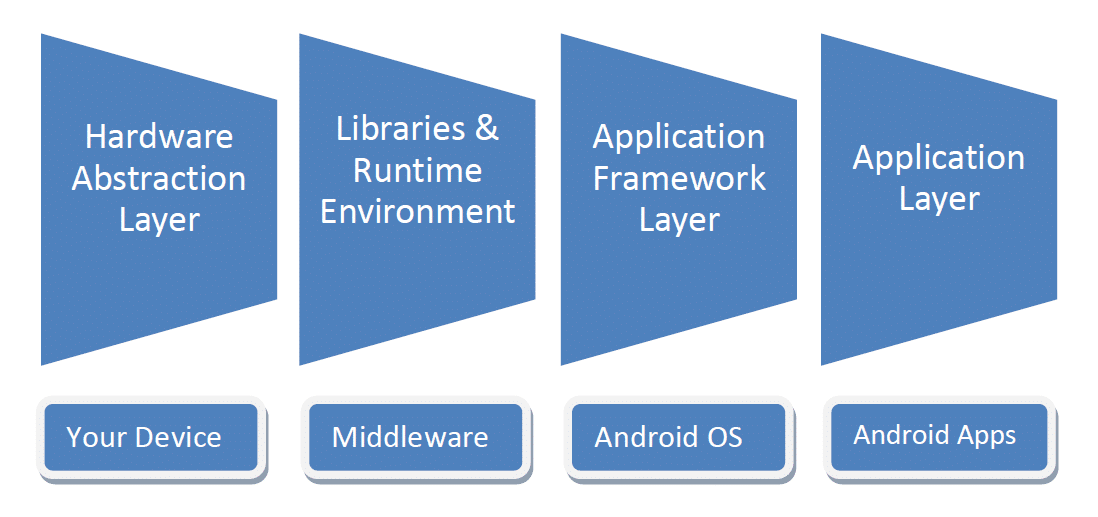 Introduction to Android Application Development:
Installation & Deployment
Making your system ready to start developing apps is not a hard nut to crack with us, You don' t need:
Internet connection to download the updates of the software
To disable / un-install any of your anti-virus system
To worry about the operating system you need, be it a Windows, Linux or Mac orany operating system available on the planet.
All you need is to use our "Android Application Development Toolkit " specially designed by orangemantra' R&D team.
Creating development environment in your PC
Android Development Toolkit (ADT)
Android SDK
Downloading
Installation
Updating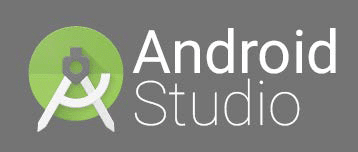 IDE (Auto Code Generator Tool)
What is IDE?
Concept &emp; Benefits of Eclipse IDE
Using Eclipse as Android App Development Tool
How to work on android studio
Java Development KIT (JDK)
Android Virtual Device (Emulator)
Debugging Concepts
Without tools
Simulator
Using Android Virtual Device
Usage
Pros &emp; Cons of Android Virtual Device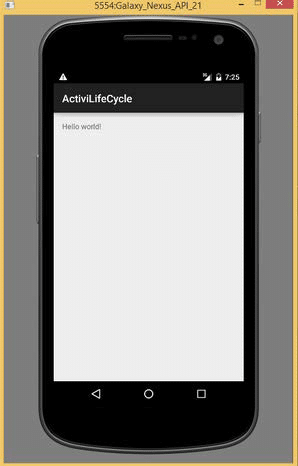 Practical Hands-On
Basic Building Blocks of an Android Application
This session is specially designed by the qualified trainers in order to let the trainees grab the knowledge as well as the live visibility of their codes running which they were not even aware of. Special techniques which will help them create and to innovate the new apps with the advent of their own creativity.
Structure of an application
Constituents of app when we start thedevelopment
Predefined folders and files in an app project
Executable file of an Android app
Understanding 'AndroidManifest.xml' File
Concepts of Layout for User Interface
Components of an application
Difference between Apps, Widgets &emp; Services
Activities – Base of an application
Services
Content Providers
Broadcast receivers
Intents
Android-Manifest
Application Resources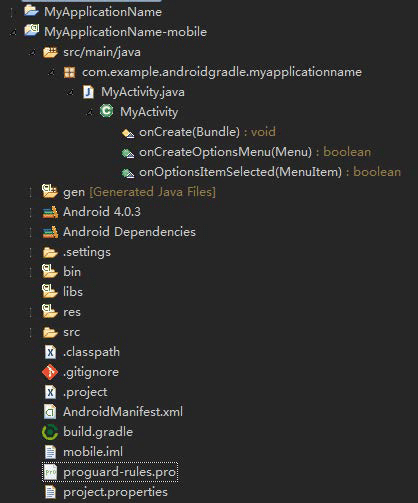 Working with Activities and Intents:
Creating an Activity
MVC framework
Creating 'Model' (main source code)
Making 'View' (Visual Appearance)
Controlling by 'Controller'
Final Activity
Activity Stack
Concept of Fragment and Task
Intents Concepts
Declaring the Intent
Launching an Activity
Switching between Activities
Intent Filters
Handling Rotation
Other use of Intents
Handling Activity Lifecycle events
Understanding the Aftermath:
Let' s test what we have learnt for the day
What components of an app which can be customized?
What are the codes which we have to remember in our mind?
How using IDE is different from the command line development?
Do I have to learn Java first to start off the Android app development?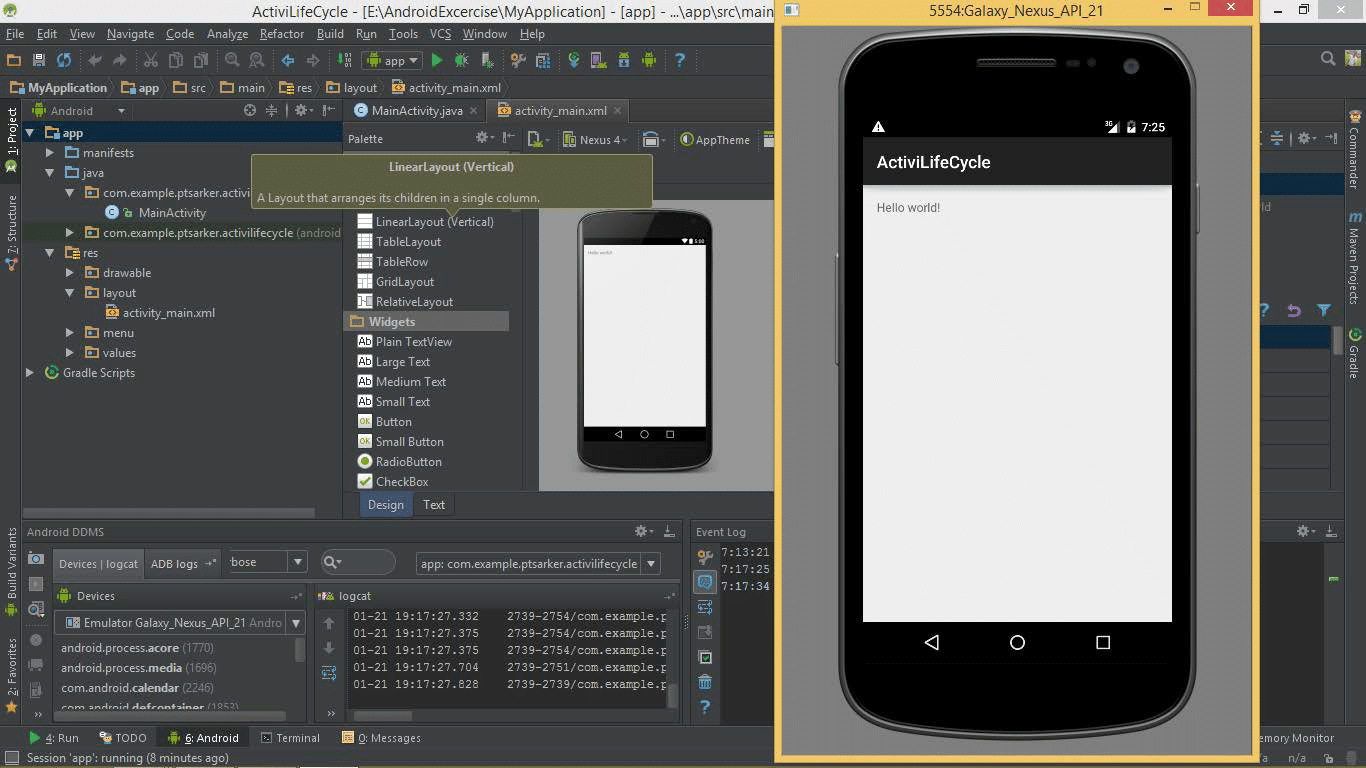 Fire up the codes
Making Interactive User Interface
Using Common Components
Button, Labels, Text Boxes
Radio button, Radio Group, Checkbox
Slider, Progress Bar, Rating Bar
Advanced Components
Date/ Time Picker, Image, Video
Menus, Zoom in-out
The Eye Candy
Toast, Alert Messages
Notification
Applying Style & Themes
Application Resources(System Apps)
Types – like image, color list, Animations
Providing resources
Accessing Resources
Different Types of Layouts
Linear Layout : Horizontal/ Vertical
Relative Layout, Table Layout
Views : List, Grid, Scroll
Employing Phone Features in your Apps
Content Providers
Search over Internet &emp; internal device search
Embedding the WebKit Browser
Loading it up
NavigationSetting, Preferences &emp; Options
Using service providers in the apps
Making Calls(Audio / Video)
Answering / Decline calls
Sending SMS / Reading SMS
Communicating through e-mail
Getting into Serious Business
Getting User Location (GPS)
Creating Google Map Applications
Search yourself or your friends on the go!
Mapping with MapView and MapActivity
Playing with Multimedia
Listening Mp3(Audio)
Opening Video files
Recording Audio
Browsing Images(Gallery)
Capturing with Camera
Data store
Setting Preferences
Accessing the Files
Internal Storage (Phone Memory)
External (SD Card)
Advance operations
Communication through Bluetooth/Wi-Fi
Sending Signal/Data/Text via Bluetooth
Bluetooth/Wi-Fi used in gaming
SQLite Database: Connection, Data Storage and Querying
Accelerometer Concept
Getting input from Accelerometer
Google Play
Followed by the above sessions, the aspirants will be given information about:
Signing and Publishing applications to the Google Play [formerly known asAndroid Market]
How to be Google Authorized Android Developer
On Demand Apps Development
Project Discussion on Android
Deliverables to the Participants:
The Participants will be certified as "Certified Android Application Development Expert v1.0 " by orangemantra.
Complimentary "Android Application Development Toolkit " for each participant
Project assistance and e-mail support after the workshop
Note:- The number of day's could be extended further subject to availability