Our teams are working remotely to meet your tech requirements promptly – Contact us Today !
Salesforce Development Services
Tapping into business transformation with Salesforce
is the key to reaching your growth objectives.
Let's help you do it!
Talk To Us
Our Salesforce experts who can help you in achieving your vision!
Salesforce has deservingly earned the reputation for being the number 1 CRM, with its potential to drive world-class innovation, growth, and efficiency for businesses. Whether you are considering Salesforce implementation for the first time or have already implemented it as your CRM, our certified Salesforce consultants help you in adding the value to your customer relationships. We help you leverage the immense benefits of this platform to build deeper relationships with customers, increase the user adoption, and empower your employees with tools and strategies that boost their productivity. Our services encompass architectural definition, agile implementation, ecosystem integration, global rollouts, application modernization, and support services.
Our Salesforce CRM Development Services
Sales Cloud and Service Cloud
We assist businesses with the implementation of Sales & Service Cloud for getting closer to their goals. Beyond leveraging the standard features of Salesforce, we develop customized functionalities that match the customers' needs.
Community
Our Salesforce team has the right expertise required for implementing Communities for businesses. During our stint with Salesforce, we have developed complete custom communities that perfectly match the customers' business websites.
Integrations
We have worked extensively for integrating on-premise and cloud-based Systems to Salesforce CRM. ERP Integration, Ecommerce Integration, Accounting Integration, and Cloud Telephony are some of the integrations we have majorly worked on over the years.
Lightning & Data Migration
We leverage our extensive experience and best practices to facilitate seamless lighting and data migration. Migration from Salesforce classic app to Lightning App is our forte. Businesses require a well-thought migration strategy along with mapping of data for a successful shift into Salesforce platform.
Consulting
Our Salesforce Consultants are seasoned professionals who assess business requirements and identify the potential areas of improvement. Further, they help in determining how Salesforce can best address the specific needs and challenges of the business.
Support & Maintenance Services
Our Salesforce support and maintenance services include one-time ad hoc support along with ongoing maintenance support (AMC). We extend reliable level 1 and level 2 support for your Salesforce implementation. For level 3 support, we coordinate with Salesforce.
Why Choose Us As Your Salesforce Expert?
Experience & Expertise
Our team of seasoned consultants and developers is capable of developing and implementing an optimal solution that best matches your business goals while taking advantage of the features and functionalities of Salesforce.
Business Knowledge
We have the in-depth business and technical knowledge to completely understand your business and provide a best-in-class technology solution that aligns with the ever-evolving business landscape and requirements.
Agile and Lean Mindset
We follow an agile approach, which coupled with a lean mindset, drives agility and efficiency for development and implementation of Salesforce solutions for our clients. We make sure that things are done faster than you expect!
Complete Suite of Services
A broad spectrum of services we offer allows us to leverage them and extend a holistic Salesforce solution without constraints. Just leave everything about Salesforce implementation to us and focus on your core business.
Let's help you accelerate adoption and business growth with Salesforce implementation for your business.
Success Stories
Salesforce implementation for a retail client
A comprehensive CRM platform that offers a unified UI for the sales team and empowers them to streamline sales and customer support functions.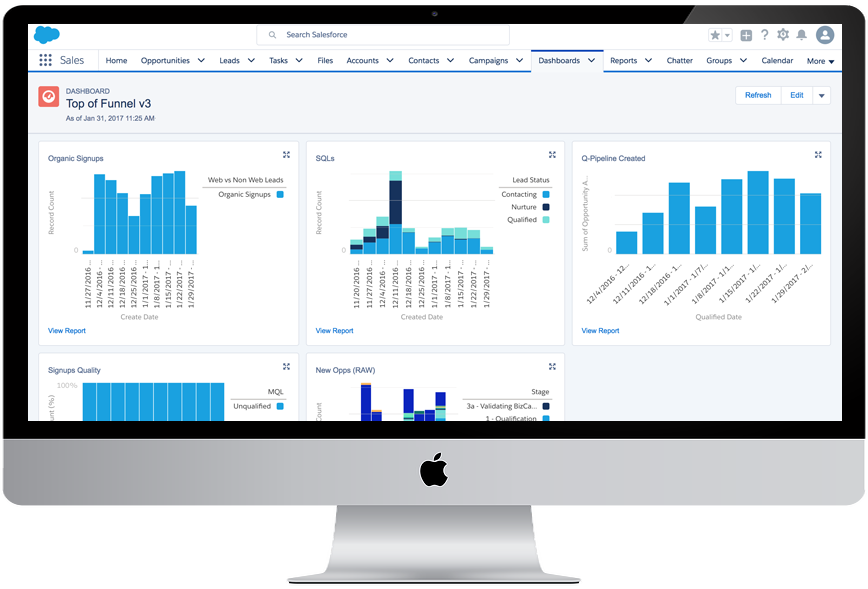 test