Our teams are working remotely to meet your tech requirements promptly – Contact us Today !

We Build Powerful, Scalable, and Innovative Yii Web Applications
If you are looking for optimized web application solutions that address business-specific challenges, Yii framework emerges as an excellent option. The powerful PHP framework lives up to its name….Yes it is!! It renders exceptional performance for building unmatched enterprise-grade PHP applications with minimal efforts. OrangeMantra offers expert Yii development services to build object-oriented applications that match the diverse requirements of the clients and deliver value for them. Our innovative mindset is focused on translating ideas into reality, with powerful Yii applications that drive results for the business.
Our Service Offerings
Explore the plethora of Yii development services that we offer
Yii Web Application Development

Creating futuristic and feature-rich Yii web applications that add value to your business

Custom Yii Website Development

Building custom Yii websites that perfectly match the unique requirements of your business

Yii CMS Development

Rendering performance-oriented and reliable CMS solutions by leveraging the potential of Yii

Yii Shopping Cart Development

Enriching the shopping experiences with feature-rich and appealing Yii shopping carts

Yii Enterprise Solutions

Driving operational efficiency and comprehensive growth with high-power Yii enterprise solutions

Yii Migration Solutions

Enabling a seamless transition from any other platform to Yii with reliable Yii migration solutions

Third-Party App Integration

Integrating third-party apps with the Yii web applications to enhance their functionality

Theme and Design Integration

Enhancing the application's look and feel by integrating it with captivating Yii themes and designs
Business-Focused Web Solutions Only With Yii
Scalable-Flexible-Reliable
Yii is a framework that brings multiple features, unmatched security, and unbeatable speed that make it one of the most developer-friendly PHP frameworks today. Our developers leverage the best it has to offer and deliver extraordinary web solutions for the clients. Explore our Yii expertise as we have developed diverse solutions with this feature-rich framework
Enterprise CMS
Custom Enterprise Applications
E-Commerce Websites
Business Websites
Web APIs
Internet Portals
Web Forums
Social Networking Applications
Benefits of Choosing Yii Framework for Web Development
Proven MVC Architecture

Makes the development process simpler by separating the business logic from UI considerations

Powerful Extensions

Offers a number of pre-built extensions to enhance the applications with additional features

AJAX widgets

Provides AJAX widgets that render high speed for application loading along with reduced coding needs

Unmatched Security

Brings reliable security measures to prevent attacks such as SQL injection, cross-site scripting (XSS), and more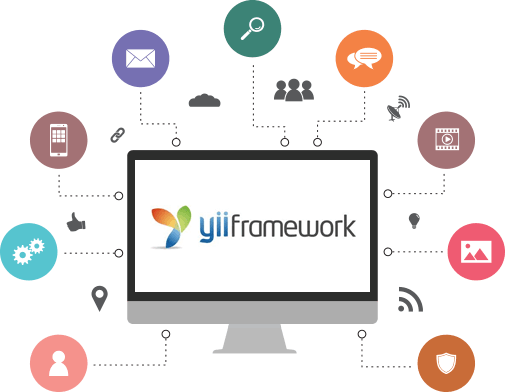 Versatility

Enables the use of third-party codes such as those from Zend Framework and PEAR, which makes it highly versatile

Built-in Authentication

Comes with built-in authentication and authorization which enables role-based access to the applications

Advanced Caching

Extends advanced caching features that ensure faster-loading speed and better user experiences

Functionality and Unit Testing

Renders functionality and unit testing for enabling the creation of high-quality applications
Why Choose Us?
Reasons That Make Us The Best Yii Development Partner
A developer team with high proficiency in Yii, AJAX, CSS, and HTML5

Focus on delivering user-friendly and reliable solutions

A client-centric approach that lays emphasis on custom solutions

Services that adhere to the highest quality standards

Adherence to timelines and delivery within the stipulated period

Flexible hiring models with hourly, part-time and full-time options

Reliable, round-the-clock support for immediate issue resolution

A dedicated team that is always open to communication
Looking for a reliable Yii development partner for your next project?
test