Our teams are working remotely to meet your tech requirements promptly – Contact us Today !
Magento vs. Shopify – Overall facts & features
Magento is an open-source eCommerce development software written in the PHP programming language. Shopify is a self-hosted eCommerce platform built on the ROR framework. Shopify offers dedicated customer support. Magento eCommerce solutions are supported by a global community of eCommerce developers.
Magento
Magento is an open-source eCommerce platform used widely by developers worldwide.
Magento requires a third-party hosting services for running an online store.
Magento offers immense scope for customizing your eCommerce website.
With a robust server and experienced eCommerce developer, you can build uniquely personalized online stores.
Most businesses hire Magento developers to custom-build and maintain their online store.
Magento 2 is the latest version of the eCommerce platform.
Major Advantages of Magento
Enables you to have full control over customer experience
Highly scalable, so evolves as your business grows over time
Allows you to manage multiple stores in different countries, languages & currencies
The Extensions Marketplace offers a diverse range of extensions, features, & tools
Easily compatible with business-to-business (B2B) eCommerce transactions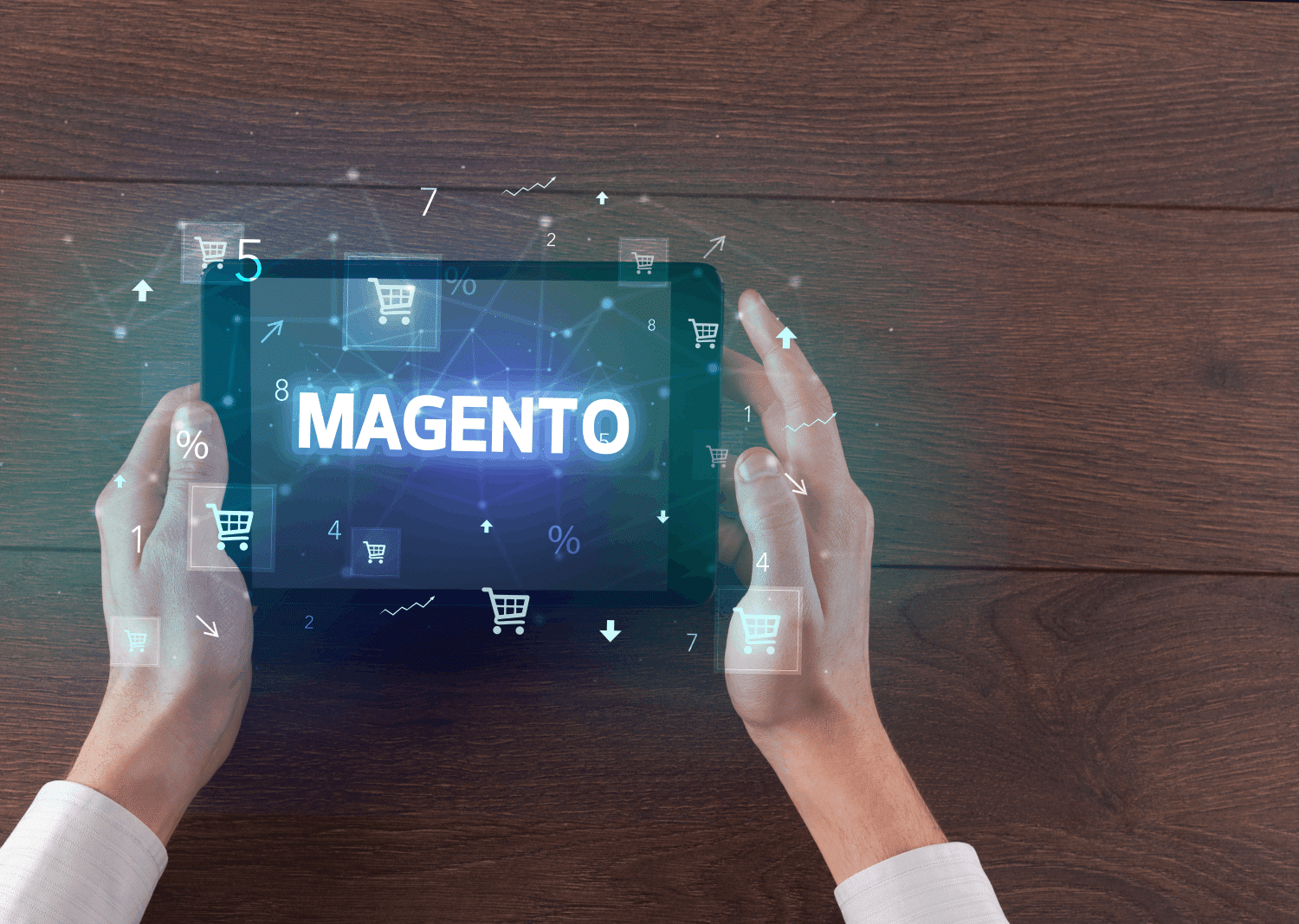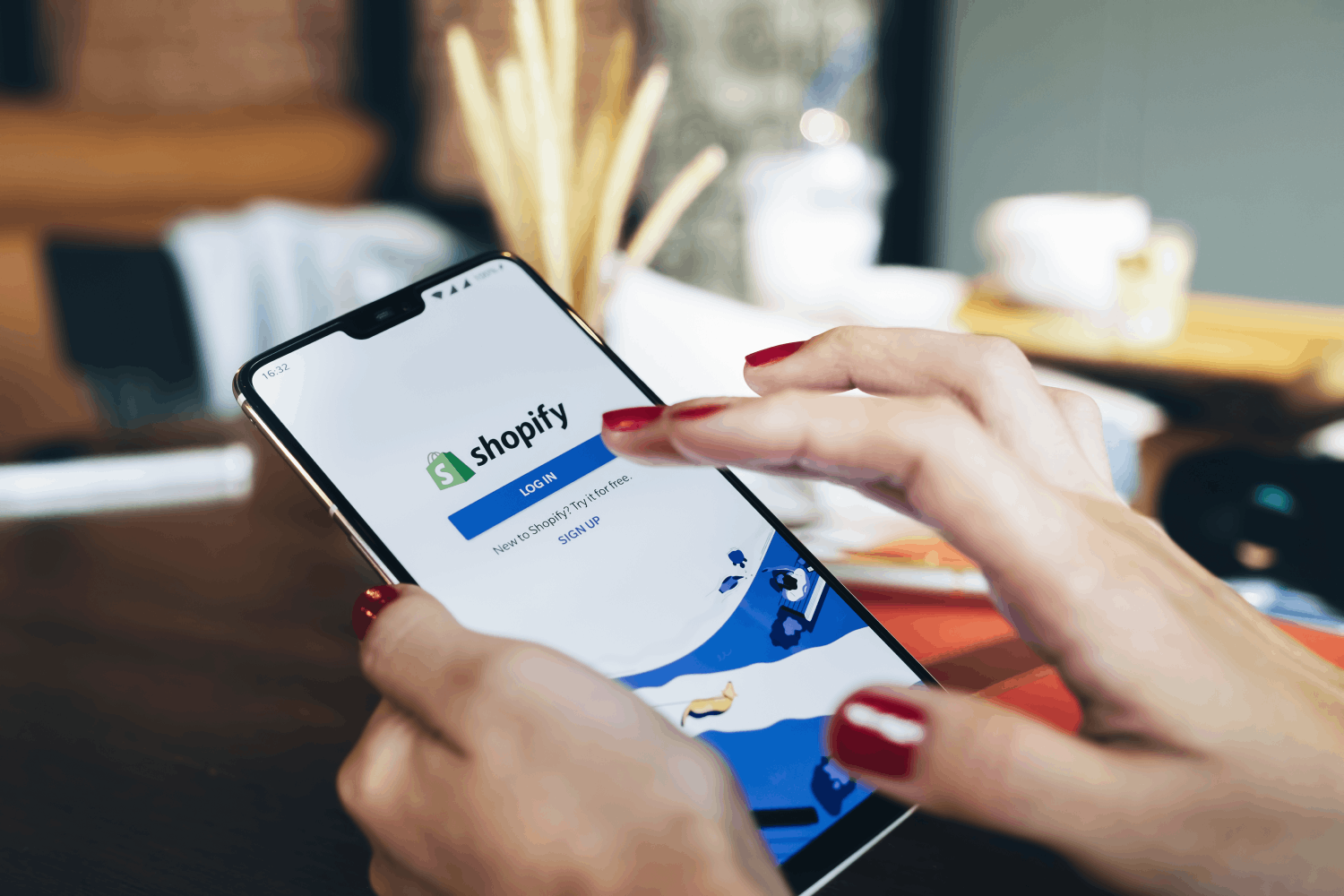 Shopify
Shopify is a self-hosted eCommerce platform designed with store merchants in mind.
With Shopify, you don't ha ve to worry about hosting your online store and managing a server for optimal performance.
You get less scope of customization than Magento. But customizing your Shopify store is simpler.
Shopify Plus is a premium version of the eCommerce platform.
Major Advantages of Shopify
Easy to build your store without using any kind of coding
Self-hosted platform, so you don't need to manage a server
Suitable for independent retailers and small businesses
24×7 customer support offered by Shopify itself
Wide range of mobile-friendly store from themes.
Magento vs. Shopify – Comparing Key Parameters
While Magento is focused on offering experience-driven eCommerce, Shopify provides a one-stop solution for all online commerce needs. Both platforms offer the immersive user experience for sellers and buyers alike. 
Here's a comparison between the two based on parameters that are most crucial to online commerce.
1. Hosting
Hosting is technically the first most important thing when it comes to running an online store. Keep in mind that custom hosted and self-hosted eCommerce platforms work differently.
Magento
Most of Magento users choose third-party hosting services due to superior customizability.
However, Magento provides both third-party and Magento Cloud-based hosting options.
In Magento Cloud commerce, your site is completely hosted by Magento's in-house team.
In Magento Community & Magento Enterprise versions, you need to choose third-party hosting services.
Hence Magento offers more flexibility in terms of design and functionality.
Shopify
Shopify offers its own hosting and you don't have to look for a different hosting service.
By maintaining the domain and hosting needs Shopify lets you focus on your core business.
But self-hosting also creates limits when it comes to customization.
Shopify offers 24×7 customer support to its users.
2. Ease of Use
Ease of use means how smoothly one can operate the online store even without technical skills. Shopify has a simple design and easy-to-use even without any guidance. Magento offers a comprehensive user guide for developing and operating an online store.
Magento
It offers impressive flexibility that enables you to build a fully integrated eCommerce solution.
Diverse customization options are available. You can create a UI according to your design preferences.
Magento provides a detailed user guide to develop and eCommerce solutions.
Shopify
Shopify offers drag-and-drop functionalities to design and develop a website without any coding skills.
You can integrate custom images and themes using these editors.
Payment gateway integration is simpler too.
3. Themes & Customization
A custom theme and design enable you to create an eCommerce website according to your target audience. Design frameworks and themes play an important role in the overall look and performance of an online store.
Magento
Magento offers free and paid highly responsive themes.
You get unmatched customization options to choose from Magento Marketplace.
You can buy a theme and customize it according to your preferences.
Incorporate animations, add product sliders, cross-selling buttons and much more to make the website engaging.
 
Shopify
Shopify offers a wide range of themes. You need to pay for most of the themes.
Once you've purchased the theme, you can customize it according to your choices.
All the themes offered by Shopify are mobile-friendly.
4. SEO Friendliness
Most online shopping begins with a general search on Google or other search engines. That's why SEO is so critical to the success of an eCommerce website.
Magento
Magento websites rank better than Shopify and other eCommerce frameworks.
Magento enables you to efficiently manage SEO factors like product descriptions, meta-descriptions, page URLs, headings, etc.
Also, Magento-based websites have impressive speed. Website speed has a remarkable influence on conversion rate.
Checkout is easy and quick on online stores build on the Magento eCommerce framework.
Magento 2 offers unique features like automatic guest checkout, distraction-free checkout, and one-click account creation.
Shopify
Shopify, too, offers engaging checkout options for buyers.
One downside is that business owners with lower pricing plans can't view real-time shipping rates.
Shopify allows you to edit meta tags and optimize inventory according to SEO requirements.
You cannot make any server-level configuration since it's a self-hosted platform.
5. Payment Processing 
Payment processing comes at the end of an online shopping journey. But it's one of the most important parameters, mainly due to available payment channels and security-related factors. Both platforms allow you to add diverse payment options.
Magento
The process for setting up a payment gateway is lengthy but easy. First, you need to download the extension of the payment processor and integrate it into your website.
All major payment gateways, are available on Magento Marketplace, including Amazon Pay, Google Pay, and PayPal.
The most striking feature of Magento here is that it supports payment processing in different currencies and languages.
That's why Magento is preferred by businesses having international transactions.
Shopify
Shopify has its own payment processing channel called Shopify Payments. It's easy to use.
With Shopify Payments, you don't have to pay extra transaction charges.
You also have options to other payment gateways of your choice.
6. Product Management on Store  
The efficiency of your online store depends greatly on how you manage products/inventory. Magento and Shopify are two completely different platforms when it comes to product management.
Magento
Magento mainly serves medium and large businesses and product categories differs greatly from business to business.
It enables you to add wide variations and complexities across product categories.
Magento offers product management categories like configurable, bundled, and virtual products.
Shopify
Product management options on Shopify are limited in comparison with Magento.
You can add two types of products: Simple and configurable. These categories perform best with standard catalogs.
Product management on Shopify is best-suited for small businesses and independent retailers.
7. Customer Support   
Customer support is critical to the consistent performance of your online store. Be it speed of the website or a troubleshooting, we usually count on technical support. Your access to customer support varies greatly depending on whether you use Magento or Shopify. 
Magento
If you use Magento Community, which is mostly the case, you'll get support from a global community of developers.
You can also leverage the large number of Magento Forums that are out there.
If you use a paid version (Magento Enterprise & Magento Cloud), you'll have 24xt customer support provided by Magento.
Also, you can count on the technical support of a third-party hosting service or Magento development company you choose.
Magento eCommerce development companies usually have a dedicated customer support team.
Shopify
Shopify offers 24×7 dedicated customer support for all its users.
You can also use the support documents on Shopify's website.
Shopify also has knowledge centers and discussion forums.
Conclusion – Magento or Shopify?
Which One You Should Choose 
We suggest you to thoroughly analyze all the features and functionalities offered by both Magento and Shopify before you decide. However, if you are a medium or large enterprise, we recommend you choose Magento. Magento has many unique features that are specially designed for medium and large enterprises. If you run a small business and planning to venture into digital commerce, Shopify would be more suitable for you.
Many businesses also want to migrate their existing online stores for better performance and conversion. In that case, Magento would serve you better. Choose a suitable vendor that can efficiently migrate your existing eCommerce website to Magento. Ultimately, the decision is yours!
Frequently Asked Questions
When choosing the right eCommerce platform, you need to consider the following:
Ease of use
Features
Hosting
Theme Selection
Performance
SEO
Payment solutions
Extensions and Apps
Inventory management
Scalability
Security
Development Costs
Luckily, the Magento 2 platform meets all the above-mentioned requirements
The major reasons to upgrade to Magento 2 from Magento 1 are as follows:
New technologies added: Apache, NGINX, Varnish, Composer, Symfony, Redis, and more
Supports PHP7 version which improves optimization and customization
Page loading time is 50% faster than Magento 1
Customer-friendly, easy-to-navigate, and intuitive dashboard
Supports advanced built-in security options, for example, SHA-256 (Secure Hash Algorithm 256) for passwords
HTML5, CSS3, Require.js made installing extensions and updating features simpler
Introduction of Ajax Add-to-Cart, checkout functionality, advanced reporting and marketing options, dependency injection, and more
. Yes, why not. We offer a fast, reliable, and smooth Magento 2 migration service as a part of our full-cycled Magento 2 development services.
test