Our teams are working remotely to meet your tech requirements promptly – Contact us Today !
Superior Quality Mobile Application Testing Services
It is observed that 25% of smartphone users delete an application after a single use and never re-install it in the future. This means all the time, money, and effort spent on developing an application goes in vain. So, how to lower this alarming rate? Superior quality mobile app testing services is the solution that you need.
From functional and non-functional app features to mobile technology specifics including screen resolutions, mobile gestures, and operating systems, our mobile app test engineers will look into each factor that may affect your app's performance and functionality. We will test your mobile apps built for various platforms and devices to ensure they offer an excellent user experience with rich functionality and are 100% bug-free. We employ cutting-edge mobile testing tools and techniques to deliver end-to-end mobile testing app services and help you launch your product as fast, and as efficiently as possible.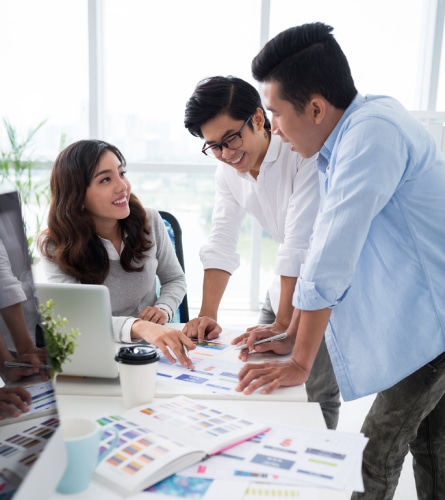 Our Wide Spectrum of Mobile App Testing Services
Compatibility Testing
We ensure that your mobile application is installable and compatible with all target platforms and devices.
Display Testing
We test your app for any touch/usability issues across multiple display options and ensure all images are displayed as they should.
Input Testing
We ensure that all input including tap, swipe, press/touch, double touch, and multi-touch is how it should be.
Functionality Testing
We ensure that every aspect of your app is working and there's solid cross-platform interoperability, no matter what your apps functionality requirements are.
Regression Testing
Do you want to add, alter, or remove a product feature from your app? We'll conduct extensive regression testing to make sure that even the smallest change does not alter existing features.
Usability Testing
Our test engineers are well-trained to think from your target users' perspective. They evaluate your product from an end user's viewpoint to ensure it fulfills usability criteria.
Performance Testing
We will help you define your app performance testing goals, test strategy, and run test scripts for multiple test cycles.
Automation Testing
We turn all your mobile regression test suites into automated tests that can be run frequently on multiple devices and platforms.
Security Testing
Our mobile app testing experts perform rigorous testing to verify data integrity, check for storage issues, tainted inputs, and security for activity logs.
Mobile App Cloud Testing Services
We leverage cloud testing platforms such as Firebase, Perfecto, BrowserStack, Kobiton, etc. to access real mobile devices for manual as well as automated testing to fix user experience and performance issues.
Our Other Mobile Application Testing Services
With our end-to-end mobile app software testing services, we aim at making your application work flawlessly across multiple platforms.

Feature Testing

Audio Testing

Visual Testing

Sequence Testing

Installation Testing

Network Testing

Content Testing

Error Handling Verification

Location Testing

Interoperability Testing

Interface Testing

Interruption Testing

Broken Link Testing

Batter Drain Testing

Landscape/Portrait Mode Testing

Upgrade Testing

Memory Testing

Carrier-based Testing
Our Mobile App Testing Approach
While we develop a personalized testing approach for each project we undertake, however, in most scenarios, our mobile app testing approach involves:

Analyze Project Requirements
Our mobile app testers will analyze your project requirements to identify existing as well as potential flaws and loopholes, if any.

Choose the Right Target Device and Devise Testing Process
For vast and reasonable mobile device coverage, we select the target user devices based on your requirements and the stats for the target region and user audience.

Design Test Cases
The mobile testers then design test cases and test suites.

Select the Right Engagement Model
Our mobile app test engineers perform rigorous testing and report the bugs and flaws to the Project Manager and development team.

Analyze Test Results
Our team evaluates the obtained testing results providing factual information and test reports throughout the development and testing cycle.
We Offer Industry-specific Mobile App Software Testing Services

Education

Healthcare

Fun & Entertainment

Banking & Financial

Business

Job & Career

Travel

Transport & Logistics

Food

Real Estate

Sports

Dating, and more
Mobile Testing Tools We Employ
We employ the following mobile testing tools, programming languages, and libraries for providing best-in-class mobile application automation testing services.
Appium
It is an open-source mobile application automation testing software for both Android and iOS platforms.
Programming Languages
We are well-versed in Python, C#, Java, and JavaScript.
Page Object Pattern
Page Object Pattern is critical for ensuring code reusability and reducing script maintenance.
BDD Frameworks
We employ Cucumber, Serenity and Behave for writing automated acceptance tests.
Jenkins
Our testers set up a Jenkins Pipeline using automated smoke and regression tests that run on mobile devices.
Cloud Testing Platforms
We leverage Firebase, BrowserStack, Kobiton, etc. to access real mobile devices for manual as well as automated testing.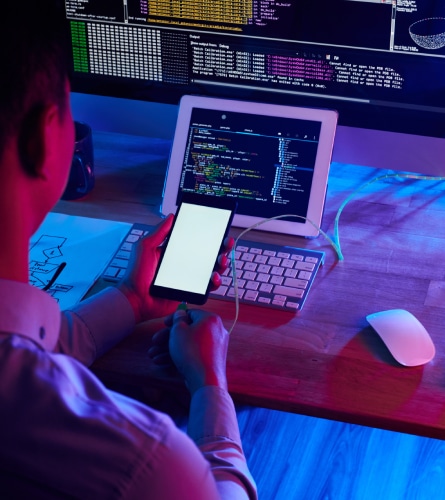 High-quality Mobile App Automation Testing at the Best Price
Mobile app software testing is important for keeping your mobile apps in good health. Many people use Agile or DevOps for mobile app testing. However, both these approaches are complex and time-consuming. We employ a mobile app testing automation strategy to help accelerate the project testing process as well as boost quality, accuracy, and test coverage at the most competitive pricing.
Mobile app automation involves hundreds or thousands of participants. The subsequent automation has to be executed at scale on hundreds of cloud or real mobile devices. Testing mobile app software must cover prominent operating system upgrades as well as new devices. Our excellent mobile app automation testing services reduce any kind of human intervention and error and enable your staff to focus on the big picture, and leading new innovation.
Why Choose Us for Mobile Application Testing Services?
Mobile application testing solutions for all industry verticals.
Devise a comprehensive mobile application test strategy to ensure optimized testing.
Test automation solutions and tools for accelerating the testing.
Well-equipped mobile app testing lab.
Testing mobile applications across various multiple devices, platforms, and global operators.
Vast experience with all industry-leading mobile testing tools for app's functional testing, performance testing, security testing, and test automation.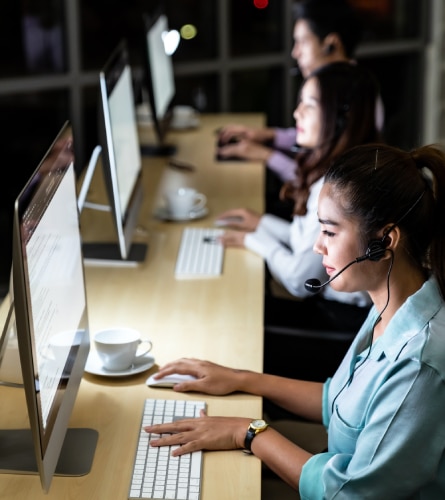 Frequently Asked Questions
Yes, of course. Our mobile app testers exactly represent your app's end-user and can anticipate your target users' needs and create test cases accordingly. We keep customers at the forefront and create tests that help in meeting their expectations. We also update and create manual test suites for your mobile app in coordination with your app development team and other important parties.
Testing applications on real mobile devices is very important. Our cloud-based mobile testing platforms have access to a wide array of real devices to perform high-quality mobile application testing.
We offer comprehensive and quality test reports that offer readability, accessibility, and detailed analysis. Even a layman can understand what each point represents, what the testing process covered, the health, and overall passing percentage of the application being tested. Once the testing is finished, we deliver the full report to our clients.
Have More Questions? We'll Be Happy to Answer All Your Queries!
test