Get 14 Days Free Trial on Shopify!! Avail Now
Recently, we decided that we needed to have CRM support for our Shopify store. We needed a reliable Shopify partner to help us with the integration and thankfully, we found OrangeMantra. These guys are not only experts for the job but are truly dedicated and helpful too. Planning to get more integrations in future and would definitely approach OM for them."
- Clement Swanson
"Working with OrangeMantra has been a fantastic experience from the very beginning. They created an amazing Shopify e-commerce website for us and it served as an excellent launchpad for our business. Thanks guys, great job!!"
- Ben Chandler
"The road looked long when we decided to migrate our e-store from WordPress to Shopify. But thanks to OrangeMantra, the journey was smooth and the results excellent. We were able to make the transition effortlessly with the support of these guys."
- Mericha Menzes
"As we wanted to popularize our Shopify store, we required a trusted technology partner. OrangeMantra did the job perfectly as they developed an amazing Shopify SEO plan for us. The team showed a keen interest in our requirements and created a strategy to match. We're impressed guys!!"
- Warren Sillars
"I am glad that I chose OrangeMantra for setting up my e-commerce store. These guys truly are Shopify specialists. I commend their services…they are up and ready when you need them and also value the client's time."
- Vick Haider
"I needed an extraordinary-looking e-commerce store for my designer brand. Thanks to OrangeMantra, I got one that matched my expectations. They designed a wonderful theme for my store and made sure that it pulled customers for me."
- Cheryl Stone
"There was a time when we were encountering issues with our Shopify store one after the other. Luckily, we found a trusted Shopify partner in Orange Mantra. They gave us extensive support in resolving problems as soon as they came up. To date, they maintain our e-commerce store and we absolutely rely on them for keeping it in a great condition."
- Greg Hanks
"OrangeMantra is a trusted Shopify partner that offers a full-range of services for e-commerce stores running on this platform. We extend reliable Shopify migration services for the stores that look to migrate from other platforms. Our experts ensure that the transition is totally effortless and has no impact on the store's performance."
Over the years, Shopify has gained a reputation for being a top-rated e-commerce solution. Its extensive benefits and features have made it the preferred choice for e-commerce store development and customization. One of the biggest reasons that merchants love this platform is the ease of setup and installation. A small or mid-sized business can use it to avail a great looking and highly-functional store easily. However, things get complex if the business already has a store on another platform but wants to migrate it to this one. The process involves moving the products, images, customer data, orders, reviews, taxes, coupons, content pages, and a lot more, on to the new store. At the same time, it has to be ensured that the current SEO ranking of the store is not affected during the migration.
We, at OrangeMantra, serve as a reliable destination to make your Shopify migration a smooth and seamless one. Our expert team of seasoned Shopify developers is capable of handling the entire migration process and setup of the new store. We ensure that your move to this innovative platform is easy so that you can focus on keeping the store well-positioned during the transition. Get in touch with us to avail a quick quote on moving on to Shopify from virtually any other e-commerce platform.
Why Avail Shopify Migration Services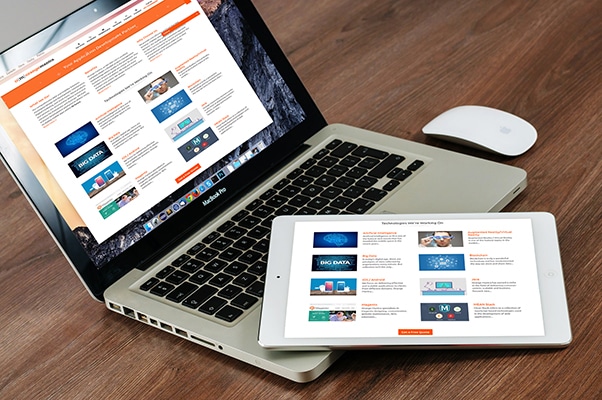 Shopify is a feature-rich platform, with extensive benefits such as easy installation, reliability, security, customizability, fast-loading speed, mobile responsiveness, and more. These features make it an ideal choice for e-commerce stores, whether sellers are looking to take the online route or already have an existing store. Shopify migration services are in great demand today as online merchants understand the value of investing in the right e-commerce platform.
We Are Specialists In Shopify Migration
Steps For Migrating To Shopify
Shopify is enriched with all the essential features that an e-commerce store needs. It serves as an excellent e-commerce platform for a business to have an impactful and profitable presence online.
Migration to Shopify from any other platform involves a series of steps:
Configuring the basic administrative settings
Importing the store's data to Shopify
Organizing the products after migration
Setting up a domain for the new store
Customizing a theme to make the website look good
Setting up the shipping rates and methods
Configuring the taxes
Setting up a payment provider
Placing test orders
Seeing the complexities of migration to the platform, it becomes imperative to look for professionals who can handle them for you. At OrangeMantra, we make sure that the entire process is done in a hassle-free manner and without affecting the SEO ranking of your online store. Let us help you gain the winning advantage for your business.
Custom Shopify Migration From Any Other Platform

Explore The Projects We Have Worked On
We have a brilliant track record with a large number of successful projects to our credit. View our portfolio or get in touch with us to know more.
View Portfolio
Contact Us