Our teams are working remotely to meet your tech requirements promptly – Contact us Today !
Interactive Chatbots to Enhance Customer Relations & Automate Tasks
Chatbots are becoming more popular than ever. From food delivery to banking and from education to travel and tourism, chatbots are everywhere. We build highly interactive chatbots that change the way businesses interact with customers.
We combine the most advanced breeds of emerging technologies to create incredibly useful chatbots for clients. The concerted power of A.I., machine learning, and natural language processing enables us to develop best-in-class chatbots. These technologies enable you to effortlessly make information-rich conversations with customers and prospects.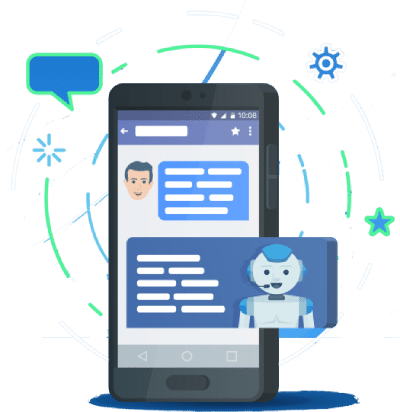 Key Benefits of Deploying Chatbots in Business Operations
Chatbots have wildly popular interfaces for everything from retail to financial services to healthcare. Be it task-oriented, conversation-focused, or information-oriented, chatbots are changing business processes.
Personalized customer interaction
Chatbots enable you to make more data-driven, customized conversations with customers. This helps to make your customers more actively engaged with your brand.
Eliminate wait time
Deployment of a chatbot eliminates long wait times in services like customer support. Quicker responses to queries and requests often translate to better customer loyalty.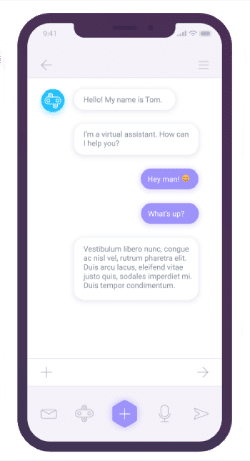 Productive CRM team
Having chatbots is like hiring a super-efficient customer relations management professional. Chatbots reduces the burden of repetitive tasks requiring less human intelligence.
Reduce customer care cost
Chatbots can significantly reduce the costs of running a customer care department. One chatbot can manage tasks of several human workers, doing things more efficiently.
Why Choose Us as Your Chatbot Development Partner

Domain Expertise
Having spent more than two decades in the software development industry we know how to use build solutions that benefit businesses.

Tech Enthusiasts
A.I., deep machine learning, NLP, or any other emerging software technology, we promptly deploy them into our DevOps.

Software Engineering Veterans
We have some of the best minds of the software development industry who build robust and efficient solutions.

Quality Obsessed
We're not going to comprise any element of quality of a solution, be it a simple website or a sophisticated chatbot.
Frequently Asked Questions
Chatbot development building a conversational software interface that helps you interact with users or do tasks without the need of a human. Chatbots and virtual assistants are intelligent AI system that learns as conversations progress. The financial services industry has widely adopted chatbots.
The costs of building a chatbot vary widely, depending on your requirements. Your industry and goals also matter. If you need a simple bot with basic features, costs are comparatively lower. OrangeMantra offers chatbot development at a competitive price.
There is no predefined development time for chatbots. It depends on what kind of chatbot you want to build. Bots with comparatively less training data take less time. Chatbots with higher volumes of training data takes more time. OrangeMantra has a track record of building chatbots within a shorter turnaround time.
test