Our teams are working remotely to meet your tech requirements promptly – Contact us Today !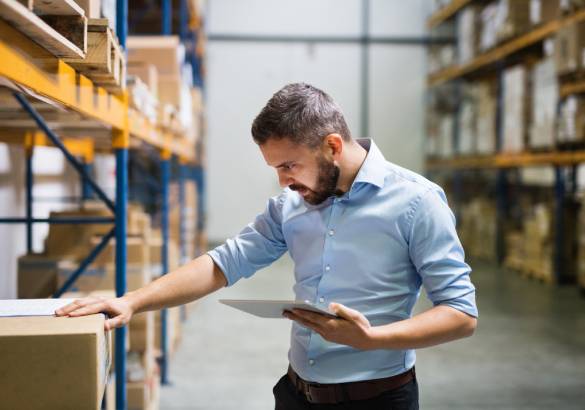 Warehouse Management On Your Fingertips
Warehouses are no longer just a storage and inventory facility for businesses, but play a key role in the completion of supply chain cycle. Forward-thinking organizations are, therefore, embracing IoT-enabled warehousing for automated control on the warehousing operations. OrangeMantra's Smart Warehouse solution empowers businesses with real-time monitoring of warehouse assets, equipment, and inventory by offering transparency and traceability across diverse locations. The solution gathers data to generate meaningful insights about inventory and storage status, while providing stock visibility at the same time. Leverage our IoT-enabled warehouse management solutions to reduce costs, bring efficiency in internal processes, and have complete control over the flow of goods. Whether it is picking, buffering, storage, sequencing, or restocking, our integrated system covers them all!
Smart Warehousing Technologies
Innovative technologies that create warehouses of the future!
Sensors & Internet of Things
Conveyors, carousels, and storage racks are fitted with IoT-powered sensors that offer useful insights.
RFID Readers
These tags provide the exact location of any item at any time and enable automatic registration of stock movements.
Wearables
Devices such as AR glasses guide the order pickers to apt storage locations and furnish the data they need for hands-free work.
Voice Picking
Speech recognition software on a small wearable device tells the operators what to do and where to go.
Autonomous vehicles
The dependence on human workforce can be reduced considerably with self-driving, autonomous vehicles.
Robots
Robots can automate tasks, from picking products and handling materials and can even be operated remotely for inspections.
Why invest in a Smart Warehouse Solution?
Instant gratification is the need of the hour as consumers want it all and they want it right now. Investment in new technologies that enhance warehouse management is a smart move. Smart warehouse solutions let you optimize the entire process of receiving, storing, picking, packing, and shipping goods. Here are the benefits that you can derive.
Boost productivity
Innovative design with a website that will wow your customers across all devices and merchandising capabilities to showcase your product and empower your staff
---
Minimize human errors
With advanced technologies in place for managing the entire warehouse operations, you can experience increased accuracy with minimal risks of human error.
Avail extensive cost savings
Enhanced productivity, fewer errors, and happy customers help you to save costs and drive revenues. By streamlining the processes, you can optimize shipping costs as well.
Enhance customer satisfaction
By implementing smart warehouse solution, you can ensure rapid and error-free delivery of undamaged goods which translates into enhanced customer satisfaction.
Get competitive advantage
A smart warehouse boosts speed and efficiency throughout the supply chain, so that your business scores a definitive advantage over the competition.
Ensure warehouse safety
Secure your warehouse with IoT implementation to curb safety risks and prevent incidents of loss, theft, and intentional damage to the stock and assets.
Frequently Asked Questions
You can get started in a matter of minutes. Simply install the application, setup, and start inspecting. Our team of professionals will assist you in implementing the solutions so you can get started without any unwanted delay.
Warehouse automation provides a variety of benefits for enterprises. It can help you increase the customer satisfaction level due to faster order turn-around time which is not otherwise possible through human-directed work alone. Moreover, automated mobile data collection assists your workforce to improve inventory data accuracy and productivity by removing manual capture processes. To know more in detail, get in touch with us to know about how our smart warehouse solutions can help you.
We provide online user guides and materials for your warehouse team to get started. Nevertheless, our team of expert trainers is always ready to give you and your in-house team an online live training of the software or specialized paid on-site training and demonstration upon request.
Looking to monitor and control your warehouse environment effectively even from a remote location?
test