Our teams are working remotely to meet your tech requirements promptly – Contact us Today !
Get 14 Days Free Trial on Shopify!!
As Shopify integration experts, we specialize in creating reliable Shopify integrations which connect your Shopify storefront with a diverse range of third-party systems and applications. From ERP and CRM systems, to payment gateways, shipping providers, marketplaces, and other third party applications, we integrate your storefront with them for enhanced functionalities while ensuring that it still performs seamlessly.
Any Integration Made Possible
Whatever the kind of integration you need for your Shopify store, we are capable of handling them all.
Infinitely Scalable
Cloud-based integration solutions that assure reliability and security for your business ecosystem.
Tailored To Your Needs
Because you are unique, we make sure that your needs are catered to specifically with tailored solutions.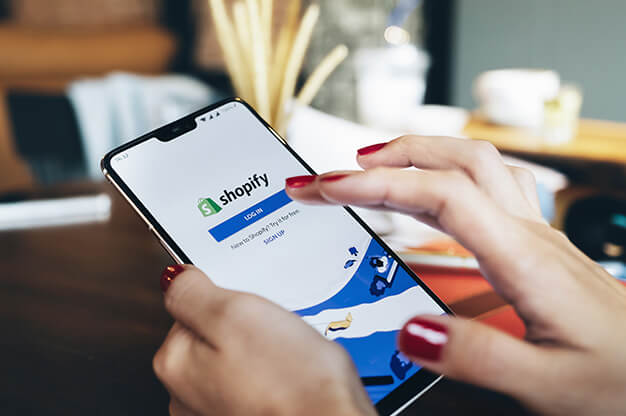 Custom Shopify Integrations
Beyond the standard integrations, we also provide custom Shopify integrations which are tailor made to specific requirements and enable the integration of your Shopify store with diverse platforms.
Our Integration Offerings
We develop custom Shopify integration solutions which can create limitless possibilities for e-commerce stores looking to integrate new functionalities.
Product Procurement
With this integration, you can automate the product procurement process. As an order is placed in Shopify, it will be shared with the fulfillment provider for timely procurement of the products.
Inventory
Integrate smart inventory solutions for updating, synchronizing, monitoring, and managing your inventory across multiple Shopify accounts and selling channels in an effective manner.
Sales
The purpose of sales integration is to encourage sales and increase the order value. This is done by means such as adding smart recommendations, integrating wishlists, review options, product bundling, and more.
Sales Channels
Sales channels integration also increases the sales by selling the products across multiple sales channels. They sync the inventory and orders irrespective of the selling channel being used.
Shipping
Shipping integration allows you to automate the fulfillment process by establishing seamless connectivity between dropshipping, warehousing, shipping, and tracking solutions.
Marketing
Marketing integrations facilitate the marketing functions through diverse means such as SEO and email marketing. These help you to get new visitors, engage the existing ones, and boost the traffic to your store.
Customer Service
With customer service integration, you can integrate various customer support platforms such as Live Chat, phone, and email into your Shopify e-commerce store. They enable you to deliver better support to your customers.
Social Media
Social media integrations help you to leverage the power of social media for taking your business ahead. They enhance engagement, increase conversions, and build your brand across social channels.
Accounting
Accounting integration enables you to save time, effort, and money on managing the accounting functions such as managing invoices, orders, customers, tax reports, and more, all at one place.
Reporting
Avail the powerful reporting integrations to get an insight into the shopping behavior of the customers, understand the traffic and conversion trends, and make informed decisions regarding your business.
Shopify Integration and Development Solutions
With almost two decades of experience, OrangeMantra is well-equipped to take care of any Shopify Integration that you can possibly think of.
Explore Portfolio
Our Testimonials
Working with OrangeMantra has been a fantastic experience from the very beginning. They created an amazing Shopify e-commerce website for us and it served as an excellent launchpad for our business. Thanks guys, great job!!"
Anil Bansal
Marketing Head
There was a time when we were encountering issues with our Shopify store one after the other. Luckily, we found a trusted Shopify partner in Orange Mantra. They gave us extensive support in resolving problems as soon as they came up. To date, they maintain our e-commerce store and we absolutely rely on them for keeping it in a great condition
Christine Rose
IT Head
I needed an extraordinary-looking e-commerce store for my designer brand. Thanks to OrangeMantra, I got one that matched my expectations. They designed a wonderful theme for my store and made sure that it pulled customers for me
Ankush Rana
Senior Consultant
test