Our teams are working remotely to meet your tech requirements promptly – Contact us Today !
Get 14 Days Free Trial on Shopify!!
Shopify Plus
The future of e-commerce is here!
Are you Looking for a Shopify Plus Partner that can help you unlock the potential of this powerful platform? We are one you can trust! As a leading Shopify development company, we showcase an amazing portfolio of numerous Shopify stores we have built for clients across the globe over the years. Our team comprises seasoned Shopify developers who know the core of this innovative version and are capable of implementing its features to create the most amazing e-commerce stores.
At OrangeMantra, we help e-commerce brands to empower their stores for achieving the highest levels of performance and profits by using the best that Shopify Plus has to offer. We can assist with anything, from design to development, integration, migration, marketing, and more. Whether you are looking for Shopify Plus development from the scratch or want to switch to this platform, connect with us today.
Explore The Amazing Shopify Plus Benefits With Us
An industry-leading platform, Shopify Plus offers an all-in-one e-commerce solution for growing businesses. With Shopify's advanced features and integrations, our team of developers create websites that provide everything you require to run a successful e-commerce business.

Easy and quick setup
On an average, the build and launch of a Shopify Plus store takes 90-120 days with and no installation or deployment are required.

Faster checkout time
With Shopify Plus, merchants can expect up to 10,000 checkouts per minute, making the store capable of handling flash sales with ease.

Unmatched reliability
When it comes to reliability, this is a platform you can trust as it offers 99.99% historical server uptime along with a dual CDN network.

Built for performance
A Shopify Plus store is tailored for delivering high performance, which translates into most amazing shopping experiences for your customers.

Simple to manage
Simplified management of the online store with easy addition, updation, and management of products without the need for coding.

Versatility
You get ten duplicate sites with the Shopify Plus package, which makes it possible to display your site in several different languages if needed.

Flexibility
It is easy to integrate with social media, CRM, ERP and accounting integrations, which renders flexibility for your e-commerce store.

Security
With Shopify Plus, you can rest assured about the security of your e-commerce store as it comes with built-in PCI Compliance and SSL.
Our E-commerce Portfolio
Over the years, we have emerged as a trusted e-commerce development company and have hundreds of online stores to our credit. We are also a Shopify partner that makes us an ideal choice for Shopify Plus development.
View E-commerce Portfolio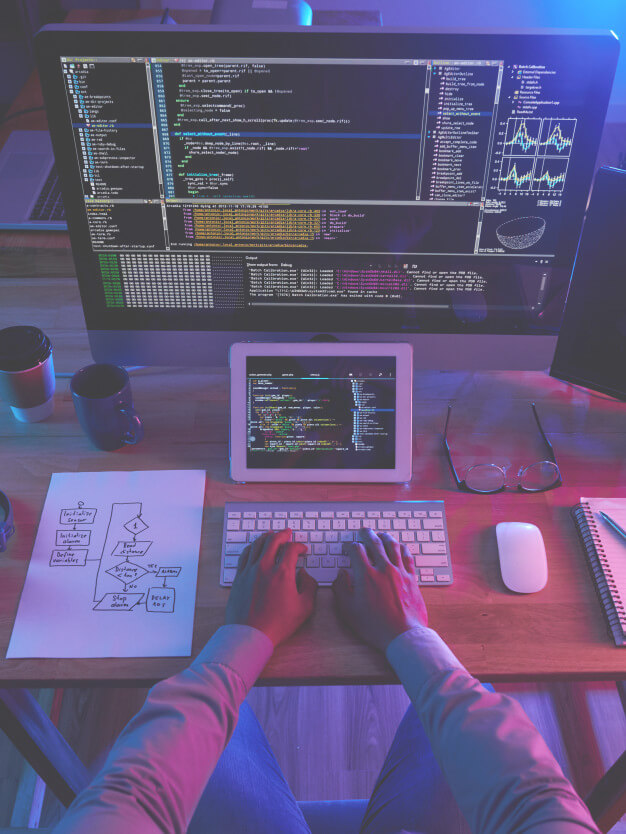 Shopify Plus Development Services
Set Up
Set up a new e-commerce store with Shopify Plus to get your business up and running for delivering seamless shopping experiences.
Consulting
Our Shopify Plus experts consultant provide an array of solutions, from enterprise grade consultation through design, development, and digital strategy.
Design
Take your business to the next level with Shopify Plus stores that are crafted with conversion-driven design mindset
Development
We specialize in the development of exclusive Shopify Plus e-commerce stores with the desired features and functionalities.
Migration
Migrate an existing e-commerce store from any other platform to Shopify Plus for empowering it with the features.
Integration
Avail seamless integrations with third-party solutions such as CRM, ERP, and more for your Shopify Plus e-commerce store.
Optimization
Empower your Shopify Plus store with high performance and excellent user experiences with our optimization services.
Maintenance and Support
Ensure that your Shopify Plus store runs seamlessly with dependable maintenance and support from expert professionals.
Our Testimonials
Anil Bansal
Marketing Head
Working with OrangeMantra has been a fantastic experience from the very beginning. They created an amazing Shopify e-commerce website for us and it served as an excellent launchpad for our business. Thanks guys, great job!!"
Christine Rose
IT Head
There was a time when we were encountering issues with our Shopify store one after the other. Luckily, we found a trusted Shopify partner in Orange Mantra. They gave us extensive support in resolving problems as soon as they came up. To date, they maintain our e-commerce store and we absolutely rely on them for keeping it in a great condition
Ankush Rana
Senior Consultant
I needed an extraordinary-looking e-commerce store for my designer brand. Thanks to OrangeMantra, I got one that matched my expectations. They designed a wonderful theme for my store and made sure that it pulled customers for me
test