We, at Orange Mantra, empower your WordPress website as an earning e-commerce store by adding WooCommerce plugin. Our WooCommerce developers' team are field expertise in developing a powerful e-commerce store which has quality, adaptability, built-in components, ideal speed, add-ons and extensions, security, and dependability.We provide the best e-commerce solution from the phase of design, development, to payment process.
We provide robust and intuitive E-commerce solutions with WooCommerce codes for your WordPress website with competitive pricing on diverse industries. WooCommerce, built on core WordPress functionality encourage the vendors to have all the eCommerce store needs to sell on the web.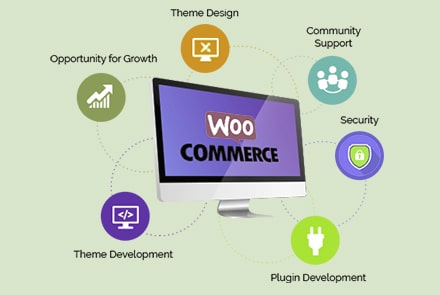 Features of the WordPress Toolkit, WooCommerce
Some of the features of WooCommerce Development include:
Cash on delivery and cheque payments with simple offline gateways.
Flat rate shipping processes either by default or linked to coupons.
Widgets for up-sell and cross-sell.
Facilitate multi-location shipping with taxation calculation.
Smart tracking with Google Analytics integration.
Facilitate customers to redeem coupons or indulge in shared purchases.
Simple checkout and standard gateways to payment modes and applications.
Several extensions and plug-ins are available for additional functionality.
WooCommerce Theme Development Services offered at Orange Mantra
Third Party Integration services.
Customization as per your business requirements.
Template customization and theme development.
Plugins and Extensions Development.
Integration of Payment Gateways and Shipping Modules.
E-commerce Apps Development Services.
Converting PSD to WooCommerce e-commerce web development.
Implementation of WooCommerce in hosting migration for e-commerce services.
Orange Mantra As the Differentiators:
A range of business models with dedicated team of developers.
Dedicated and skilled developers'resource priced competitively.
Deliver custom-built and cutting-edge storefront for the retailers.
Proven track record of successful methodology implementation.
Performance enhancement of existing Woocommerce.
24*7 Technical support for your WooCommerce website.
End-to-end solutions for startups and SMEs to set up E-commerce store.
Mobility services like responsive e-commerce websites, e-commerce apps.
Build Your Professional Websites With Us
Client's Testimonials
The quality of the work provided at Orange Mantra was simply superb. They have an impressive kind of response and follow up. They won our trust and confidence and we are eager to work with the talented Android team again.
– Mick
I recommend Orange Mantra's App Store Optimization team for their great work in maintaining and upgrading the mobile application. They were always on time and delivered the desired outcomes.
– Louis
Orange Mantra has a good App developer' s team and I enjoyed working with them. Communication and responsiveness were top-notch and their skills were strong. In case where the work was beyond the ability, they were in preparation and put more hours on work to get the task done on time. I enjoyed working with Orange and will likely have additional projects for them in the future.
– Cristiano
I have only one word to say about Orange Mantra. That is WOW!! Time, Cost, Efficiency, Professional, Cordial are some of the words that strike my mind regarding the App development moments. We are getting a successful number of downloads and are expecting more shortly. All due to their sincere efforts. Thank you Team.
– Omair
OM team did a great job. The mobile app was developed in a short time! I liked the consistency in their way of communication. I was always informed about the working status and the next steps involved. Thank you again!.
– Christoph
The Team excels in fast service. They designed, developed and delivered our android and iOS app within a short duration of time that anyone may not even imagine. It's the result of an amazing team effort.
– Bryan