Drupal Development Services
Looking for dedicated Drupal Developers? Orange Mantra is there for you.
Get most professional, robust and scalable Drupal development services only at Orange Mantra. The company has years of experience in designing high quality Drupal websites. It offers customized, feature-packed and measurable Drupal solutions at attractive rates. Get the unique idea transformed into realty with bespoke Drupal portals and web applications designed by the creative developers at Orange Mantra.
The company has a team of highly qualified Drupal developers, which is dedicated to offer best solutions and deliver effective, easily manageable and cost-effective Drupal solutions. Unique selling proposition (USP) of the company is, its customized services which perfectly meet with clients' business requirements.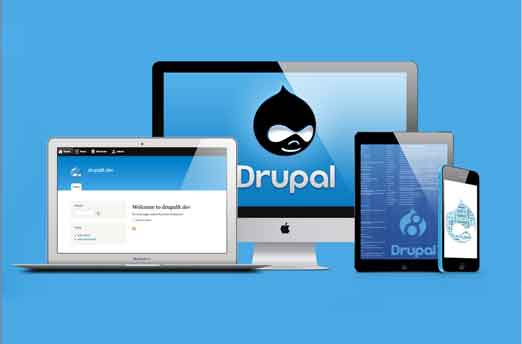 Wide range of Drupal Development Services at Orange Mantra includes:
Drupal Development:
The Company designs Drupal website for varied requirements of diversified clients, which vary from simple CMS to ecommerce solutions and online magazines. While developing the website, it takes care of cross-browser compatibility, SEO optimization and clean codes.
Drupal Consulting:
The Company provides complete support to its clients. Experts at Orange Mantra also help clients with their Drupal project by suggesting them suitable themes and scope. The consultation begins from the initial phase and continues throughout the complete development process. Experts also listen to clients' ideas and implement them in development process.
Custom Web Design and Development:
Company' s only objective is to build appealing and user-friendly Drupal websites for valuable clients. The team here is committed to offer fully-customized and functional websites with apt call to action and conversions. The expert team here has experience of working with all types of Drupal CMS websites.
Drupal Installation and Migration:
Orange Mantra also helps the clients with their database conversion requirements, when their sites are upgraded from old versions to Drupal' s new versions. Besides this, the company also offers Drupal Migration services which include moving of existing website to Drupal template and configuration of the new Drupal installation with the design.
Custom Module Development:
We address your key challenges of business requirements by extending and customizing Drupal's functionalities with Drupal modules. We develop websites with the Drupal modules of latest version (Drupal 7, 8 and X) as per the project requisites. We render solutions for all industry needs with apt custom modules.
SEO and Online Marketing:
While designing Drupal Website, the Orange Mantra team also takes care of website rankings in search engines. It also helps clients with their search engine optimization and online marketing requirements for Drupal website. The services offered by the company include both onsite and offsite strategies along with latest social media optimization techniques.
Template Design, Development & Customization:
Our Drupal developer team interprets how a user interfaces with and experience your website. We choose from existing themes or tweak them to provide a functionally designed website that best fit your clients. Further, we make it responsive and high performing site with an appreciable user interaction and engagement.
PSD to Drupal Conversion:
Drupal India converts your PSD layout to a Drupal theme with validated W3C code. Our endeavors are focused towards offering top-notch services by deploying advanced technologies at reduced cost and quick response time. We help our clients to flourish, improve the online business and stand out distinct among the crowd.
CMS Maintenance and Support:
We also provide additional support services in compliance with your unique needs. Our CMS maintenance services include troubleshooting, bug fixes, code fault analysis, upgrades, patches, performance enhancement and optimization, preventive and predictive solutions, 24*7 technical support, and so forth.
E-Commerce Development:
Drupal commerce is used by the business and retail industries. We craft and customize your shops, carts, facilitate easy navigation, and payment systems as per your need so as to increase ROI. Our development strategy is budget friendly, generates leads and facilitates conversion tracking.
Build different kinds of websites with Drupal CMS:
News media websites
Publishing company website
E-Commerce websites
Corporate website
Content management system
Intranet applications
Newsletters
Educational websites
Excel In The Online Business With Adept Drupal Services
Advantages of Drupal Development with Orange Mantra
Feature rich, flexible, reliable, and extendible website
Website works with optimal precision, efficiency and effectuality.
An ideal website development for your business of any size.
Interactive and user-friendly website
SEO friendly community platform having multiple SEO modules.
Possess built in caching mechanism and microblogging features
Content rich website with ease for updates
W3C valid, cross-browser compatibile, SEO semantic code & hand coded HTML/XHTML & CSS.
Manage e-commerce entities easily such as products, orders, customer profiles, payment transactions, and, etc.
The clients who have deployed Drupal include the White House, The Economist, The British Government, Sony Ericsson labs, and, etc.
Client's Testimonials
The quality of the work provided at Orange Mantra was simply superb. They have an impressive kind of response and follow up. They won our trust and confidence and we are eager to work with the talented Android team again.
– Mick
I recommend Orange Mantra's App Store Optimization team for their great work in maintaining and upgrading the mobile application. They were always on time and delivered the desired outcomes.
– Louis
Orange Mantra has a good App developer' s team and I enjoyed working with them. Communication and responsiveness were top-notch and their skills were strong. In case where the work was beyond the ability, they were in preparation and put more hours on work to get the task done on time. I enjoyed working with Orange and will likely have additional projects for them in the future.
– Cristiano
I have only one word to say about Orange Mantra. That is WOW!! Time, Cost, Efficiency, Professional, Cordial are some of the words that strike my mind regarding the App development moments. We are getting a successful number of downloads and are expecting more shortly. All due to their sincere efforts. Thank you Team.
– Omair
OM team did a great job. The mobile app was developed in a short time! I liked the consistency in their way of communication. I was always informed about the working status and the next steps involved. Thank you again!.
– Christoph
The Team excels in fast service. They designed, developed and delivered our android and iOS app within a short duration of time that anyone may not even imagine. It's the result of an amazing team effort.
– Bryan