Our teams are working remotely to meet your tech requirements promptly – Contact us Today !
Cryptocurrency Exchange Development Company for Next-Gen Solutions
Digital currencies such as Bitcoin are continually gaining popularity all over the world. More and more people are willing to trade on cryptocurrency exchanges. Unmatched privacy, decentralization, and security remain some of the top-selling points favoring digital currency exchanges. Businesses and individual investors alike are increasingly using cryptocurrency instead of traditional money.
We help you to capitalize on the growing wave of digital currency and establish a tech-driven business. We have a team of fintech consultants, cryptocurrency experts, and software engineers to build the right solution for you. Using ledger technology, blockchain, and other decentralized platforms, we use solutions that exceed your expectations.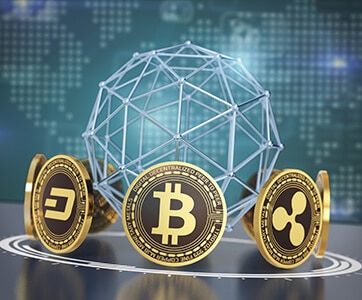 Features of Our Cryptocurrency Exchange Software Development
Our crypto exchange software solutions come with a battery of attractive features and functionalities.

Unmatched transactions per second
We build cryptocurrency exchange solutions that ensure impressive trading experiences and incredibly high transactions per second. With our solutions, you don't have to worry about high transaction volumes.

Robust trade engine
Every single crypto exchange software we build is equipped with a powerful trade engine. Seamlessly manage order types, limit orders, or regulate buying and selling according to your business model.

Uncompromising security
Security is one of the most crucial elements of every digital currency exchange. From SSL implementation and two-factor authentication to security tools, we leave no stone unturned to protect your system.

Margin trading
We help professional digital currency traders to reap the desired profits by incorporating margin trading capabilities onto the crypto exchange software. Traders can easily define their margin and choose a trade.

API Integration
Enable exchange with external systems and currency exchange platforms by utilizing powerful and secure APIs developed for your solution. Connect quickly with external traders and business accounts.

KYC & AML capabilities
Our cryptocurrency exchange software development uses location-based KYC and anti-money laundering capabilities to prevent fraud. Every large cryptocurrency transaction requires multiple verification steps.
Our Crypto Exchange Development Services
From developing decentralized and centralized crypto exchange solutions to providing reliable tech support, we cover an extensive range of services.
Decentralized cryptocurrency exchanges
We use the most advanced distributed ledger and blockchain technology, we build decentralized crypto exchange platforms that offer frictionless user experiences and robust security.
Centralized cryptocurrency exchanges
Centralized cryptocurrency exchanges are broker-based digital currency exchanges where traders rely on a trust-based ecosystem to exchange cryptocurrencies. We ensure a frictionless centralized crypto trading experience.
P2P crypto exchange development
Peer-to-peer digital currency exchanges are immensely popular among businesses & investors. From strategy making to technology selection to development, we help throughout the P2P exchange development journey.
Hybrid cryptocurrency exchanges
Leverage cutting-edge ledger technologies to perfectly blend the capabilities of decentralized and centralized cryptocurrency exchanges to build a hybrid platform. We use the most evolved tools and technologies.
Cryptocurrency exchange app
Expand the reach of digital currency exchange with a feature-rich mobile app. Our app development expertise allows us to build impeccable cryptocurrency exchange apps per clients' requirements.
Crypto exchange tech support
Managing a cryptocurrency exchange platform without any downtime requires reliable technical assistance. We have a dedicated tech support team to help you overcome every glitch and issues swiftly.
Our Crypto Exchange Software Portfolio
We have worked with large fintech companies, digital currency startups, and futuristic tech investors. The diversity of our digital currency solutions development portfolio helps us deliver incredibly suitable solutions for businesses and individuals of all kinds.
View full portfolio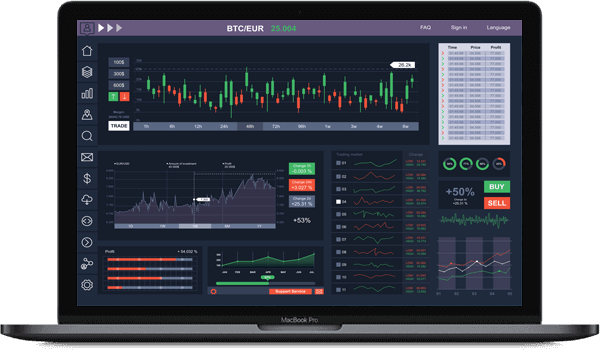 Frequently Asked Questions
What is a cryptocurrency exchange?
A cryptocurrency exchange (also known as a crypto exchange or digital currency exchange) is a platform that allows customers to trade cryptocurrencies or digital currencies for other assets. These assets could be traditional money or other digital currencies.
What is peer-to-peer (P2P) currency exchange?
Peer-to-peer digital currency exchanges provide users with an online platform where they can exchange currencies with one another using a P2P network. These platforms rely on technologies like blockchain and other ledger technologies.
What is a distributed ledger technology?
Distributed ledger technology is a digital system for recording the transaction of assets in which the transactions and their details are recorded throughout a decentralized system. Such systems are distributed across a network of computers. Unlike traditional databases, distributed ledgers have no central data storage.
How much does it cost to develop a cryptocurrency exchange software?
The costs of developing a cryptocurrency exchange vary widely based on your requirements. There's no such predefined or average cost. OrangeMantra builds cryptocurrency exchange software at a market-best price.
Want to build a cryptocurrency exchange using best-in-class technologies?
test