Our teams are working remotely to meet your tech requirements promptly – Contact us Today !
Get your taxi services moving with best-in-class Android & iOS apps
A taxi-booking app could be the right launchpad for your transportation startup or even traditional taxi business. If you are planning to enter the taxi services industry or expand your transportation business, an app is a right steppingstone.
More and more commuters are ditching traditional public transit systems and booking a taxi ride instead. Even car owners nowadays prefer a cab over driving to a destination. These trends reflect the rising popularity of ride-hailing services worldwide.
If you're willing to explore this sprawling taxi services market, you must develop the right app. An Uber-like app not just gives you road-tested features but also creates a superior brand image among consumers. At OrangeMantra, an award-winning app development team builds a customized taxi-booking app according to your specific needs.
Instant booking
The app is incredibly swift when it comes to responding to a user's booking request. Riders find a car's availability instantly after chooses a destination and confirms a ride. No delays mean a better experience.
Driver & car preview
Riders can have a preview of the driver and the vehicle before starting their trip. This feature gives commuters a sense of safety and they can also prefer a car of their choice.
Native app experience
The app is designed to give users a completely native experience like all leading taxi-booking apps, such as Uber and Ola. Whether it's an Android or iOS device, we create a seamless experience on every OS.
Trip history
Trip history is one of the most preferred features by riders. Trip history is useful both in terms of rider safety and trip analysis. Users can access the entire history of completed, canceled, and scheduled trips.
Payment options
We integrate multiple payment processing options according to your requirements. Cash payment, debit and credit cards, or digital wallets, we incorporate everything to make the payment experience smooth.
Trip review & rating
Riders can rate and review their trips based on their experience, just like the Uber app. The review enables customers to give feedback about the car, driver's behavior, and safety measures, among other things.
Manual trip assigning
Admins can manually assign a trip request to the available drivers. This feature is incredibly useful in areas with poor internet connectivity or while facing temporary connectivity issues.
All-in-one dashboard
An interactive dashboard helps admins to keep an eye on every ride and transaction. Monitor ongoing trips, analyze completed trips and track negative reviews to give riders a prompt response.
Driver reports
Get daily and weekly reports of trips completed by the drivers and the amount of business they generate. This helps you to calculate total revenue, profits, and forecast business performance, among other things.
Fare management & driver commission
Manage a flexible fare strategy by proactively tracking the demands and availability. Also, set different commission for different drivers according to the areas they operate in and their performance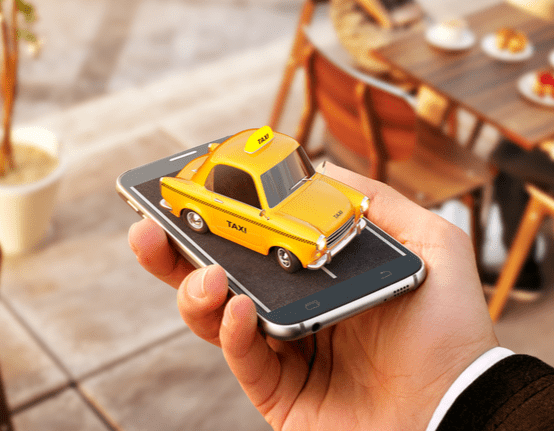 Our Taxi-booking app portfolio
We have developed taxi-booking apps for small taxi operators, ride-hailing start-ups, and large transportation companies. The diverse experience enables us to quickly grasp your requirements and deliver the desired solution.
View full portfolio
When we planned to launch app-based taxi services, the first thing we needed, was an app that can serve consumers well. One of my friends recommended OrangeMantra. The development team made the launch of our taxi services start-up much easier.
– Founder of an India-based taxi services start-up
OrangeMantra built amazing Android and iOS apps that helped our transportation business to upgrade and expand taxi services. The app changed the way we operated taxi services across multiple cities.
– COO of a transportation services company
Frequently Asked Questions
Ride-hailing means booking rides and paying for taxi services through a mobile app with a transportation network company such as Uber and Ola. Ride-hailing services mainly rely on a mobile app that riders use to connect with drivers.
The costs of developing a taxi-booking app depend on several factors. The design complexity of the app, development time and the preferred technology play important roles in calculating the costs. OrangeMantra builds flawless Uber-like apps at a competitive price.
There's no predefined time for developing a taxi-booking app. It varies greatly depending on the features of the app, its design, and the preferred development framework. The best way to know an estimated time is to consult app development experts.
test