Hassle-free website development to speed up your digital presence
Squarespace is a results-focused web development platform for businesses and individuals. The platform features design styles and templates for every kind of need. Whether it's a personal website, business website, or an online store, the Squarespace has it all. Besides, when you build your website on Squarespace, you get numerous options for managing content and marketing.
With Squarespace development, you can bypass the complexities of building a website. From choosing hosting services, domain names to developing themes and plugins, you don't have to do any of these. Instead, you can focus on making the website more attractive and engaging. We help you to build highly responsive and design-rich websites tailor-made according to your unique needs.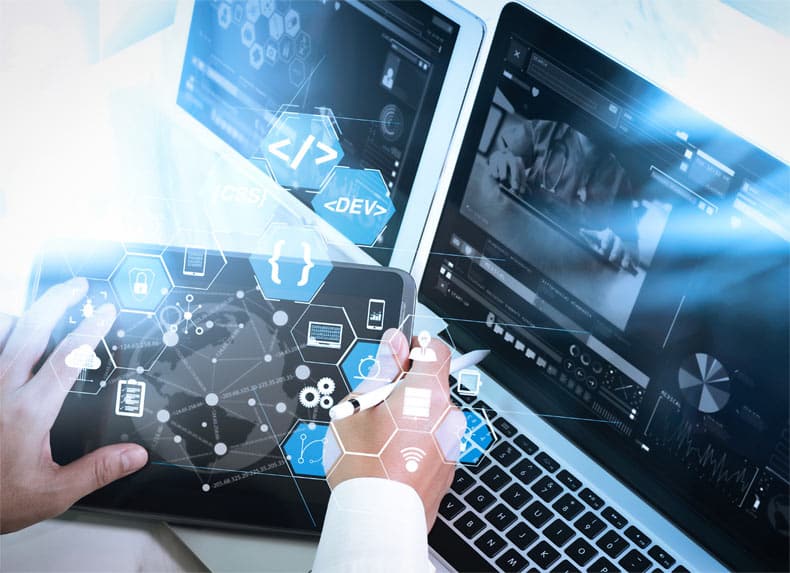 Why Choose Squarespace
Templates of your choice
You can choose from an astonishingly diverse range of website templates. Choose the one that reflects your business and brand identity. Give your website the look and feel you want.
Expand your reach
With a Squarespace website, you can stand out from the crowd. A design-rich website helps you engage customers. Designs created by some of most creative professionals help you expand reach.
Add all the extra tools you want
Squarespace enables you to add various tools and extensions according to the specific needs of your business. Be it a plugin, a third-party extension, or an online store, add the tools you need
In-built marketing capabilities
From brand-focused email marketing to engaging social media campaigns, Squarespace offers you an extensive array of tools for everything. Use the tool that suits your need and boost sales.
Squarespace website development services from OrangeMantra
From web design to development to post-deployment support, our Squarespace offerings cover everything.

Squarespace web design
Our designers evaluate your requirements business process to create layouts and designs that perfectly suit your website. Squarespace offers a diverse range of designing features to create an attractive website from scratch. Turn your website idea into a strong online presence.

Squarespace website development
Develop a perfectly professional-looking website using the robust and design-reach Squarespace framework. It features and functionalities help you to rapidly develop and launch a business website without any hassle.

Digital marketing
Market your website brand with the in-built marketing features offered by Squarespace. Email campaigns, social media marketing, PPC, or any other form of branding campaigns you want, we are here for you.

Squarespace maintenance & support
The relationship with our clients doesn't end after we deliver the solution. Our tech support team is always ready to resolve all your queries and address all your maintenance needs. We are just an email/phone call away.
Top Features of our Squarespace websites for businesses
From web design to development to post-deployment support, our Squarespace offerings cover everything.
Sell from a ready-to-launch online store
With the Squarespace website development platform, you can quickly launch your online business and expand your reach.
Online scheduling to save your time
Enable customers to quickly view the availability of products and schedule purchasing/appointment.
Integrate third-party extensions
Seamlessly integrate all the third-party extensions that you need. Manage, optimize, and redesign your site according to your changing needs.
Our Squarespace website portfolio
We have designed and developed Squarespace-based websites for businesses of all kinds. Our services span across industries and organizations. Know more about our website development expertise.
What clients say
"I needed a website with a professional look and feel. Squarespace development offered by OrangeMantra helped me to rapidly launch a website according to my needs."
A leading personal trainer 

"Our business urgently needed a website that can attract the target audience. A Squarespace website not just helped us to make a desired online presence but also increase sales."
Owner of a clothing manufacturer 

Frequently asked questions
The development time of a Squarespace website usually takes a very short time since most templates and elements are ready to use. However, the development time depends on your requirements. If your requirements are limited and predefined it takes comparatively less time.
The development cost for a Squarespace website depends on what kind of website you need. Costs are lower for a website with basic themes and features. If you need a high-performance site with more advanced features, the cost will be different.
The costs of designing a website depend on your requirements. Factors like what kind of website you need, its features, and design elements together decide the development cost. OrangeMantra delivers captivating website designs at a competitive price.