Our teams are working remotely to meet your tech requirements promptly – Contact us Today !
Custom food ordering solution to serve the best food in your city at your doorstep
According to research conducted by 93% of millennials aging from 23 to 38 own a smartphone. Since then, it has become much simpler for a business to reach its targeted audience. On top of that, the COVID 19 situation has shifted the preference of consumers from Brick and Mortar solutions to Online Solutions. On-Demand business providers have capitalized on this situation the most. Nowadays from the cab to food, even groceries are available at a single click. If you open the Play Store, you will find an abundance of food delivering applications as more and more outlets are accepting the need for On-Demand Food Delivering Application Development. The goal of these apps is simple, to provide individuals a platform from where they can order their favorite food item and get it delivered at their home within 15-30 minutes. Digital subscription and Food Delivery apps are witnessing a surge in their sales since the start of this year.
Leading in the technical development from the last 20+ years, we at OrangeMantra are eager to make it easy for our clients around the world to pursue their dream business and start their own On-Demand Food Delivery Business. Our On-Demand Delivery application development is completely customized based on clients' requirements, in order to make their business scalable as well as providing their consumers the best in the class experience of food delivery services.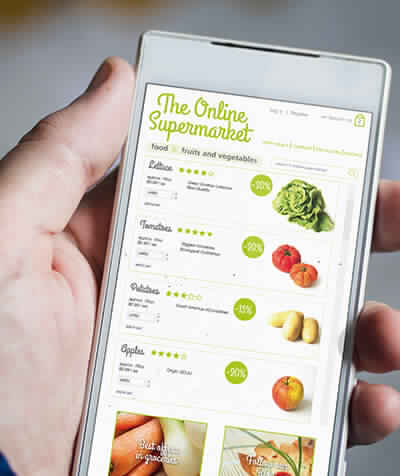 Uber For Food That Transforms Your Food Business As Per Your Customers Needs
OrangeMantra with its extensive knowledge and with years of experience offers a wide range of solutions in the On-Demand food Delivery app
Restaurants
Own a restaurant Chain? OM has a dedicated team of developers that offers restaurant app development services including developing restaurant eCommerce, website/Application for Contactless dining as well as for Food delivery.
Aggregators
Fully Customized Online Food Delivery App with detailed analytics support, and advanced features like automated dispatch/delivery system and accomplished tracking system.
Food Business
Scale your business and increase the percentage of your revenue growth, loyal customers engagement with our exclusively built Food On-Demand Application.
Food Delivery Application Features
A general food delivering applications consists of three major panels, i.e. three unique application – Customer panel, Admin panel, and restaurant Application :
Customer Application
Designed with keeping customer's perspectives in mind, to ease the user's flow of ordering food services.
Easy Onboarding
Quick sign up with social media platforms or with an email to get the user started with ordering food processes instantly.
Restaurant listings
Allowing the user to search their preferred restaurant by providing intuitive filter options like location, delivery-area, nearby pick-up locations, timing, reviews, categories, etc.
Order Tracking
Real-time notifications and push-notifications on consumer's smartphones to keep them up to date with their order's status.
Multiple Payment Options
Smart payment options for customers. They can pay via wallet payments, credit cards, or debit cards or can use UPI for payment.
Offers/Promotions
Provide exclusive offers to your customers via push notifications and coupon codes to provide discounts and increase engagement and retention.
Review & Ratings
Customers can review and rate the service of a restaurant based on pricing, food quality, delivery details, and other details.
Restaurant Application
Launching new offers, creating profiles, adding menus, etc are some major features of Restaurant.
Profile Creation
Allows restaurants to sign up over the app platform and add details of the restaurant like foods, menus, photos, etc.
Order's dashboard
A central hub from where owners can manage orders, approve new orders, generate invoices, and keep a tab on payments and delivery status.
Manage Promo & Notifications
The business owner can start any new offers and check the real-time data to understand the engagement around that particular offer.
Manage Feedbacks
They are able to check the customer's reviews, understand the issues, and make improvements as per consumer's requirements. They can even respond to those reviews to address the situation.
Manage Menu and Pricing
Allows partner restaurants to edit the menu, items, services, quantities, and prices of the products.
Report and Analysis
Partner restaurants will get a detailed analysis of their customer base, which they can use to make better marketing decisions and manage their business better.
Admin Panel
A robust tool for your Food On-Demand Application to manage all the operations from a central hub.
Restaurant management
Add and manage all the cuisines associated with your application. Manage the listings to maintain a seamless supply transaction.
Menu Management
Check the menu listings from all the restaurants, adding and then maintaining the menu listings for each restaurant.
Payments and Commissions
Set a fixed amount of commission with a particular restaurant via controlling commission features and make payments on scheduled time.
Insights and Analysis
Encyclopedic and data-driven report generation to help admin in taking important decisions.
Variety Of Revenue Models To Maximise Your Platform's ROI
Commission
Set a fixed percentage of the amount out of the total revenue which you'd like to charge from the partners that are restaurants providing their services on your platform as a commission.
Advertisement
Not charging by money but by clicks. Generate a good revenue with this model by charging a certain amount in consideration of clicks on ads. A widely popular method among entrepreneurs.
Subscription
All partner restaurants and individual owners need to pay a recurring fee every month or year, depending on the monthly or annual plan, to continue over your platform.
Frequently asked questions
Most of the On-Demand Food delivery app users are millennials. These platforms have made it easy for them to access the menu on their smartphone and order home delivery of favorite food items rather than visiting the restaurant.
It totally depends on the following things:
– Type of On-demand Food Delivery App
– Size of the Application
– Customizations as per your needs
– Advanced features
The consumer will open the food delivery application, select the dish they want. Now either they can take it themselves by visiting the restaurant. Another method is either the cuisine or the application service provider will assign a delivery boy who then will deliver the food to the address provided by the user while placing the order.
test