We are working during the Coronavirus lockdown, and we may have a solution for you – Contact us Today !


OrangeMantra has been in the limelight of mobility services with top brand clients like Ikea, Hero, Decathlon, Philips, Haldirams, Tetrapack, Top Banks of Indonesia, Thailand & Singapore, Apparel Brands of UK, and more to its credit.
OrangeMantra takes the pride to announce that we have been awarded the 'CIO CHOICE 2017′ Honor and Recognition for 'Mobility Consulting' sub- category under Enterprise Mobility.
The award represents the voice of CIOs of India. About 350+ CIOs voted for OrangeMantra depicting the values of trust, customer-centric services, vendor partner values earned in the domain of mobility. Some of the other category winners were Akamai, Dell-EMC, Tata Consultancy Services, NTT Communications, Vodafone, etc.
OrangeMantra is recognised with CIO Choice Honor & Recognition, organised by the Centre of Recognition & Excellence (CORE), the only independent ICT Vendor Recognition platform. The award was conferred at an exclusive gathering of Celebrity CIOs and Industry Leaders across India at The Lalit, Mumbai on January 6th, 2017.
We Have Made Headlines Everywhere
A Few Samples Here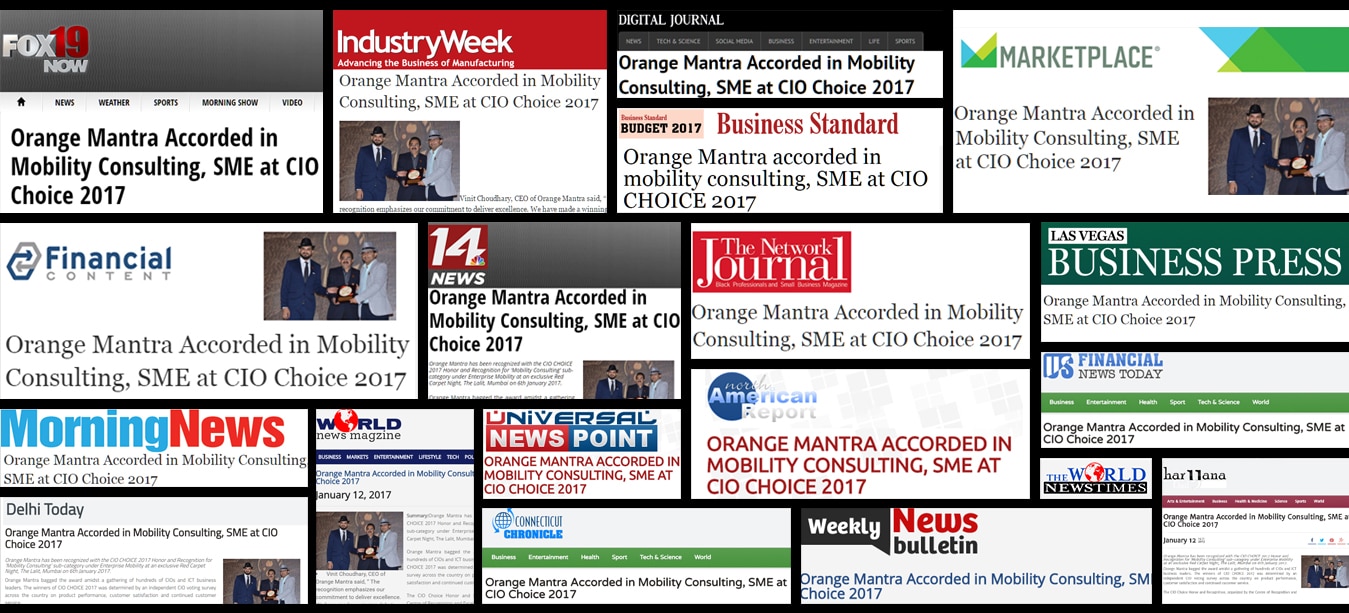 LIVE STREAMING VIDEO OF FELICITATION
RED CARPET NIGHT
test