Our teams are working remotely to meet your tech requirements promptly – Contact us Today !
Achieve Higher Business ROI through Agile Development Services
In today's rapidly-advancing business world, Agile development methodologies are in huge-demand among business enterprises to quickly respond to the market opportunities, improve productivity, grow sales and reduce operational cost. At OrangeMantra, over 90% of development process is executed with Agile principles. We have a large team of highly experienced Agile professionals and scrum masters who work dedicatedly to incorporate best practices to accelerate project development. With our sprint plan we ensure features are built right the very first time.
We deliver IT projects using Agile development methodology, DevOps, Tools and Automation, Continuous Integration (CI), and overall technical expertise. We have been using Scaled Agile Framework, SCRUM, and Lean best practices to deliver client projects within the set deadline.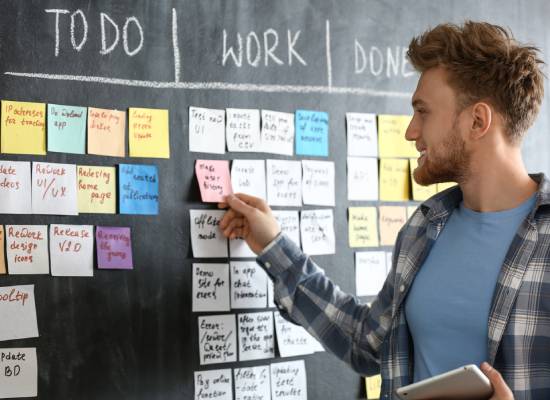 Agile Product Development Services & Solutions
Agile Consulting and Assessment
Our team has expertise in Agile consulting services, development, customization, maintenance, testing and support. With Agile Development Solutions, OrangeMantra offers a smooth & seamless environment for better "3Cs" that is collaboration, coordination and communication.
Agile Development Framework
Our development framework follows a Scrum based unique iterative methodology with well-defined QA and management processes. This ultimately delivers visible and incremental value to a project. It focuses on delivering working software and leveraging feedback to improve the application performance.
Agile Product Development
Our Agile methodology helps to deliver high-quality software in a timely and cost-effective manner to meet your target audience changing needs. OrangeMantra's experienced Agile development capabilities helps you to get your product to market faster than ever before.
Continuous Integration and Delivery
Our Agile and Scrum approach for software delivery process enables speeding up of Continuous Integration & Project Delivery by enabling teams to find and resolve bugs within the development cycle. This process helps to deliver new projects into the hands of clients as quickly as possible.
Benefits Delivered by Our Agile Development Methodology

40% Increase in time-to-market
With our latest tools and proven Agile methodologies, business enterprises can achieve 40% faster time-to-market rate.

Build high-quality products
With the integration of innovative Agile features, we deliver bug-free solutions on the very first go.

Enable faster software delivery
Our dedicated and time-boxed software delivery approach helps to build and integrate latest features seamlessly.

Reduce operational cost by 20%
Our fast delivery and flexible hiring models help clients make better investment decisions and also improve business RoI.

100% business transparency
We collaborate & communicate with the clients throughout the project for complete visibility into the progress.

Greater Flexibility and Reduced Risk
Our experienced Agile teams are adaptable to emerging market changes which helps in reducing the risk of project failure.
Why Choose OrangeMantra for Agile Product Development?
Our Agile development services help you identify and implement the correct approach, ensuring your business is always prepared to deal with market unpredictability. Our services are a blend of Agile, scrum and lean practices that boost top quality, & iterative approach to developing software. Some of the major benefits of outsourcing Agile Development to OrangeMantra include –
Flexibility & Scalability
Quick Returns
Early and Frequent Delivery
Enhanced Team Collaboration
Enhanced Business Value
Predictable Delivery Schedule
Transparent Communication & Cost
24/7 Maintenance & Support
Client Testimonial
Working with OrangeMantra has been a fantastic experience from the very beginning. They helped us to meet our project requirements in a jiffy with proper Agile approach and it served as an excellent launchpad for our business. Thanks guys, great job!!
-Sally Brook
I am really happy with the OrangeMantra services. The Scrum master was interested in understanding my project requirements because he wanted to give me the right resource. The best thing is that they were highly professional, good at understanding Great communication, with no wastage of time and money.
-Chris Morris
There was a time when we were coming across issues with our project development. Luckily, we found a trusted Agile development partner in OrangeMantra. They gave us extensive support in addressing problems as soon as they came up. To date, they maintain our project and we are absolutely thrilled with the services.
-Albie Morkel
Frequently Asked Questions
test