Our teams are working remotely to meet your tech requirements promptly – Contact us Today !
Overcome All Your Fixed Asset Management Challenges with Our Scalable FAMS Solutions
Organizations use plenty of items on a day-to-day basis to execute their business processes. Fixed asset management is important for every organization because it helps in monitoring and managing assets using a systematic approach. Effective fixed asset management can improve the productivity and efficiency of your workforce which can uplift your business to a better position and increase your ROI. A fixed asset management system can reduce regulatory risks, assist in fraud prevention, and cut down unnecessary business expenditures.
Our robust fixed asset management system helps in tracking and recording all fixed assets and produces accurate, enterprise-standard, and dynamic reports. It ensures enhanced management of scattered assets of your organization, leading to improved accounting practices, maintenance, and upkeep of the asset records. Our FAMS solution is designed to offer seamless integrations with a diverse range of applications and business modules of any organization or entity.
Why Is It Important to Manage Your Assets?
It is important to control and manage your company's assets
For Accountability
To ensure accountability of resources allocated to various departments and individuals
To Reduce Unnecessary Expenditures
You're likely to make a lot of unnecessary procurement of assets if you aren't aware of what your organization already has
For Insurance
To ensure that you're paying the most relevant and accurate premiums
Comprehensive & Accurate Reporting
Proper and accurate assets reporting keeps track of the asset depreciation to be charged by the organization to different departments.
Other common reasons for managing your company's assets include litigation, disaster management, tax benefits via depreciation, leasing control, real-time monitoring, and maintenance.
Keep Track of Every Single Asset of Your Company with Our Robust Fixed Asset Management System.
Key Benefits of Using Fixed Asset Management Solution
The benefits offered by a fixed asset management solution are innumerable. Some of the key benefits of a comprehensive fixed asset management solution include:
Track and monitor all assets
Manage assets from various locations
Helps in planning against financial, legal, and operational risks
AMC and Service contract system
Maintain the assets portfolio
Optimize operations and track performance
Improve resource and time management
Maintain records for audit and physical verification or future reference
Improve time management
Monitor and measure life-cycle costs of assets
Promote the economic stability and growth of your company
Create insurance modules for claims and settlements
Maintain lease agreements and rent receipts
Generate MIS reports and standard reports from the system
Our Comprehensive Fixed Asset Management Solutions
Leverage the power of our well-designed fixed asset management system to manage and track the performance of your enterprise fixed assets while ensuring that they are being effectively utilized and preventing any unnecessary costs due to unscheduled downtime or any other incidents. With our web-based, mobile-friendly, and cloud-based fixed asset management system, overcome all your asset management challenges within the shortest period of time.

Fixed Asset Tracking
Our highly secure fixed asset tracking system keeps track of all the fixed assets of your organization. Gain better accessibility and control over your fixed assets by knowing the exact location of the asset, asset custodian, and tracking asset movement. Our fixed asset tracking system is a perfect solution for those who need to streamline their asset inventory process using the barcode, QR code, RFID technology.

Fixed Asset Management
Our next-gen fixed asset management system provides users with a user-friendly interface making it easy for them to maintain and control the asset lifecycle for depreciating as well as non-depreciating assets, right from delivery to reevaluation to disposal. Additionally, our extensive fixed asset management system also helps in maintaining schedules and insurance and simplifies the management of asset documents, licenses, warranties, and maintenance including AMCs. It provides seamless accounting integrations to present the fixed asset information of an organization accurately on the financial statements. You can also gain accurate reporting and a holistic information view of assets with actionable insights from a single dashboard.

Fixed Asset Compliance
Our enterprise-standard fixed asset management system has been carefully designed to ensure that the user always complies with all enterprise regulations associated with Fixed Asset Management. The calculation of Asset Depreciation will adhere to several regulatory compliances including the Income Tax Act, New Companies Act 2013, SEZ, STPI, and many more. Our high-end fixed asset management system offers a rich set of features including Custom Books, Unlimited Depreciation Simulation, and Revaluation that facilitate maximum reporting accuracy and flexibility.
Features of Our Fixed Asset Management System
Mobile-responsive UI
Our fixed asset management system comes with a mobile-friendly user interface that works perfectly on all devices and browsers.
Scalable & Cloud-ready
Our fixed asset management system can scale according to your company's current and future requirements. As it is cloud-ready, it can effectively scale to any number of users, assets, organizations, locations, and so on.
Secure & Role-based
You can easily configure user profiles based on specific roles and access. Registered users can only access functions and features that are permitted with role-based authentication.
Document Management
Maintain and manage fixed asset documents such as invoices, installation certificates, images, warranties, and many more for physical verification or future reference.
BPM/Workflow Management
Automate and streamline the fixed asset tracking and management operations between users by leveraging configurable workflows, reminder notifications, and tracking.
ERP & Device Integrations
Establish a quick connection with printers and barcode devices. Use or provide API integration services powered with RFID and ERP solutions.
How Can Our Fixed Asset Management System Help You?
Our advanced fixed asset management system is an all-inclusive solution for tracking fixed assets of your company, right from acquisition to disposal.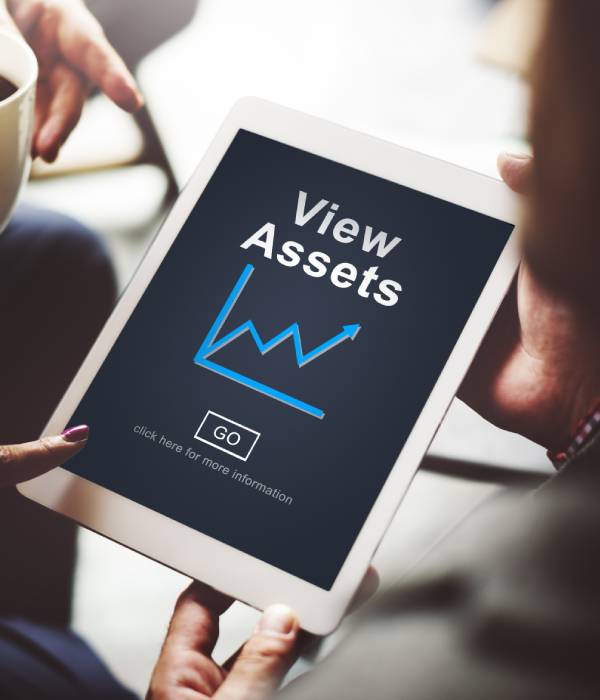 1.
Boost Efficiency
Automated workflow processes can help you add, transfer, and dispose your fixed assets, and modify asset records efficiently and accurately.
2.
Ensure Compliance
Ensure accurate reporting on everything ranging from asset custody to depreciation. Save time using automated reporting and prepare GASB 34/35, OMB, and GAAP compliant reports accurately.
3.
Maintain Data Integrity
Ensure a higher level of data security and accuracy using multiple levels of user access, approval process, and a comprehensive audit trail.
4.
Provide Easy Accessibility
Store all asset-related information and relevant documents in one centralized database to ensure easy accessibility of data by approved users in real-time
Who Can Use Our Fixed Asset Management System?

Hospitals

Retail

Manufacturing

Schools

Governments

Many More
Frequently Asked Questions
A fixed asset management system is a system that is used for tracking and managing all the physical assets and equipment of an organization including furniture, machines, vehicles, computers, etc.
A fixed asset management system can help you to track and manage fixed assets, locate assets in multiple locations, improve workflow efficiency, reduce maintenance and operational costs, and maintain a record of broken, sold, stolen, retired, or lost assets of your organization.
Fixed asset management is important for every organization because it helps in combating the potential risks of
Unplanned and increased downtime
Sudden equipment failures
Misplacement or loss of equipment
Safety and environment breaches
Failing to comply with regulatory standards
test