We deliver innovative IoT services that empower businesses with unmatched connectivity of data and devices
Higher productivity and efficiency
Enhanced customer experiences
Speed, security, and reliability
IoT Services That Drive Digital Transformation
The past few years have belonged to the disruptive technology of the Internet of Things (IoT), with smart, connected devices transforming lives. IoT is empowering organizations to explore new opportunities by creating disruptive business models, enhancing customer experiences, developing innovative products, and unlocking new revenue streams. Since the innovative technology has so much to offer, embracing it is no longer a choice but a compulsion. Hence, there is a need to look for a technology partner that can deliver reliable and end-to-end IoT services to take your business on this amazing journey.
At OrangeMantra, we cater secure and commercial-ready IoT solutions to empower your business with the competitive advantage. Our expertise extends from the web and mobility to the cloud, enterprise applications, big data analytics, BI, and more. We tailor expansive IoT ecosystems that serve enhanced operational efficiency, customer experience, and growth for businesses. As we partner them to supply, install, and manage their physical devices, applications, and platforms, businesses can focus on maximizing their opportunities for extensive growth.
Explore The Value Of IoT For Your Business
Enhanced operational
efficiency Improved customer
experiences Reduced operational
costs Asset lifecycle
longevityy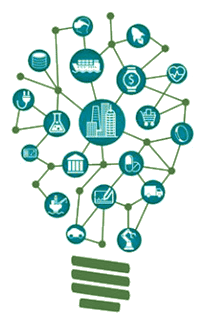 Qualitative product
development Resource conservation
and management New revenue
opportunities Agile response
and control
Our IoT Approach
Validate Strategy

We begin by understanding the business, its requirements, and existing setup to ideate and validate an effective strategy for IoT adoption.

Connect Devices

We deploy IoT-powered devices or sensors to build a connected ecosystem of smart physical assets for the business.

IoT Security

We understand the significance of security of the connected devices and applications and build it as a part of the IoT ecosystem.

Collect Data

We then leverage this ecosystem of connected devices to collect data related to the business-critical processes.

Generate Insights

We design intuitive dashboards which allow real-time access and enable the analysis of data to derive relevant insights.

Experience Results

We help businesses to use these insights for taking productive decisions that yield higher productivity and better customer experiences.
Industry Sectors
We Cater Customized IoT Solutions For Diverse Industries
Automotive
We leverage the IoT technology to empower the automotive sector with enhanced operational efficiency, connected vehicles, and more.
Logistics Management:
Supply Chain Management
Fleet management
Location tracking
Fuel consumption analysis
Connected Cars:
Vehicle Navigation
Vehicle to Vehicle (V2V) Interactions
Smart Driving Assistance
Cloud-based Infotainment
Operational Management:
Floor Visibility
Predictive Maintenance
Asset Monitoring
Energy Management
Performance monitoring:
Vehicle Performance Monitoring
Engine Health Monitoring
Driving Pattern Analysis
Automated Emergency Services
Healthcare
We deliver impactful IoT services and solutions that resolve the challenges of the healthcare industry and improve the standards of patient care manifold.
Connected Healthcare
Continuous Patient Monitoring
Remote Appointment Booking
Emergency Patient Care
Digital Medicine
Connected Hospitals
Equipment and Patient Tracking
Workflow Automation
Workforce Management
Hygiene Management
Remote Monitoring Solutions
Wearable Technology Solutions
Real-Time Patient Monitoring
Remote Diagnostics
Patient Notifications and Alerts
Analytic Solutions
Patient Health Statistics
Automated Device Analytics
Device Usage Patterns
Predictive Analysis
Manufacturing
We offer tailored IoT manufacturing solutions that streamline operations, optimize resource utilization, and reduce costs for manufacturing entities.
Smart Manufacturing
Machine to Machine Communication
Workforce Tracking
Process Automation
Workforce Security Solutions
Monitoring Solutions
Asset Performance Monitoring
Production Line Monitoring
Automated Quality Assurance
Inventory Monitoring
Predictive Analysis
Predictive Maintenance
Production Forecasts
Process Efficiency Analysis
Productivity Analytics
Interoperability Solutions
Supply Chain Automation
Resource Allocation
Failure Mitigation
Energy Consumption Patterns
Retail
We design innovative solutions with the Internet of Things to deliver the most amazing customer experiences across the retail segment.
Smart Shelves
Real-time Product Tracking
Stock Monitoring
Automated Stock Replenishment
Automated Temperature Control
Personalized Marketing
iBeacon Applications
Location-based Marketing
Automated Notifications
Omni-channel Marketing
Monitoring Solutions
Remote Provisioning
Intrusion Detection
Automated Quality Assurance
Inventory Monitoring
Predictive Analysis
Customer Behavior Analysis
Market Trend Analysis
Business Intelligence Solutions
Customer Segmentation
Logistics
We harness the unmatched potential of the IoT to build solutions that add value to businesses engaged in providing logistics services.
Warehousing Solutions
RFID-based Inventory Tracking
Asset Management
Smart Energy Management
Security Management
Fleet Management Solutions
Route Optimization
Connected Fleet
Smart Supply Chain
Condition Monitoring
Predictive Analysis
Predictive Maintenance
Anticipatory Shipping
Inventory Analytics
Predictive Asset Lifecycle Management
Delivery Management
Smart Memory Labels
Connected Boxes
Freight Management
Backward Logistics Optimization
Energy
We cater smart energy solutions that explore the potential of the IoT to facilitate sustainable use of energy resources.
Smart Services
Remote Troubleshooting
Fault Detection
Energy Theft Detection
Consumption Optimization
Monitoring Solutions
Smart Meters
Asset Monitoring
Automated Billing
Automated Alerts
Smart Control
Automated Energy Management
Power-Generation Monitoring
Real-time Equipment Control
Integrated Energy-Asset Management
Analysis
Predictive Maintenance
Equipment Performance Analysis
Consumption Pattern Analysis
Outage Analysis
Agriculture
We strengthen the agricultural sector with IoT-powered smart farming solutions that transform the conventional farming techniques.
Smart Farming
Soil Monitoring
Weather Monitoring
Equipment Monitoring
Automated Irrigation
Livestock Management
Real-time Tracking
Geo-fencing Applications
Livestock Health Monitoring
Feed Management
Precision Farming
Predictive Analysis
Weather and Produce Forecasts
Automated Pest Control
Remote Inspections
Production and Storage Management
Smart Sensors
Temperature Monitoring
Warehousing Management
Machinery Automation
Smart Cities
Connected Buildings
Smart Sensors
Smart Access Systems
Energy Efficiency Monitoring
Ecology Monitoring
Smart Operations
Smart Utility Meters
Automated Event Logs
Automated Billing and Payments
Remote Troubleshooting
Smart Controls
Automated Utility Supplies
Automated Traffic Control
Automated RFID Access
Smart Energy Transmission
Service and Safety Management
Waste Disposal Management
Street Lighting Management
Automated Security Alerts
Service Progress Tracking
Our Service Offerings
IoT Consulting

We extend expert IoT consulting and insights to help the clients for embracing IoT as a part of their existence. From roadmap creation, to use case preparation, business KPIs, and ROI mapping, we take care of the entire aspects of planning IoT adoption for the business.

Application Development

We create powerful IoT-based applications that facilitate seamless connectivity between the physical and the digital. Our expert solutions are capable of creating connected products as well as converting the standalone products into smart ones which are capable of doing more.

Implementation and Integration

We have a team of certified IoT engineers who implement and integrate IoT solutions into your business applications. From sensor integration to BI integration, M2M communication, integration of partner products or platforms, we enable enterprises with comprehensive solutions.

Upgrades and Migration

We help the businesses to enhance their existing systems and resources with upgrades of applications, versions, and technologies, as the need may be. Our extensive IoT solutions take businesses on the growth route as they embrace digital transformation.

IoT Security

We ensure a robust IoT ecosystem, with the connected data, devices, business applications and communication networks being able to exchange information in a seamless yet secure manner. With us, businesses can be sure that their IoT transition is safe and secure.

Managed Services

We have a team of experts to assist the businesses in managing and maintaining services across the entire IoT stack through smart asset management solutions. We also extend reliable asset monitoring, along with predictive maintenance and AI-based solutions.
Why Choose Us As Your IoT Partner?
We are capable of building smart, secure, and scalable IoT solutions that open up unlimited possibilities for your business
Our solutions are tailored to match the unique requirements, opportunities, and challenges of the client's business
We have a skilled team of IoT specialists with rich experience of having worked for clients across multiple domains
The services we deliver are competitively priced yet never compromise in terms of quality
Our team is open to innovation and creates solutions that embrace the latest technologies and trends
We are committed to creating result-oriented solutions which are always delivered within the stipulated deadlines
Looking to give your business the IoT advantage?