measuring monitoring, and managing
the online health of your brand
Gathering online buzz and reviews about your brand from all major review sites

Getting your customer testimonials and uploading them on social media platforms

Countering negative posts and comments to protect your online reputation

Regular monitoring and management to ensure that your brand reputation stays healthy
request a quote

Have an Idea? We will make it work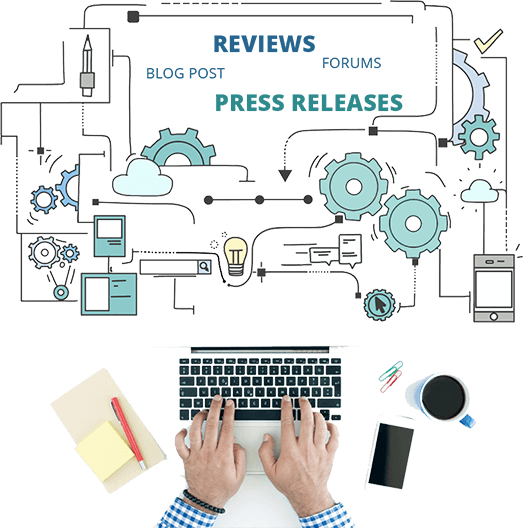 We Bring Reliable ORM Services At Your Doorstep
Business reputation management is an integral part of the corporate strategy as it builds and maintains the trust that the customers have in the business. With the internet being the marketing mainstay in the present time, online reputation is as important as the actual one. Negative reviews, illegal content on hate sites, negative media coverage, and false information are just a few of reputation-related challenges that businesses come across. It is, thus, essential for them to protect their online image from being tarnished by negative comments and reviews on the internet. At Orange Mantra, we are a renowned digital agency that offers a wide range of digital marketing solutions including online reputation management services in India. We enable clients to overcome the negative reputation and create a positive image for their products, services, and brands.
Our ORM experts provide a comprehensive range of services:
Reputation And Brand Analysis
A business needs to review its reputation as well as the brand value on a periodic basis so that it can work on improving them. At Orange Mantra, we initiate the ORM process by examining your brand reputation, its market positioning, and the competition you have. In the case of a reputation attack, we investigate untraceable threats and attackers for you. Our cyber investigative techniques include data cross-indexing and email tracing.
Strategy development
ORM is not just about being reactive and countering an attack on the business reputation. A sound strategy also includes a proactive approach that ensures that damage is not inflicted in the first place. As a part of our Online Reputation Management Services, we frame a fool-proof strategy that utilizes the existing online resources to enhance the visibility as well as the reputation of the brand.
ORM Implementation
Once the strategy is chalked out, it has to be put into action to protect or restore the brand reputation as the need may be. Our experts combine effective ideas such as aggressive SEO for marketing of positive content, publishing optimized press releases, posting positive customer reviews on popular review sites, and negative review removal. We employ a counter-propaganda to deal with any negative reviews and defamatory remarks.
Online Branding
By availing these services, you can protect your brand against false complaints, online slander, and misinformation. At the same time, we make sure that we help you build a strong, credible, and effective brand image. We also optimize your brand positioning and reputation on search engines as well as social media platforms.
Online Reputation Monitoring
ORM goes beyond creation and management of the brand reputation as it encompasses the monitoring of the reputation too. We continuously monitor the web and online conversations that relate to your brand and alert you as soon as we notice any issues that need to be addressed. We also assist you in drafting response where required.
Reporting
Reporting is a significant element of the entire ORM cycle as it indicates the efficacy of the campaign. We provide comprehensive reports as a part of our reputation management services so that you can track the progress of the campaign. The report includes the entire performance metrics that empower you with complete knowledge to validate the services we give.
Why Orange Mantra For ORM
Orange Mantra is reputed as a leading digital marketing company that extends reliable ORM services in India. We enable you to look your best online as we manage your reputation on the internet and build a positive image for your brand.
We follow a client-centric methodology and deliver industry-specific, customized strategies for each of the clients
Our experts consistently perform real-time monitoring to know all about your brand buzz on the web
We have a team of certified experts who have years of experience to their credit
Over the years, we have created countless successful campaigns for hundreds of happy clients
At Orange Mantra, we believe in delivering cost-effective solutions that fetch high ROI for the clients
We follow the latest trends and techniques to get best results with our campaigns
We empower our clients with consistent reporting to give them the satisfaction of having chosen the best ORM partner for their business
Get In Touch With Us To Learn More
Client's Testimonials
The quality of the work provided at Orange Mantra was simply superb. They have an impressive kind of response and follow up. They won our trust and confidence and we are eager to work with the talented Android team again.
– Mick
I recommend Orange Mantra's App Store Optimization team for their great work in maintaining and upgrading the mobile application. They were always on time and delivered the desired outcomes.
– Louis
Orange Mantra has a good App developer' s team and I enjoyed working with them. Communication and responsiveness were top-notch and their skills were strong. In case where the work was beyond the ability, they were in preparation and put more hours on work to get the task done on time. I enjoyed working with Orange and will likely have additional projects for them in the future.
– Cristiano
I have only one word to say about Orange Mantra. That is WOW!! Time, Cost, Efficiency, Professional, Cordial are some of the words that strike my mind regarding the App development moments. We are getting a successful number of downloads and are expecting more shortly. All due to their sincere efforts. Thank you Team.
– Omair
OM team did a great job. The mobile app was developed in a short time! I liked the consistency in their way of communication. I was always informed about the working status and the next steps involved. Thank you again!.
– Christoph
The Team excels in fast service. They designed, developed and delivered our android and iOS app within a short duration of time that anyone may not even imagine. It's the result of an amazing team effort.
– Bryan