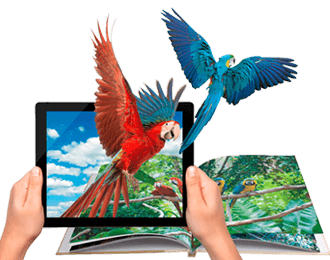 Hire Expert Wikitude Developers To Create Outstanding Apps That Take Augmented Reality To The Next Level
Augmented Reality is a technology that is making waves on the mobile application front because of the exceptional experiences it delivers. Such is the extent of its popularity that not only gaming applications but business solutions too are embracing this technology with open arms. At Orange Mantra, we serve you with innovative Wikitude development services to take your AR apps to the next level.
We recognize the promise that this technology holds and create futuristic apps by leveraging the potential of Wikitude SDK. Whether you are an emerging startup or an established enterprise, we ensure that you keep ahead in the race with our unmatched Wikitude solutions. Our team comprises of seasoned Wikitude experts who are capable of developing rich AR applications for desktop, mobile, and tablet.
Explore The Powerful Features That Wikitude Offers
Wikitude has exceptional features that can be leveraged to fabricate the most amazing AR Applications
Object Recognition
With the powerful object recognition technology, Wikitude is capable of creating an additional touch point to interact with the users and furnish amazing 360 degrees AR experiences around real objects.
Image Recognition
Wikitude's innovative image recognition and tracking technology can be used to switch between augmenting the recognized images and the geo-located points of interest that lie within the live camera image.
Multiple Image Target
Multiple image target enables simultaneous recognition of several images. With this feature, it becomes possible to bring interactivity to apps by layering 3D models, images, videos, buttons, and more on each target.
3D Augmentations
Loading and rendering 3D models in the AR scene is possible with Wikitude. Additionally, it provides a plugin for Unity3D that helps you to integrate Wikitude's computer vision engine into an application based on Unity3D.
Instant Tracking
Based on Wikitude's SLAM technology, the instant tracking feature of Wikitude allows the mapping of environments (indoors and outdoors) and displays the AR content without requiring a target image (markerless).
Extended Tracking
Extended Tracking too used the SLAM algorithm to provide robust performance for Wikitude-based apps. It facilitates amazing AR experiences with the users being free to move their devices without keeping the marker in the camera view.
Cloud Recognition
With the cloud recognition feature, the developers are empowered to work with a large number of cloud-hosted target images. It is a scalable solution with high recognition rate and quick response time.
Multiple Platforms
Wikitude is available for both iPhone and Android platforms and can even be used for augmented reality smart glasses. These apps are capable of running flawlessly on a variety of devices and across diverse platforms.
Industries We Cater To
Our Wikitude Developers offer amazing AR apps for diverse industries

Media Applications

Health Applications

Travel Applications

Fashion Applications

Retail Applications

3D Gaming Applications

Event Managing Applications

GPS Applications

Photo editing applications

Art and Design Applications
Why Choose Us
At Orange Mantra, we develop Wikitude applications that translate excellence.
Expertise
Our team comprises of skilled Wikitude developers with expertise in the innovative technology
Experience
We have a rich experience and have catered a large number of apps for cross-industry clientage
Quality
We ensure the highest quality standards by following best practices and stringent testing measures
Timely Delivery
Our professionals value time and ensure that every project is delivered within the deadline
Flexibility
We bring flexible hiring models to hire Wikitude developers on an hourly, part-time, or full-time basis
Affordability
Our motto is to deliver high-quality solutions that fit into the client's budget
Enrich Your Business With Outstanding Wikitude Applications