No-Code Application Development! A decade ago, this would seem like a far-fetched idea. What if we told you that you can too create an application for your eCommerce website and take your business as well as brand's presence to a new level. But before that, let's take a look at how the No-Code development came into existence? 
It all started back in 2003 when WordPress first allowed its users to create a website without using any coding skills. Even today, about 35% of the world's sites are fueled by WordPress.  
 Just a year later, Shopify came into existence and allowed the world to make incredible online stores.  
The Internet was still in its initial days, however, WordPress and Shopify showed a way to entrepreneurs who assembled a wide range of online organizations — from sites and specialty eCommerce business stores to dev shops building themes and modules for both WordPress and Shopify.  
No-code application development has acquired monstrous fame in a short time, from the non-specialized builders or entrepreneurs since it doesn't need any programming knowledge. If we see history, no-code platforms and applications development has seen a critical ascent. Take the case of Appy Pie's AppMakr. AppMakr has grown 198% in the first half of 2020 and went even further in the second half of 2020. In addition, 34% of organizations are as of now utilizing a no-code platform. No-Code App Development even paved paths for services like Staff Augmentation and Product Development. 
Let's take a look at the benefits of no-code application development to determine why it is an ideal choice for your eCommerce Business: 
Benefits of No-Code App Development
Faster Development 
Here, quick means extremely quick. At the point when you contrast this with coding, you will see what we mean. A basic application will not take more than a couple of hours and a complicated client application will require half a month tops. The timeline of traditional application development, then again, starts with "months" and can increase with the requirements.  
It is simple
We have said this previously and we will say it again – no-code devices are extremely easy to use. They are natural and eliminate the learning cycle. They are easy to such an extent that a secondary school child can also utilize them. They generally incorporate simplified features that empower you to make any client enterprise-level application effortlessly without any coding knowledge. Since it's all visual, developers can perceive what they are working on progressively and make changes accordingly.  
No-code applications are easy to update
Programming applications require steady updates to add new features, squash bugs, etc. Customarily, this is a drawn-out measure, which regularly expects clients to cut down the application now and again. No-code applications, then again, have no such limitations. A new feature can be designed immediately while the application is being used. Additionally, sending updates is quicker than before.  
You can pivot without any problem
By "pivot," we mean changing the application's targeted audience or market. If you conclude that a specific no-code application will function admirably for another objective market, you can do the switch without involving the developers. You will not cause substantial costs either!  
You need only one individual – not an entire group!
How cool is it that a single individual can assemble an application and that too in practically no time? A capable in-house developer will get the job done and you won't need to spend your budget in building an enormous group of costly expert engineers. Likewise, the in-house IT specialists can zero in on other significant assignments as the resident engineers assume control over the application development.

Building MVP
The most important benefit of No-Code Application Development is building a Minimum Viable Product(MVP). Suppose you have an application idea for your eCommerce website that is unique from every other application present in the market.  
Starting a new application with end-to-end features will take a lot of time. It can also put a dent in your budget. Moreover, there's no guarantee that your developed application will make an outstanding impression on the consumers.  
This is where No-Code development tools shine. These tools allow you to develop a prototype of your application, highlighting only the major and unique features of your application. Developed within days, you can roll out your MVP to the users and ask for honest feedback. This will allow you to understand the mindset of the consumers and can make changes accordingly.  
So What Qualifies as a No-Code Tool?
Both new and established SaaS organizations are utilizing the chance to showcase themselves by riding the no-code wave.  
Plenty of SaaS products are being situated as no-code tools just because they empower one to accomplish something that would otherwise require composing code.  
CRM programming permits one to follow, coordinate, and oversee client connections without composing code. Without out-of-the-box, adaptable CRM devices, organizations would be constrained to designate developers to fabricate custom programming to do what a CRM does. 
Fundamentally, SaaS devices that empower one to manage one's work and do it proficiently without depending on code, would all be sorted as no-code tools.  
Indeed, even developers depend on devices that supplant or reduce the weight of composing custom code to execute standard features like client confirmation, search, and installments.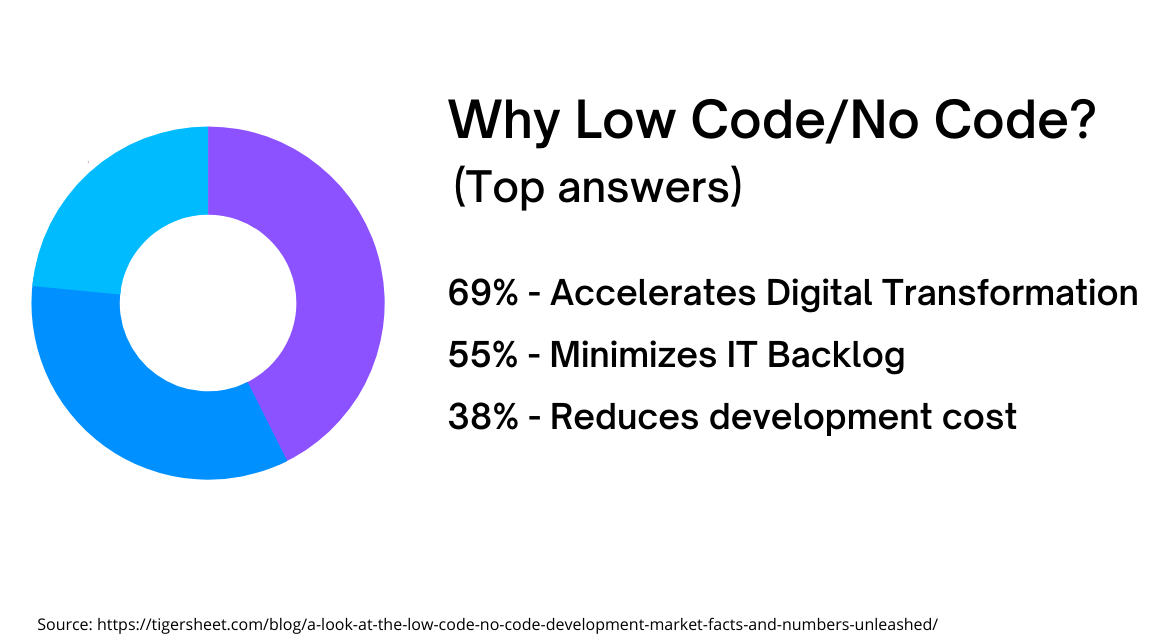 Ending Note
No-code application building is a speedy, simple, and minimal expense. By opening up your eCommerce store to the large numbers pursuing their mobile phone, you significantly increase your market reach and see the effect on your benefits right away.  
Unsure events have certainly started things off, however, no-code isn't an accident or a pattern. It is setting down deep roots. Since ventures are understanding its force and convenience, there is no question that more no-code tools will be created and this sort of application development will turn into the new ordinary. According to a new Gartner study, by 2024, 75% of big enterprises will use somewhere around four low-code, no-code development tools for both IT application development and development initiatives. 
FAQs
1. What is no-code application development?
As the name recommends, no-code application development is a strategy for building applications without composing code. This is made conceivable by no-code platforms, which empowers developers to relocate pre-arranged blocks to make progressive, enterprise-level applications. 
2. Would I be able to create an application without coding?
Appy Pie App Maker permits you to foster Android, iPhone, and PWA applications in one go and connects you with every one of your clients. You can pick the features that are relevant to your clients. Appy Pie App allows you to make your mobile application without any coding.  
3. How would I make a game without coding free of charge?
Experience Creator is the resource you need in case you're into making 2D, 2.5D, or 3D games in Unity, no coding is required. Its visual prearranging framework and natural Editor empowers novices to assemble a whole game without composing a line of code and helps software engineers plug and play their usefulness.