Get effective PHP programs at Orange Mantra. We create full-featured web applications with the help of CodeIgniter framework and offer clients high-quality PHP programs. The efficient and experienced team at Orange Mantra creates web applications in very short span of time and that too within clients' budget.
Orange Mantra has a handpicked team of highly-qualified and professional CodeIgniter programmers. The team makes it extremely easy for the clients to bring changes in design elements of their web applications and e-commerce applications.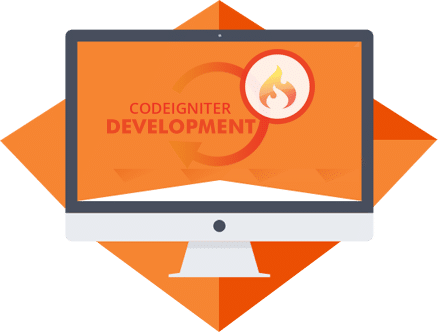 The company offers intuitive and dynamic websites while using this amazing framework. Years of experience in the field helps company offer well-documented, organized and high-quality web solutions that are also optimized for speed. The team here incorporates a range of powerful features of PHP framework in CodeIgnitor development process and delivers result oriented web applications.
We offer clients an advanced CMS system that enables them to run multiple websites while using a single back-end code engine and this is made possible with the help of CodeIgniter framework.
How CodeIgniter is the answer for your next project?
A Note on CodeIgniter's Attributes For Your Benefit
Easy data base management
Server to server migration is easy and hassle-free
Second to none quality in each phase of development.
Full page caching and user friendly search engine URLs.
100 percent client satisfaction and complete assistance.
Provide you with a small footprint with exceptional performance.
Website and application customization as per your specifications.
We build simple solutions with CI even though the data may be complex.
Serve you with those extra functionalities to create an amazing website.
Right hand information and extensive support forums, community, and more.
Simplicity and high scalability is an asset for your PHP app development project.
Develop dynamic websites at a faster rate by using the rich libraries for common codes
Offer authentic convention with its MVC pattern with all ease and thus speed up your development.
Broad compatibility with standard hosting accounts for a variety of PHP versions and configurations.
What We Offer: CodeIgniter Development Services
Develop Custom Web Applications
Experienced CodeIgniters transform your business value into data base driven web applications highly customised to the needs.
Develop Web Portals with PHP CodeIgniter and MySQL
Expand your online services at global level with web portals developed with CodeIgntier and make the world know about your business.
Create & Custom e-Commerce Websites
Make your e-commerce business easy and hassle-free with CI Framework and AJAX based Shopping Cart App to handle all the sensitive data.
Integration with third party API' s
We integrate third party services like payment gateways, email services, social media services, analytics, etc. with various APIs.
Web 2.0 based CMS Development
Our developer experts develop an efficient CMS, customize as you require with strong functionality streams within your stipulated time frame.
PHP CodeIgniter Website Maintenance and Up-gradation
We are available 24*7 for your website maintenance and upgradation. Further, we ensure that your application runs even faster.
Corporate Applications Development
We create scalable and reliable full-featured Applications for corporate requirement, maintenance and uplift with all ease.
Back-end for Mobile Apps
Our developers have the required skills to develop web backend for your mobile apps with CodeIgniter technology.
The Simplest Way To Make The Best Use of CodeIgniters Is To Contact Us
Client's Testimonials
The quality of the work provided at Orange Mantra was simply superb. They have an impressive kind of response and follow up. They won our trust and confidence and we are eager to work with the talented Android team again.
– Mick
I recommend Orange Mantra's App Store Optimization team for their great work in maintaining and upgrading the mobile application. They were always on time and delivered the desired outcomes.
– Louis
Orange Mantra has a good App developer' s team and I enjoyed working with them. Communication and responsiveness were top-notch and their skills were strong. In case where the work was beyond the ability, they were in preparation and put more hours on work to get the task done on time. I enjoyed working with Orange and will likely have additional projects for them in the future.
– Cristiano
I have only one word to say about Orange Mantra. That is WOW!! Time, Cost, Efficiency, Professional, Cordial are some of the words that strike my mind regarding the App development moments. We are getting a successful number of downloads and are expecting more shortly. All due to their sincere efforts. Thank you Team.
– Omair
OM team did a great job. The mobile app was developed in a short time! I liked the consistency in their way of communication. I was always informed about the working status and the next steps involved. Thank you again!.
– Christoph
The Team excels in fast service. They designed, developed and delivered our android and iOS app within a short duration of time that anyone may not even imagine. It's the result of an amazing team effort.
– Bryan