Our teams are working remotely to meet your tech requirements promptly – Contact us Today !
Marketing Dashboard Software
Build Enhanced Marketing Dashboards that Lead to Informed Decision-making
Optimize your marketing campaigns and strategies effectively with our unmatched marketing dashboards that come with pre-defined KPIs, ready-to-use data visualizations, and marketing metrics to discover new opportunities and achieve business goals.
Request Demo
Visualize Your Performance with the Advance Marketing Dashboards
Marketers and advertisers use numerous platforms to drive sales or promote business. Therefore, using a marketing dashboard not only helps you track and analyze data for each of those platforms, but also combine these data to get truly informed decisions. Today, marketing dashboards have become a necessity for every business. Just like any other dashboard, a marketing dashboard also starts with defining the right key performance indicators or KPIs. You can gain real-time insights into what's working and what you need to improve in your marketing efforts. There are different marketing dashboards for different use cases, helping you measure everything from digital marketing campaigns to how well your content is performing. They provide the big picture where you stand in your marketing efforts and where you can go in the future.

We at Orange Mantra, have a team of dashboard specialists who proffer the best-fit dashboard solutions for your marketing efforts. Our marketing dashboards are exclusively designed to combine, view, and analyze all your data sources including social media platforms, CRM, and Google Analytics from one centralized dashboard to facilitate better and informed decision-making based on true instincts and metrics. With our real-time marketing dashboards preloaded with best marketing key performance indicators (KPIs) and metrics, you'll be able to find new opportunities to better optimize your marketing campaigns and strategies to thrive in the market.
Why Do Marketing Professionals Use Marketing Dashboards
Marketing dashboards enable marketers to improve and evaluate their marketing performance based on data insights and metrics. It also gives a visualization of your performance to the senior management and/or clients to help them understand what you're doing right with your marketing strategies and tactics.
Get the Real Story
With everything available at one place, marketing dashboards can help you to dig deeper into the performance of your marketing efforts. From lead generation to web performance to social media, you can also evaluate how well your strategies worked when implemented. Moreover, real insights help senior management and clients to be informed of the performance of your marketing efforts.
Get Everyone at One Place
From the senior management to team members, visualizing real-time outcomes means that everyone knows about the performance of your marketing efforts. It also helps clients be informed where their money is going, the effectiveness of the strategies, and ROI. Marketing dashboards can be used to drive changes within an organization in terms of spending, time-management, and other aspects that affect profitability.
Get to Truly Informed Decision-making
It's because you have real-time data, you can quickly understand and make spot decisions to implement what's best for business. Whether you're measuring an email campaign's effectiveness, or the performance of your SEO efforts, with a well-designed marketing dashboard, you can make informed decisions based on the data.
Turn Your Numbers into Greater Profits with Our Complete Marketing Dashboard Solutions
What are the Best KPIs for Your First Marketing Dashboard
From Google Analytics to Google Ads, social media to email marketing and lead generation, there are various marketing activities across different marketing channels. A perfect marketing analytics dashboard should include the best key performance indicators that will help you and your client to get the real story of your overall marketing performance.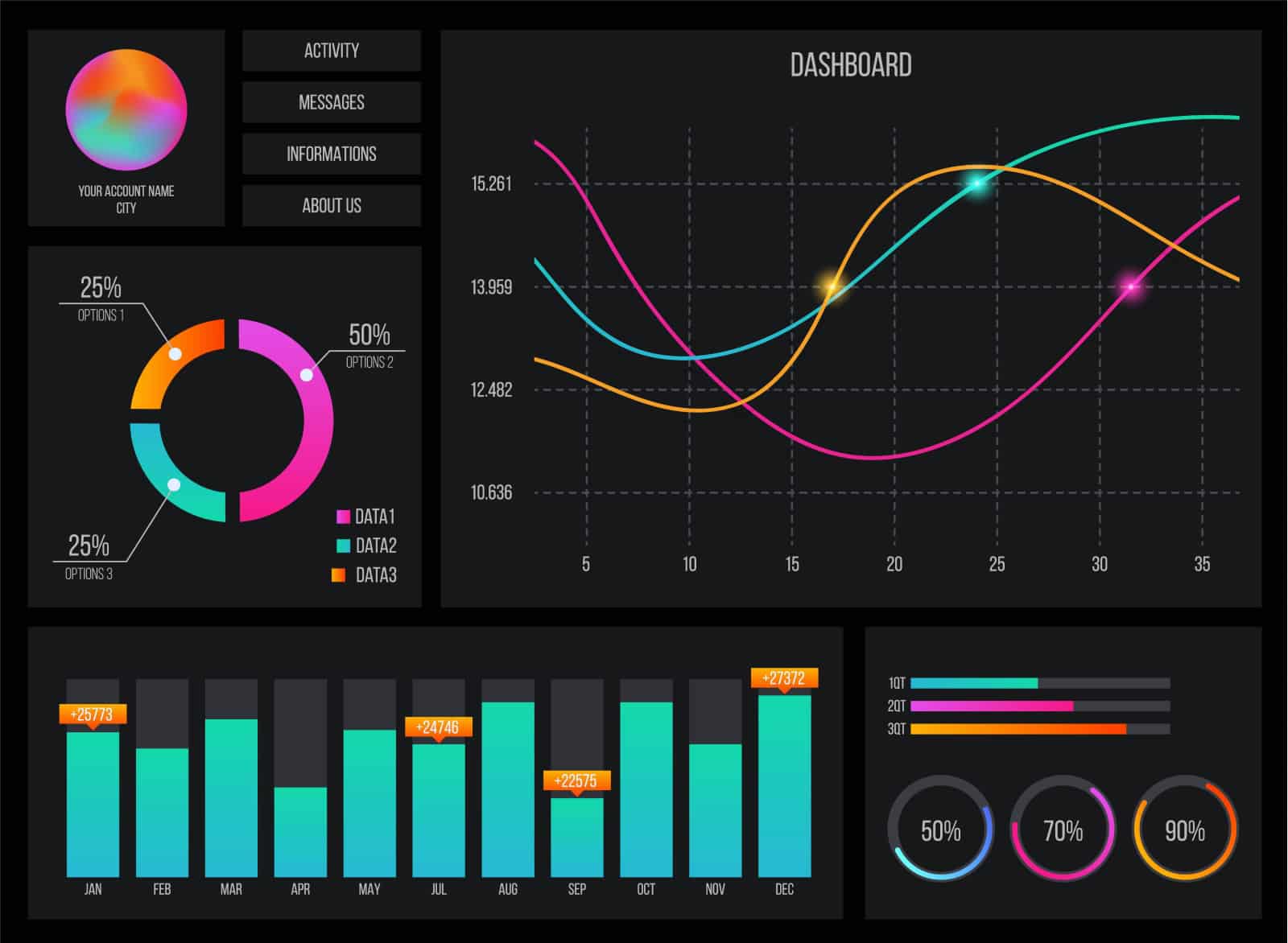 Conversion rate

Conversion rate is calculated as the percentage of the number of visitors on your website who actually complete any desired action such as signing up for newsletters, downloading PDFs, purchasing a product, and so on.

Click-through rate (CTR)

This key performance indicator helps to know the percentage of people who can see your ad or another call-to-actions, and who then click on the ad or CTA.

Organic search performance

Organic search performance reflects how your website is ranking and converting based on organic searches.

Bounce rate

The bounce rate is the percentage of visitors who land on your website but abandon without interacting with your website.
Best Digital Marketing Dashboard Metrics to Measure Your Performance
Since you're tracking metrics from several marketing channels, it's crucial not to get bogged down by vanity metrics that don't really give actionable insight. You must focus on those key marketing metrics that you and your clients can understand, correlate, and react.
Google Analytics total no. of visits

This marketing metrics demonstrate the total number of visits or sessions on your website. A visit or session occurs when a visitor actively interacts with your website or application.

Google Ads total no. of conversions

It is the total number of conversions your Google Ads tracks and measures across all conversion actions.

Facebook Insights page views

This digital marketing metric highlights the number of times your Facebook page has been viewed by both logged-in and logged-out users.

Google Analytics referral traffic

This metric helps you measure the number of and sources of website traffic excluding Google's search engine.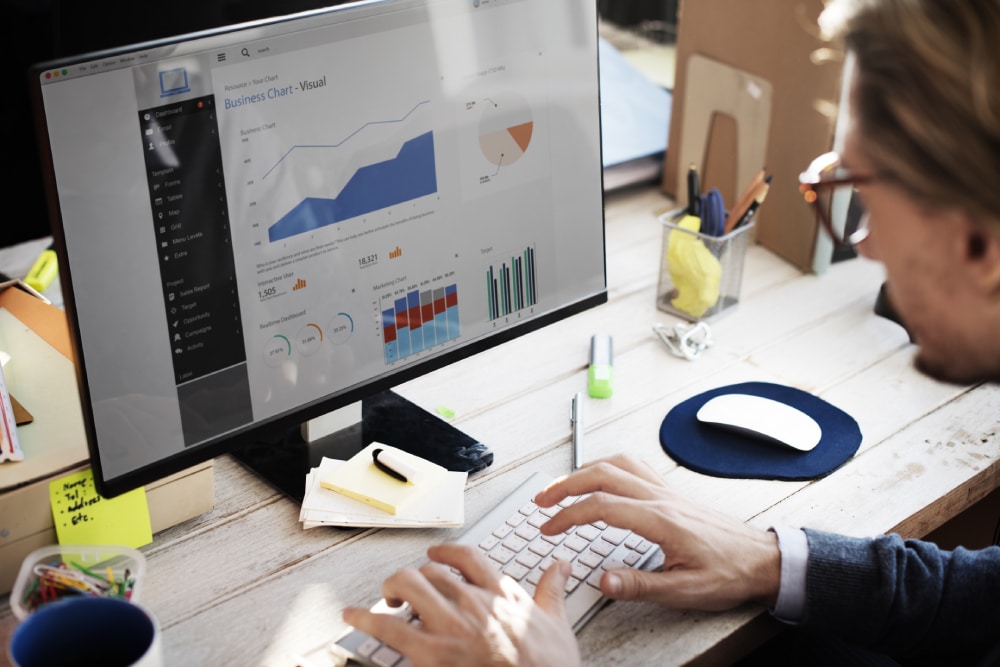 Major Platforms to Include in Your First Marketing Dashboard
A cohesive marketing dashboard should include data from all of the marketing channels that you use for your marketing strategies and tactics. Collecting and comparing data from these sources will help you better evaluate how your marketing channels are playing off each other and help you achieve your business goals.
Google Analytics
Facebook Insights
Facebook Business
Instagram Ads
LinkedIn Ads
YouTube
Google My Business
MOZ
Majestic
Mailchimp
DoubleClick
Adform
Campaign Monitor
Perfect Audience
Searchmetrics
WebCEO
ClickMeter
Google Ad
Facebook Ads
Instagram
LinkedIn
LinkedIn Pages
Twitter
Google Search Console
SEMRush
Ahrefs
Bing Ads
CallRail
DoubleClick Search
Keymetric
GinzaMetrics
Marchex
Form Stack
Brightcove
ComScore
Check Out Our Time-saving Marketing Dashboard Templates
Our pre-designed marketing dashboards come with the best KPIs, intuitive features, and multiple available data sources that get your marketing team kick start their marketing journey in no time.
test