Businesses need to be serving huge customer bases to grow and expand eventually across the globe. They also need a reliable platform for their stable establishment followed by their expansion. Ruby On Rails (RoR) is a powerful, open-source web application development platform, and has already created a buzz in the giant industry of website development worldwide. Web developers are rapidly switching to RoR to build data-driven, highly efficient web-based applications for businesses.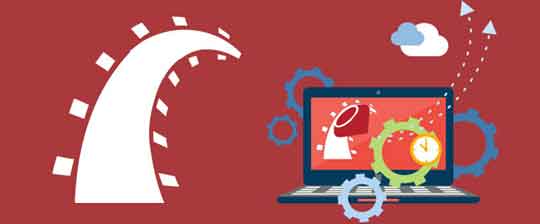 Choosing Ruby On Rails is Right
The features of RoR, viz., compactness, built-in test automation, and highly rich framework are integrated in a way to make it a remarkable runtime environment for composite web-based and SaaS applications, which are capable of hitting the market with high intensity and keep running seamlessly. The following RoR features make it the first choice for web development:
AJAX and REST designs for quality-rich Web 2.0 applications.
Affordable prototypes and inner pilot apps.
Robust solutions for enterprise practicalities.
API based transactional system.
Different levels of Web applications.
Custom or development of Search Engine Friendly URLs
Knowing your customers is the best approach to be engaged in your Business.
Orange Mantra for RoR Web Application Development
We give RoR the top priority irrespective of the nature of the website to be developed. Our RoR specialized team comprises world-class development experts who are capable of building scalable, well-architected web-based applications. Additionally,
We have the great familiarity with RoR ecosystem.
We practice agile web application development in the best way.
We hold experience in working on hundreds of RoR projects.
We provide customized teams of RoR developers as per requirements.
Our non-disclosure agreement (NDA) keeps transactions simple.
We provide 24*7 technical support with seamless communication
Ruby on Rails Development Services Available At Orange Mantra
Ruby on Rails App Development
We create versatile and engaging mobile applications for your corporate and enterprises with advanced functionalities.
E-commerce App Development
We make you reach your e-commerce business on consumer's finger tips with robust and functional apps development.
Rails CMS Development
Our CMS solutions comes with a smart and custom layout, compliancy for the business with assured quality and flexibility.
Social media and widgets
We incorporate social media plugins, light weight widgets with SEO friendly URLs for your website and blogs to reach a wide range of audience.
Ruby on Rails Migration services
Our team experts are proficient in making your existing project more flexible and fast by migrating it into Ruby.
Maintenance and Support
We provide consistency, alert upgrade and maintain your websites or applications and keep you ahead in the market always.
Client's Testimonials
The quality of the work provided at Orange Mantra was simply superb. They have an impressive kind of response and follow up. They won our trust and confidence and we are eager to work with the talented Android team again.
– Mick
I recommend Orange Mantra's App Store Optimization team for their great work in maintaining and upgrading the mobile application. They were always on time and delivered the desired outcomes.
– Louis
Orange Mantra has a good App developer' s team and I enjoyed working with them. Communication and responsiveness were top-notch and their skills were strong. In case where the work was beyond the ability, they were in preparation and put more hours on work to get the task done on time. I enjoyed working with Orange and will likely have additional projects for them in the future.
– Cristiano
I have only one word to say about Orange Mantra. That is WOW!! Time, Cost, Efficiency, Professional, Cordial are some of the words that strike my mind regarding the App development moments. We are getting a successful number of downloads and are expecting more shortly. All due to their sincere efforts. Thank you Team.
– Omair
OM team did a great job. The mobile app was developed in a short time! I liked the consistency in their way of communication. I was always informed about the working status and the next steps involved. Thank you again!.
– Christoph
The Team excels in fast service. They designed, developed and delivered our android and iOS app within a short duration of time that anyone may not even imagine. It's the result of an amazing team effort.
– Bryan