Dynamic, Scalable, and Secure Ruby on Rails Applications For Businesses
Businesses need to serve huge customer bases for attaining growth and fulfilling their objectives. They require a reliable platform for their stable establishment followed by their expansion. Ruby On Rails (RoR) is a powerful, open-source web application development platform, which has already created a buzz in the website development industry. Web developers are rapidly switching to RoR to build data-driven, highly efficient web-based applications for businesses.
Orangemantra is the leading Ruby on Rails Development Company in India that provides the best to its clients all over India and abroad. Our proficient and experienced team has been leveraging this feature-rich platform to cater high-end web applications to a diverse clientage. We focus on building applications that resolve the unique challenges of the client's business and add unmatched value to it.
Why Ruby on Rails
Choosing Ruby On Rails Is The Right Decision
The features of RoR, viz., compactness, built-in test automation, and highly rich framework are integrated in a way to make it a remarkable runtime environment for composite web-based and SaaS applications, which are capable of hitting the market with high intensity and keep running seamlessly. The following RoR features make it the first choice for web development
Open-source technology with code available on the RoR community.
AJAX and REST designs for quality-rich Web 2.0 applications.
Affordable prototypes and inner pilot apps.
Robust solutions for enterprise practicalities.
API based transactional system.
Different levels of Web applications.
Custom development of Search Engine Friendly URLs
Reliable testing frameworks with no licensing charges
Our Services
Ruby On Rails Development Services Available At Orangemantra

Ruby on Rails App Development
We create versatile and engaging mobile applications for your corporate enterprises with advanced functionalities.

Custom Web Applications
We leverage Ruby on Rails development framework to build amazing custom web applications which fulfill specific needs

E-commerce App Development
We make you reach your e-commerce business on consumer's fingertips with robust and functional apps development.

Rails CMS Development
Our CMS solutions come with a smart and custom layout and compliance for the business with assured quality and flexibility.

Social media and widgets
We incorporate social media plugins, lightweight widgets with SEO friendly URLs for your website and blogs to reach a wide range of audience.

Ruby on Rails Web Portal Development
Our experts deliver high-performance web portals that make a perfect choice for facilitating internal processes of the business.

Ruby on Rails Integration services
Our solutions are designed to integrate seamlessly with any existing Ruby on Rails applications that a business uses

Ruby on Rails Migration services
Our team experts are proficient in making your existing project more flexible and fast by migrating it to Ruby.

Maintenance and Support
We provide consistency, alert upgrade and maintain your websites or applications and keep you ahead in the market always.
Why Choose Us
Orangemantra As An Acclaimed Ruby on Rails Web Development Company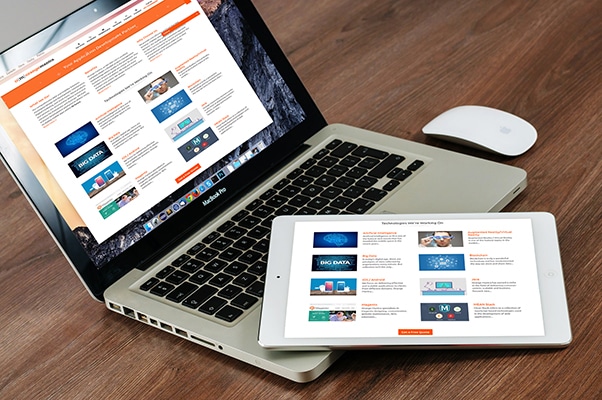 We give RoR the top priority irrespective of the nature of the website to be developed. Our RoR specialized team comprises of world-class development experts who are capable of building scalable, well-architected web-based applications.
We have the great familiarity with RoR ecosystem.
We hold experience in working on hundreds of RoR projects.
Our non-disclosure agreement (NDA) keeps transactions simple.
We practice agile web application development in the best way.
We provide customized teams of RoR developers as per requirements.
We provide 24*7 technical support with seamless communication
Looking for an expert Ruby on Rails development partner?
Client's Testimonials
"OrangeMantra has been my technology partner for 3 years now and they have delivered one successful project after another. The team's workflow seems to move at an excellent pace and I interact with them on a daily basis. Always available, thoughtful, analytical and insightful….what else can I say!!"
–Patrick Dawson
"I have worked with OrangeMantra on two projects, one a Java portal and another an Android application. Both were relatively complex, but the team came out with flying colors. Their adherence to deadlines is truly commendable and so is the support they provide. A team that is professional yet friendly."
–Jessica Stevens
"Just one word says it all about OM….Wow! Not so long ago, I approached them with an idea and these guys helped me to materialize it. Awesome team….talented, hard-working and dedicated. I would definitely recommend them without hesitation."
–Geoff Taylor
"Well-focused, reliable, and hard-working….that's how I would describe Team OrangeMantra. Working with their ROR team has been a true pleasure for us. Dedicated people…..always available. I would recommend them as the most amazing IT partners."
–Norton Lee
"We recently hired the Zend team at OrangeMantra for our business project and these guys are doing a great job. Being connected with them is a positive experience for me and my company. They serve a coding quality that is impeccably high. We hope that this association turns out to be a fruitful one."
–Gregory Ellison