Our teams are working remotely to meet your tech requirements promptly – Contact us Today !
Shopify is changing the way business owners and tech entrepreneurs approach eCommerce. It's a platform uniquely focused on making businesses' online journey easier and profitable. More than 1,000,000 merchants in 170+ countries use Shopify to run their online business. Shopify's capability to empower independent and small businesses is what makes it astonishingly popular around the world.
At OrangeMantra, we have a team of hand-picked eCommerce developers dedicated to building Shopify solutions. With years of diverse experience under the belt, we build impeccable solutions for every kind of business. For more than a decade now, our Shopify eCommerce development services have helped hundreds of clients seamlessly start and grow their online business.

Enticing user experience 
Shopify lets you build online stores that offer fully immersive shopping experiences. Be it responsive design or navigation, Shopify stand out. Create a design-optimized storefront to attract visitors and convert them.

Easy product management 
The platform allows you to create functionalities that enable effortless product management. Plus, Shopify comes with a powerful content management system (CMS) that enhances content and product info.

Unmatched design flexibility 
Shopify creates room for design flexibility. You can create features focused on customer experience. With a diverse range of design templates and extensions, you can build a store that reflects your ideas.

Impressive SEO friendliness 
With the right visibility on search engines, your online business cannot succeed in the competitive online commerce world. The Shopify platform offers you the benefits of SEO-friendly design that boosts your business.

Effortless store maintenance 
Store maintenance capabilities are one of the main reasons Shopify is so popular among businesses worldwide. With the right Shopify eCommerce development approach, managing your store becomes effortless.

Reliable security
Since every online store must deal with confidential personal and financial information, data security is a must. Shopify ensures airtight security of your customers' data and business information.
Why Choose OrangeMantra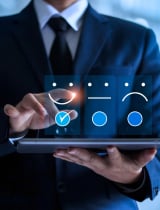 Vast experience
We have worked on hundreds of projects deployed in starkly different industry verticals. The diversity and depth of their experience are incorporated into your solution for optimal performance.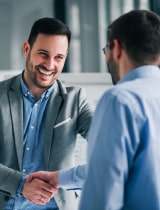 Client-specific approach 
We treat every project as a unique undertaking. We carefully listen to your business-specific needs, paying attention to detail. Your solution is built meticulously to ensure that every single requirement is addressed.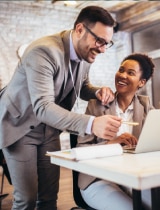 Uncompromising professionalism
Be it requirement analysis, communication, or project execution, we approach everything with sheer professionalism. Our teams are trained to maintain calm and proficiency even during challenging situations.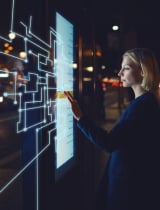 Best-in-class technologies 
Our eCommerce developers always use the most advanced tools and technologies to deliver best-in-class solutions to every client. Whether it's a web framework or a theme design tool, we only use the best ones.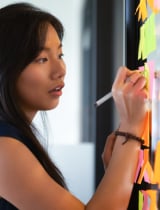 Delivery without delay
When you hire Shopify developers from us, we ensure that your solution is deployed within the estimated time without any delay. We use a predefined process and tried-and-tested tools to always stay on track.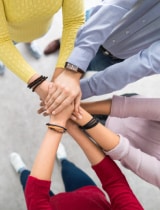 eCommerce community members 
Our developers are enthusiastic members of the global community of 5,000+ Shopify developers. This community is known for its passion and collaboration for building a futuristic world of online commerce.
Our Shopify eCommerce Solutions Portfolio 
We take pride in an eCommerce development portfolio that spans across industries, countries, and business types. Being a pioneering eCommerce solutions vendor in India, we have both the experience and insights to build the right solution for you.
View full portfolio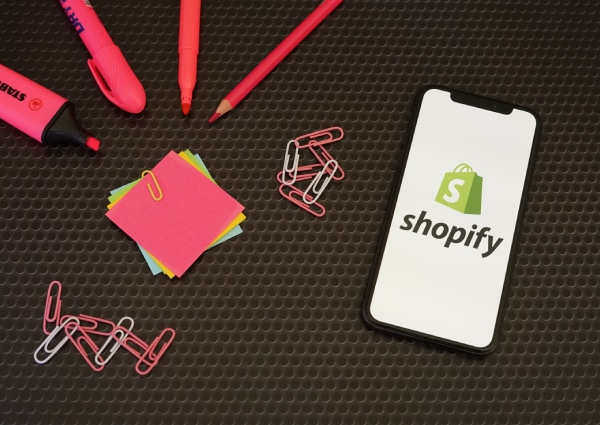 What Clients Say

Choosing the right eCommerce platform is never an easy picking. There are so many of them out there. But OrangeMantra made it easy right from the beginning. A Shopify online store met all our needs. The team built a perfect online store for us.
-MD oat a fashion accessories manufacturer

We moved our WooCommerce-based store to Shopify. Things improved remarkably. The OrangeMantra team did a brilliant job. They moved the store without losing any data and within minimal downtime. Impressive service.
– Owner of an independent apparel business 
Frequently Asked Questions
The costs of building a Shopify online store vary widely according to your requirements. If you need a simple website with basic features and a storefront, costs are comparatively lower. OrangeMantra offers reliable Shopify eCommerce solutions at a competitive price.
The development time of a Shopify online store usually takes a noticeably short time since most templates and elements are ready to use. However, the development time depends on your requirements. If your requirements are limited and predefined it takes comparatively less time.
We have a seamless communication process in place for every client. You can easily reach out to us via email, phone, Skype, WhatsApp, etc. Our customer support team responds quickly to every query and request.
Looking for reliable & secure Shopify eCommerce solutions?
test