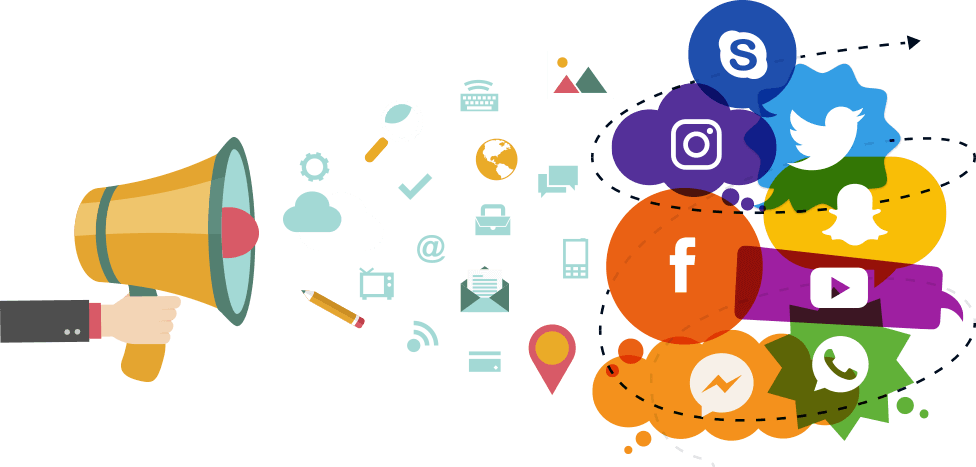 harness the power of social media
to expend your online reach
Utilizing diverse social media channels such as Facebook, Twitter, LinkedIn, Instagram, and more
Using customer engagement through social media to get more conversions
Targeting the niche social influencers to get word-of-mouth recommendations
Building brand image and popularity to boost overall profits of the businesses
request a quote

Have an Idea? We will make it work
We Offer The Best SMM Services To Take Your Business Ahead
Social media marketing is an effective marketing strategy that harnesses the power of social channels to increase engagement, boost sales, and build your brand. It enables a business to capitalize on the popularity of platforms such as Facebook, Twitter, Instagram, YouTube, and more. With the effective use of content across these channels, the business gets the opportunity to generate interest in its products and services and engage the customers as well. Overall, it strengthens the brand and builds customer trust and loyalty for the long run. At Orange Mantra, we are a leading social media management company which extends reliable and comprehensive services for businesses of all sizes and across diverse industry verticals. We make sure that your business is able to create an online buzz and explore new territories for unmatched growth.
Here is all that we offer as a part of social media management services:
Social Media Strategy
Having a result-driven strategy is imperative to the success of a social marketing plan. We begin by understanding your business and its goals so that we create a solution that matches to perfection. We explore the industry landscape, targeted audience, keywords, and your competition to craft a customized strategy that delivers speedy and effective results.
Content Creation
The content that you post across various channels is the replica of your brand. We realize its significance and create content that engages customers for your business as well as strengthens your brand. We design, develop and curate meaningful and compelling content that targets your business audience on the social channels. We also engage them to contribute content through social platforms.
Social Media Management
Social media management is the most crucial aspect of SMM. At Orange Mantra, we bundle it up in our SMM service package. Our experts give your business a powerful online presence across channels such as Facebook, Linkedin, Instagram, Twitter, Google Plus, and more. We schedule brand messages and promote content for optimal engagement of the target audience as well as coordinate social alliances to reach out to the new audience.
Promotions And Contests
Targeted promotions and contests can infuse a new life in a campaign as they bring instant audience engagement. We design and implement great ideas for promotions, contests, coupons for new customers, etc. These promotional ideas bring the benefits of high engagement and sales as well as boost the popularity of your brand.
Monitoring And Reporting
The job of a reliable social media marketing agency extends beyond designing and implementing an effective a marketing plan. It includes monitoring the efficacy of the plan too. At Orange Mantra, our experts keep an eye on the performance of the strategy being followed by us. We also give periodic reports to the clients so that they can gauge the value they are getting from our services.
Consulting
In addition to all the services that are part of a traditional SMM plan, we go an extra mile by providing consultancy services for our clients. We have a team of expert consultants who can help you avail the best benefits of the strategy as well as make it better.
Why Choose Orange Mantra For SMM
Orange Mantra is one of the most reputed social media marketing companies in India. We deliver high-quality services with the aim of taking your business brand to the next level.
Our experts assist you to extend your reach beyond boundaries as they focus on all social channels
We work with a client-centric approach and create tailor-made solutions that match the client requirements and expectations to perfection
Not only do we get you engagement and sales, but also help you build powerful business brands
We have a team of certified experts who work with the dedication and commitment to bring best results for the clients
Over the years, we have delivered a large number of successful SMM campaigns for countless clients
Our campaigns go beyond the conventional social channels and explore opportunities in content marketing to give you a winning edge
We think big, with campaigns that are created to bring a global recognition for the clients
Being domain specialists, our experts make sure that they integrate the latest trends and techniques in every campaign they design
At Orange Mantra, we serve cost-effective solutions that fetch impressive ROI for the clients
We follow the latest trends and techniques to get best results with our campaigns
Get In Touch With Us To Learn More
Client's Testimonials
The quality of the work provided at OrangeMantra was simply superb. They have an impressive kind of response and follow up. They won our trust and confidence and we are eager to work with the talented Android team again.
– Mick
I recommend OrangeMantra's App Store Optimization team for their great work in maintaining and upgrading the mobile application. They were always on time and delivered the desired outcomes.
– Louis
OrangeMantra has a good App developer' s team and I enjoyed working with them. Communication and responsiveness were top-notch and their skills were strong. In case where the work was beyond the ability, they were in preparation and put more hours on work to get the task done on time. I enjoyed working with Orange and will likely have additional projects for them in the future.
– Cristiano
I have only one word to say about OrangeMantra. That is WOW!! Time, Cost, Efficiency, Professional, Cordial are some of the words that strike my mind regarding the App development moments. We are getting a successful number of downloads and are expecting more shortly. All due to their sincere efforts. Thank you Team.
– Omair
OM team did a great job. The mobile app was developed in a short time! I liked the consistency in their way of communication. I was always informed about the working status and the next steps involved. Thank you again!.
– Christoph
The Team excels in fast service. They designed, developed and delivered our android and iOS app within a short duration of time that anyone may not even imagine. It's the result of an amazing team effort.
– Bryan