High Roi with an
Effective PPC campaign
Strategic keyword analysis and recommendations that bring the best results

Bid management to fetch an excellent Return On Investment for the business

Copywriting catchy and effective content for a successful PPC campaign

Monitoring of keyword performance, traffic, and ROI of the campaign
request a quote

Have an Idea? We will make it work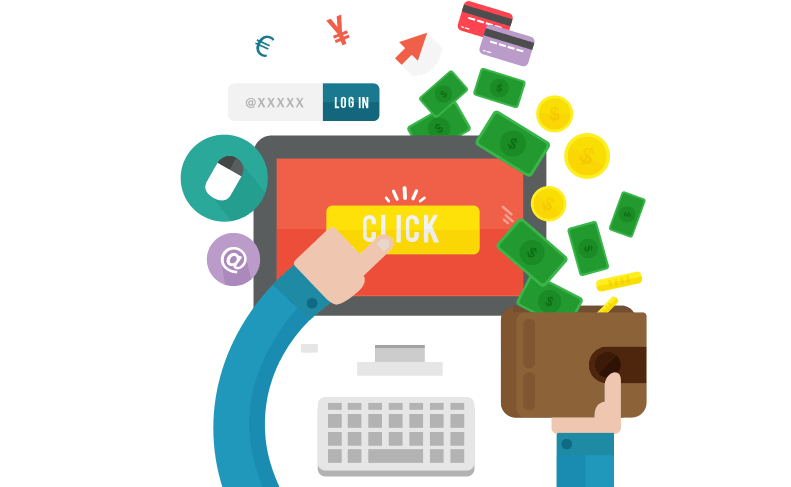 We Offer PPC Services That Work
PPC or Pay Per Click is one of the most effective forms of online marketing as it brings instant traffic and facilitates business outreach to its customers. A PPC campaign drives targeted traffic to the business website and perks up the conversion rates for higher revenues. This paid form of online advertising is acclaimed for delivering faster results in comparison to techniques such as SEO and social media marketing. However, it requires in-depth understanding to craft a high-performance PPC campaign. From choosing the right keywords to putting them up at the right places, and making compelling landing pages, a lot is involved. At Orange Mantra, we offer reliable PPC Management Services in India to help your business engage its target audience and get high traffic. We make sure that every single click that you invest in drives results for your business.
Here is all that we bring as a part of Pay-Per-Click management services:
Analysis And Strategy
A thorough analysis of the business website, the competition, and the market is required for framing a PPC strategy that works. Our experts make sure that they carry out an in-depth study of parameters such as the business goals, user metrics, and competitor strategy. We analyze key parameters such as cost per click, cost per acquisition, conversion rates, and revenue and create a campaign to match the client requirements.
Keyword Targeting
The choice of the right keywords is imperative to the success of a paid ad campaign. As a Google Certified PPC Adwords Agency, we carry out an exhaustive keyword research and pick the ones that drive targeted traffic to the client's business. In addition to Google Adwords, we use Bing, Linkedin, Facebook, Twitter, and Yahoo ads for maximizing your business reach.
Landing Page Design
Landing pages play a key role in the conversion process as they are the first impression that a user gets as he comes to the business website. At Orange Mantra, we know our landing pages and design them to drive users to convert. Our PPC Services encompass designing of custom and campaign-specific landing pages, along with constant A/B testing, tracking and analysis, and CRM tagging.
Campaign Launch
Once the targeted keywords have been ascertained and the landing page has been designed, the campaign is all set to be launched. We design an optimal bid strategy, bidding on the best keywords to get your business on the top. Additionally, we help you create compelling copy that is optimized for display too. Our experts also work on campaign schedule to make sure that they run at the right time. We include retargeting and remarketing in our services so that your business does not lose valuable leads.
Audit And Analysis
A PPC campaign requires proactive management with constant keyword audits and data analysis. We consistently optimize and manage your campaign as a part of our PPC management services. We perform regular keyword audits, researching the business keywords as well as the competitive ones. Our experts tweak them for optimizing your campaign for a lower cost per conversion.
Advanced Reporting
Another feature of an effective PPC campaign is reporting as the client is entitled to know about the value it is delivering. Our marketing specialists provide advanced reporting about the progress of the campaign on a periodic basis. The reports contain all the relevant details about the campaign, such as the data related to total clicks, conversions, and more.
Why Orange Mantra For Pay-Per-Click Services
At Orange Mantra, we are a premier Pay Per Click Advertising Agency with a track record of hundreds of successful projects to our credit. We serve as a one-stop digital destination for businesses that want to achieve maximum growth and high ROI.
Whether you are a small business or a big enterprise, we have customized solutions centered on your needs
Our expert team of certified digital marketing specialists has unmatched skill and vast experience in the industry
We utilize the latest and most sophisticated technologies in the industry to high ROI for all our clients
We believe that constant re-optimization is the core of result-oriented campaigns that always bring growth
At Orange Mantra, we create PPC campaigns that fit your budget yet deliver effective results.
Get in touch with us today!
Client's Testimonials
The quality of the work provided at Orange Mantra was simply superb. They have an impressive kind of response and follow up. They won our trust and confidence and we are eager to work with the talented Android team again.
– Mick
I recommend Orange Mantra's App Store Optimization team for their great work in maintaining and upgrading the mobile application. They were always on time and delivered the desired outcomes.
– Louis
Orange Mantra has a good App developer' s team and I enjoyed working with them. Communication and responsiveness were top-notch and their skills were strong. In case where the work was beyond the ability, they were in preparation and put more hours on work to get the task done on time. I enjoyed working with Orange and will likely have additional projects for them in the future.
– Cristiano
I have only one word to say about Orange Mantra. That is WOW!! Time, Cost, Efficiency, Professional, Cordial are some of the words that strike my mind regarding the App development moments. We are getting a successful number of downloads and are expecting more shortly. All due to their sincere efforts. Thank you Team.
– Omair
OM team did a great job. The mobile app was developed in a short time! I liked the consistency in their way of communication. I was always informed about the working status and the next steps involved. Thank you again!.
– Christoph
The Team excels in fast service. They designed, developed and delivered our android and iOS app within a short duration of time that anyone may not even imagine. It's the result of an amazing team effort.
– Bryan