Our teams are working remotely to meet your tech requirements promptly – Contact us Today !
email marketing reach out to your target customers through email campaigns
Researching the audience to identify the target groups for email campaigns
Automation of email marketing so that the mails reach the right audience at the right time
Creating bulk email marketing designed for the business requirements
Tracking campaigns to monitor their performance
request a quote

Have an Idea? We will make it work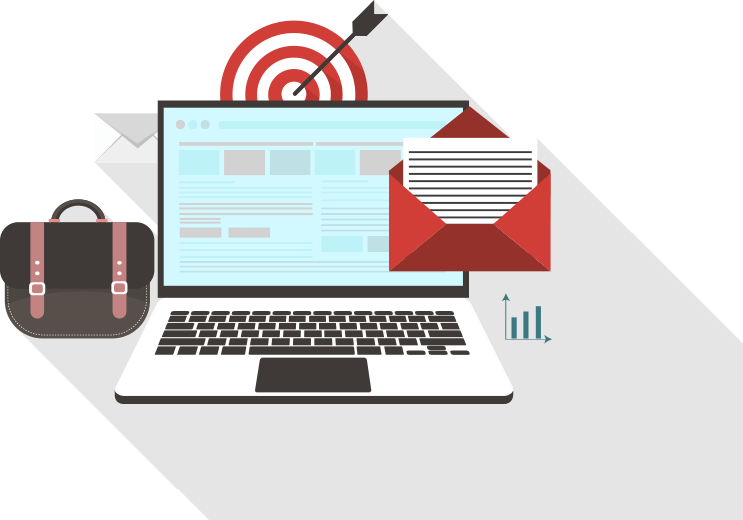 We Provide Seamless Email Marketing Support For Your Business
Even as SEO and SEM make the most critical elements of a digital strategy, sending direct mails to the customers continues to be the best way to connect with them. Email marketing, therefore, remains an integral part of a successful online marketing campaign for any business. These emails could relate to promotional ads, new launches, discount offers, and more. By sending personalized or group emails to existing and potential customers, a business can promote its products as well as expand its customer base. An email campaign can unleash countless opportunities for a business and build it into a brand.
Orange Mantra is a reputed digital marketing agency that offers a myriad of services including email advertising and marketing. Being a goal-focused agency, we ensure that the emails we craft are capable of engaging the customers and driving them to complete the conversion. We help businesses carve a niche online by creating email campaigns that enhance their relationships with their customers. Our campaigns are designed to ensure that the right content is served to the right customer at the right time so that it makes a positive impact on them. Avail our expert email marketing services to accelerate your sales cycle and connect with your customers.
Our email marketing services encompass the following:
Audience Research
Having relevant information about the targeted audience is the foundation of a successful campaign. Audience research enables you to understand the key metrics such as the preferences, expectations, and attitude of the mail recipients. We create relevant email signup forms to fetch all the information required for research. At the same time, we make sure that too much is not asked as it may drive away the user.
Campaign Design
A cohesive and compelling email design guarantees the success of the campaign. With their unmatched expertise and experience, our experts create tailor-made campaigns that grab the attention of the recipients. We craft enticing and meaningful CTAs that have the power to drive the recipients for taking the desired action. We structure emails to fulfill your objectives, whether it is targeting new audience or retargeting the existing ones.
Email Optimization
Creating engaging emails is not enough, they have to be optimized to deliver an impeccable user experience. We use smart tools such as user history, analytics, and segmentation to ensure that the audience gets the mails that address their specific needs. Our campaigns are subjected to rigorous A/B testing to optimize the click-through and open rates. We use email best practices to generate ones that are perfectly tailored for your business audience.
Marketing Automation
Marketing automation is a significant component of an email campaign as it enables a business to establish a strong connection with the customers. We use powerful automation tools to deliver emails to the right customers at the right time. The automated mails may relate to personalized greetings, product recommendations, cart abandonment reminders, membership renewal reminders, and more.
Analysis And Reporting
Periodic analysis of the performance of a campaign is a must to assess the value being delivered by it. At Orange Mantra, we thoroughly analyze the campaign results to learn all about the user metrics. Furthermore, our experts offer their insight as reports on the performance of the campaign as well as suggest the improvements that can be made in it.
Why Choose Orange Mantra For Email Marketing
Orange Mantra is a leading name for offering the best email marketing service in India. We offer end-to-end solutions that are efficient, cost-effective, and suitable for diverse businesses.
We believe that every client has unique requirements and create custom-made solutions that match these requirements
Our team of marketing experts has years of experience along with a track record of hundreds of successful campaigns
We can be trusted for creating relevant, personalized emails that are always delivered at the right time
We rely on the latest and most powerful tools and techniques that help you extend the reach of your business.
At Orange Mantra, we are also seen as trusted digital partners as we extend round the clock support to our clients
We follow best practices to serve our clients with solutions that are nothing short of perfect
We offer flexible plans that are cost-effective and promise a high ROI for the clients
Get In Touch With Us Today
Client's Testimonials
"The last year had been a troublesome one for my business as someone was out to sabotage my online reputation. Time and again, there were negative reviews that were damaging my brand's repo. I was looking for someone to handle the issue and thankfully, I found OM. These guys are wonderful…..professional, dedicated, and supportive all the way. They literally salvaged my business and got it back to where it has always been……on the top!"
–Devine Vendell
"We were getting traffic and leads, but conversions had always been eluding our e-commerce store. That was when we tried OM's services on a friend's recommendation. These guys are just fantastic……they got us on track within months. Today, our store boasts a healthy conversion rate. All the credit goes to OM experts."
–Victor Drake
"When it comes to digital innovation, Orange Mantra is a true leader. They designed an innovative strategy that helped our business take the digital leap. The best thing is is that these guys are so responsive…always there, always available to answer your questions. And they have a knack for simplifying the most complex things."
–Monica Sarandon
"The digital ninjas at Orange Mantra have designed a wonderful email campaign for us that has propelled our sales this year. I am happy that I took their services."
–Ian Esther
"Being a consumer brand, product launches are a routine for our enterprise. Over the years, we have been relying on Orange Mantra' digital team for designing our launch strategies. Till date, we have launched numerous products with their help and all of them have done really well. Incredible work, team!!"
–Mitch Vincent
"Being a B2B enterprise, we had to have a marketing strategy that was focused on accounts rather than customers. Orange Mantra served a perfect answer with its specialized account-based marketing services. Thanks to their progressive approach, we are a flourishing business today."
–Gordon Sanders
"Traffic, leads, conversions…..the digital game seemed too complicated till we found an expert partner in OM. From taking us on the top with smart SEO strategies to bringing in social traffic, they have helped us in every possible way. And recently, they suggested that we avail their content marketing services. These guys are too good…..they crafted an amazing content strategy that gave our brand a big boost. Just wow!"
–Patrick Whitley
"The online marketing experts at Orange Mantra are digital ninjas……after winning the SEO game for us, they designed a successful AdWords campaign that took our business to the top. Would definitely recommend them to everyone."
–Gloria Tacker
"A true helping hand….the team at OM truly helped us grow. They continuously monitored our web store and app and analyzed their growth. These guys are experts as they helped us evaluate problems and resolve them too."
–Patricia Carlsen
"Orange Mantra is one-stop tech destination. Initially, we took their services for developing our mobile app. But they also took the responsibility to market our app. A worthy investment, I must say as the team made sure that the app reached the user-engagement level we wanted and got great results for our business. Wonderful job guys!!
–Pete Henderson
"Now that we had already established our online presence, we decided that we needed to capitalize on social channels too. Orange Mantra has been our marketing partners for years and they designed an effective SMM campaign for us. These guys are absolutely great at their job and they did it once again for us, with our SMM campaign giving fantabulous results."
–Ethan Atkinson
"It's been years for me and Orange Mantra's digital team now. After we achieved results with SEO, they suggested that we take up an SEM campaign to take a step further. The campaign's performance was incredible, thanks to their expertise. These guys understand my business really well and have helped it evolve over the years."
–Sam Baldwin
"Keywords had always been mind-boggling for us as we struggled with our SEO ranking over the years. But thanks to Team OM, they simplified the game for us and helped us get a place in the top searches. Great team….responsive and always on their toes."
–Roger Cain
"We have been using Orange Mantra's digital marketing services for a few months. We are absolutely impressed by the dramatic rise that our website's ranking has achieved in such a short time span. We would continue working with them in the future too. They have an incredible team that excels at every single aspect of digital…..SEO, SEM, SMM, PPC, email marketing, analytics, all at one place. What else could we have asked for!!"
–Elna Jacobs
test