Our teams are working remotely to meet your tech requirements promptly – Contact us Today !
Embark on a UX-focused business journey powered by the Spree eCommerce software
Spree Commerce has become a popular eCommerce platform among merchants focused on expanding into the digital commerce space. The Spree eCommerce software enables you to rapidly build an online store with customers-oriented features. Advanced search capabilities, endless UX customization, and PWA development, among features, make it an incredibly useful platform for businesses. And all these are available for free. Spree Commerce is an open-source platform.
We are a globally trusted Spree Commerce development company with a diverse portfolio. With over a decade of eCommerce development experience, we build solutions that render truly immersive online shopping experiences. Hire Spree Commerce developers from us to build an experience-rich online store that helps you achieve business goals.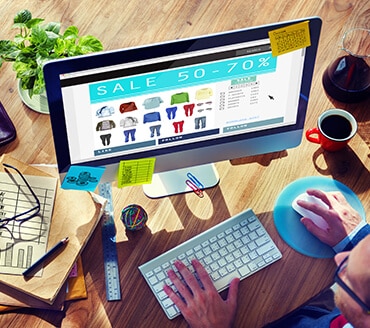 Why Choose Spree Commerce?
1 million+ online retailers and B2B merchants use Spree Commerce to run and grow their business. Spree Commerce is open-source and offers advanced eCommerce capabilities like a PWA frontend.

Rapid eCommerce development
Spree Commerce is built with Ruby on Rail, a framework known for its impressive development speed and robustness. It helps developers to build your solution in record time, without compromising with quality.

Truly mobile-first design
Spree Commerce is designed to offer mobile-first user experiences to all kinds of users. Whether it's an iPhone, Android, iPad, or a desktop, users will have the same immersive online shopping experience.

Flexible and scalable
Spree Commerce allows you to start your online store lean and expand as your business grows. It supports large numbers of products and categories.

Faster page load & SEO
Online stores built on the Spree Commerce platform have an incredibly low response time. Faster pages are good for both your customer and Google.

Open-source platform
Since the framework is open-source, you are free to customize it as much as you want. Spree Commerce is a self-hosted and fully-owned platform.

Security & PCI compliance
Spree Commerce offers strong password encryption, and a token-based REST API to ensure robust security. It's also fully PCI-DSS compliant.
Spree Commerce Development Services from OrangeMantra
We offer a full range of Spree Commerce development services that meet the specific needs of all businesses of all kinds and sizes.
Agile and Adaptive Development Process
Being a full-cycled iPad app development company in India, we employ a smooth app development process as our approach focuses on our client's involvement and flexible resource planning.
Guaranteed Approval from App Store
We are aware and understand the App Store guidelines completely. We follow the best practices to deploy the app on time with guaranteed approval from the App Store.
Experienced Team of Developers
Our iPad app developers have esteemed years of experience in developing robust, feature-rich, and high-quality iPad apps for clients from various industry verticals and niches.
Single Point of Contact
We assign a dedicated Project Manager for your project who will be your single point of contact for getting updates about your project development.
Cross-platform Functionality
We can also build cross-platform applications that run flawlessly across all Apple devices.
100% Confidentiality
We promise 100% transparency and confidentiality with every client by signing a Non-Disclosure Agreement.
Our Spree Commerce Portfolio
We have built a diverse range of eCommerce solutions using the Spree Commerce platform. Be it design-rich online storefronts, B2B eCommerce website, or a multi-vendor marketplace, we have experience in everything.
View Full Portfolio
What Clients Say
We were looking for an open-source eCommerce platform with cutting-edge capabilities. When we approached OrangeMantra, they first helped us understand how Spree Commerce works. And then they built exactly the kind of solution we needed.
-Co-founder of an eCommerce startup
After thoroughly analyzing our requirements, the team at OrangeMantra convinced us to go for Spree Commerce. The platform suited well into the specific capabilities we wanted our online store to have. The team delivered a perfect online store.
-CTO of a consumer electronics company
Frequently Asked Questions
Want to build a customer experience-rich online store using Spree Commerce?
test