News Flash: Clutch Recognizes OrangeMantra as a Top Mobile App Development Company in India 2022
Smartphone users worldwide downloaded over 230 billion apps in 2021. With the continuous evolution and innovation in technology, the world witnessed the exponential rise & acceptance of apps. Amid growing competition, OrangeMantra showcased resiliency and agility by helping clients extend visibility and product/service offer ability through apps.
At OrangeMantra, customer service has always been central to our business model, with digital innovation defining our journey in the industry. Be it Hero MotoCorp in the automotive or Nestle in the FMCG industry, we've built pathbreaking solutions for a diverse array of clients. It is just the two pioneer clients' names in our arsenal that we catered and continue to deliver innovative solutions. We have more in the basket belonging to different verticals and trust us for being a profitable tech partner.
We've mastered project delivery over the years with experiences of working with early-stage startups, traditional medium enterprises, and globally leading brands alike. As a result, we've worked with at least 20 Fortune 500 companies and helped build the launchpad for the Indian Startup story.
With that in mind, we are thrilled to announce that OrangeMantra was highlighted on Clutch's development resource shortlist as one of India's top app development companies.
Recognition is the true reflection of our immense hard work, cutting-edge solutions, and growing relations with clients. Because of our seamless efforts, our company has been hailed as the most trusted and best mobile app development company in India. Also, we are grateful for this immense recognition by the leading Clutch and appreciate us among various global firms.
For context, Clutch is hugely respected within the B2B space for connecting small, mid-market, and enterprise businesses with service providers that fit their needs. In addition, clutch carefully curates lists of the absolute best agencies and organizations by industry and location, simultaneously enabling companies to establish credibility and buyers to find the right services.
Clutch is a leading review and rating platform based in Washington, D.C. It evaluates the technology services and solutions offered by several companies based on several parameters. Majorly, it depends on the quality of work, thought leadership, and client reviews. Each month, Clutch receives more than half a million buyers and sellers of services, and the user base grows 50% a year.
Throughout the year, Clutch highlights its highest-ranking firms across industries and locations. The Clutch Leader Awards recognize companies' commitment to building their expertise, providing stellar customer service, and producing high-quality results for clients.
From the CEO's Desk
"This Clutch recognition for innovation, customer service, and project delivery perfectly testifies what OrangeMantra stands for. Building innovative tech solutions for boosting clients' competitiveness and growth is at the heart of our processes. We're committed to maintaining clients' trust and spurring innovations—more so than ever! We're happy to be recognized as a Trusted Tech Partner for our clients." – Vinit Choudhary, CEO, OrangeMantra
Grateful to Our Clientele
In light of this recognition, we like to say thanks to every client for relying on us to develop digital solutions for them. We appreciate our clients' extra efforts to leave us genuine feedback on the Clutch. This honor was not possible without the support and collaboration of our clients.
Words could not express how grateful we are to our clients, especially those who took the time to leave us a review on our Clutch profile! Here's what they have to say about collaborating with us.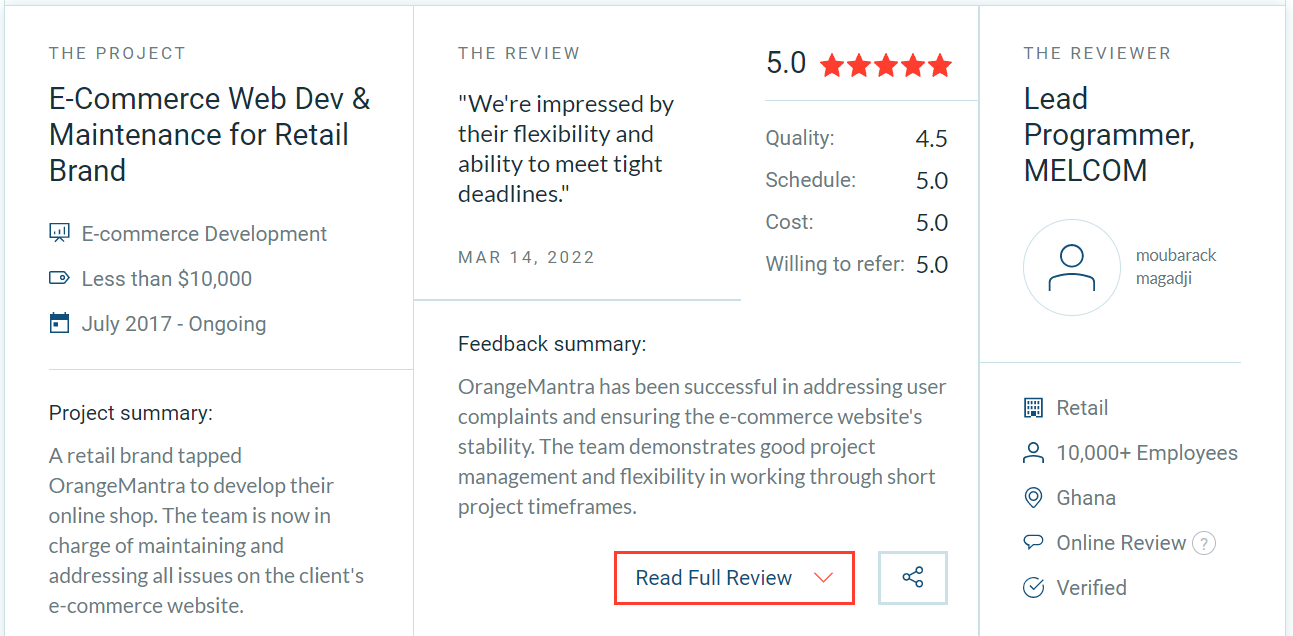 "Website is being stable since we started working with them, and 100% of our customer complaints are being resolved." – Moubarack Magadji, Lead Programmer, MELCOM
Gearing Up for More Transformative, Innovation-Driven Solutions
A recognition like this is the true motivation for us to keep offering adaptive, scalable, and innovative solutions to different industry verticals. Getting recognized in the realm of mobile app development is one step ahead of showcasing prowess in other technical areas. 
Search for a collaborative technical team to create a mobile app or any complex solution. And we would be happy to help you. We offer an extensive array of services that covers website development, Artificial Intelligence, Blockchain, AR/VR Development, DevOps, and more. 
We work as your true partners. Send us a message, and we can start talking about how we can help you.