Data analytics drive the most successful businesses today. With the world going on a digital overdrive during the pandemic, data became even more crucial. And that is why tech giants are not shying away from doubling down on Big Data solutions and similar tools. At its annual I/O event, Google made it clear that it's going all out on advanced analytics and cloud, among other technologies. Keeping up with that promise, the tech titan's cloud division introduced three new data analytics products.
Google Cloud's Dataplex, Datastream, and Analytics Hub are designed to unify AI and data analytics in new ways. They will also give a significant boost to Google Analytics services and related offerings. Announcing the solutions at its inaugural Cloud Summit, the company said the products will significantly help enterprises. It enables users to predict outcomes and make data-driven business decisions.
Dealing with Data More Efficiently
Data management was a frequent obstacle for businesses even in Before Times. But with almost happening digitally now, the problem has come to the fore more prominently. Enterprises are receiving more data than ever. And managing these new streams has created new challenges. Big Tech companies like Google, Microsoft, and AWS have been trying to help companies for a while now. Google Cloud's recent offerings are the latest additions to the arsenal. Let's take a look at how these tools aid your digital transformation journey.
"Data must be thought of as an ability that integrates all aspects of working with it. Every industry is accelerating their shift of being digital-first as they recognize data is the essential ingredient for value creation and the key to advancing their digital transformation," said Google Cloud's Gerrit Kazmaier.
Dataplex
Dataplex is an intelligent data management platform. It enables business owners and execs to centralize data monitoring and management. Using Dataplex, you could control your data across warehouses, data lakes, and other points. It also allows users to securely access an array of analytics and data science services for their processes.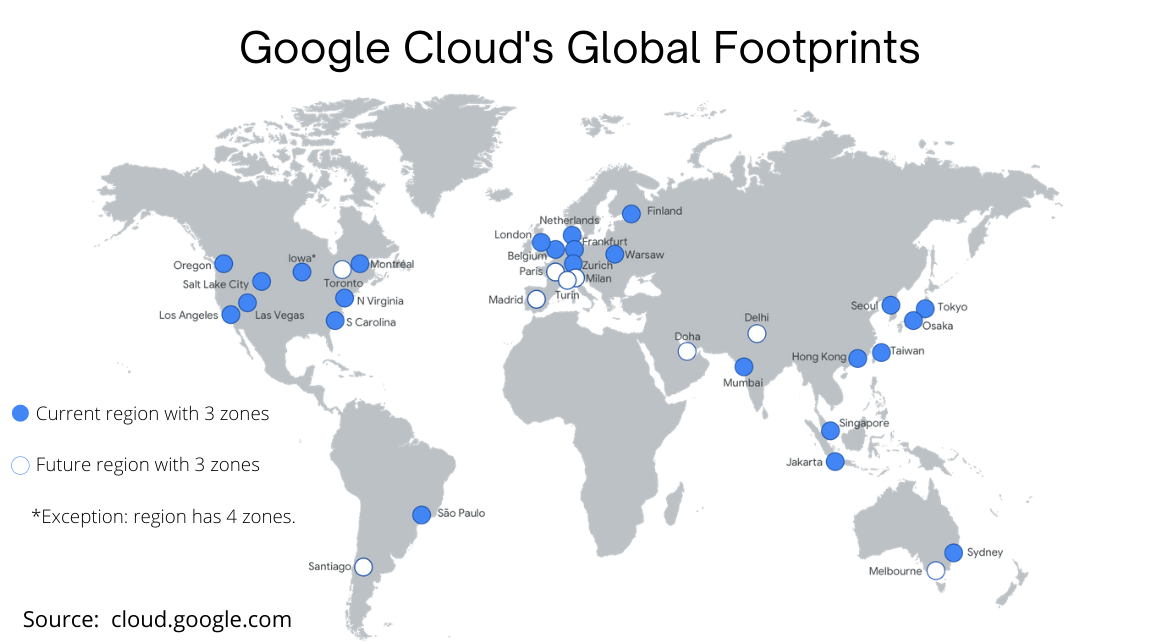 In addition to these, Dataplex also provides an integrated analytics experience by combining Google Cloud capabilities with open-source tools. That means businesses can swiftly collect, analyze, and make data-based decisions using the suite of tools. These analytics tools also make Big Data solutions more applicable for businesses. Dataplex simplifies analytics workflow using its unified framework. It relies on a comprehensive interface for managing data across all platforms.
Datastream
Datastream is more focused on managing heterogeneous databases, data storage, and analytics-based applications. Besides, it also supports real-time analytics, event-driven architecture, and database replication processes. Using Datastream businesses can now deliver change streams from Oracle and MySQL into Google Cloud services.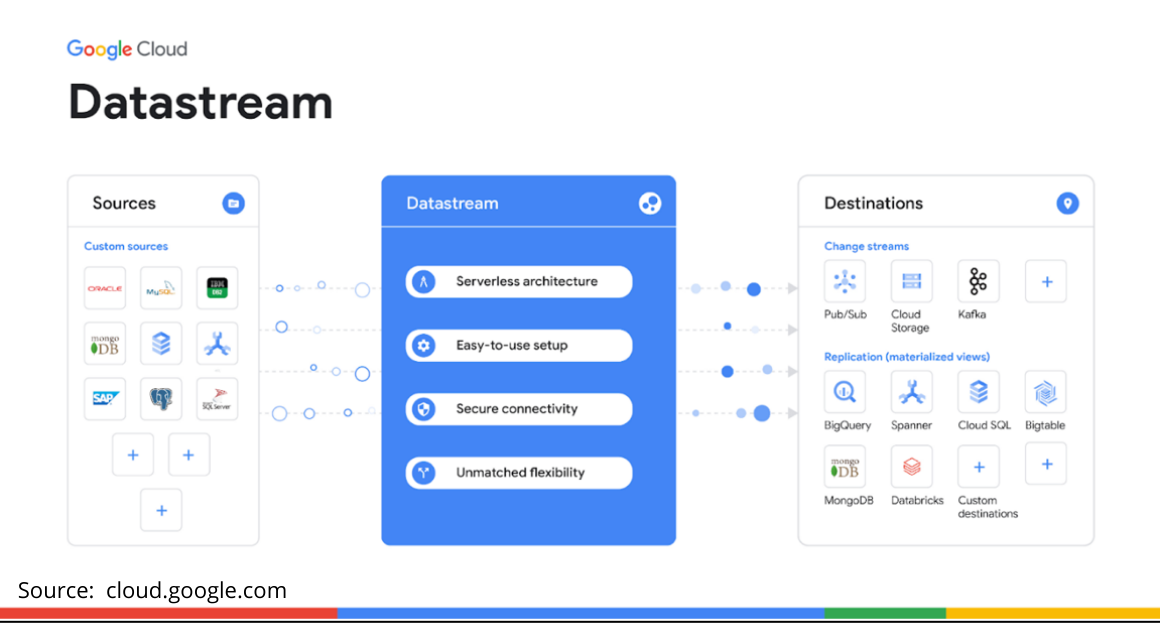 That means now you can seamlessly migrate data into services like CloudSQL, BigQuery, and Google Cloud Storage, among others. It will not just save time but will also ensure higher accuracy and security of business data. To make things easier for you, Datastream offers an integrated solution for changing data capture (CDC) replication cases with custom sources and storage locations.
Analytics Hub
Analytics Hub enables you to share crucial datasets and analytics across organizational ecosystems. Users can share data from BigQuery ML, Looker Blocks, and other analytics tools. Google Cloud's Analytics Hub is a fully automated data management service built on top of BigQuery.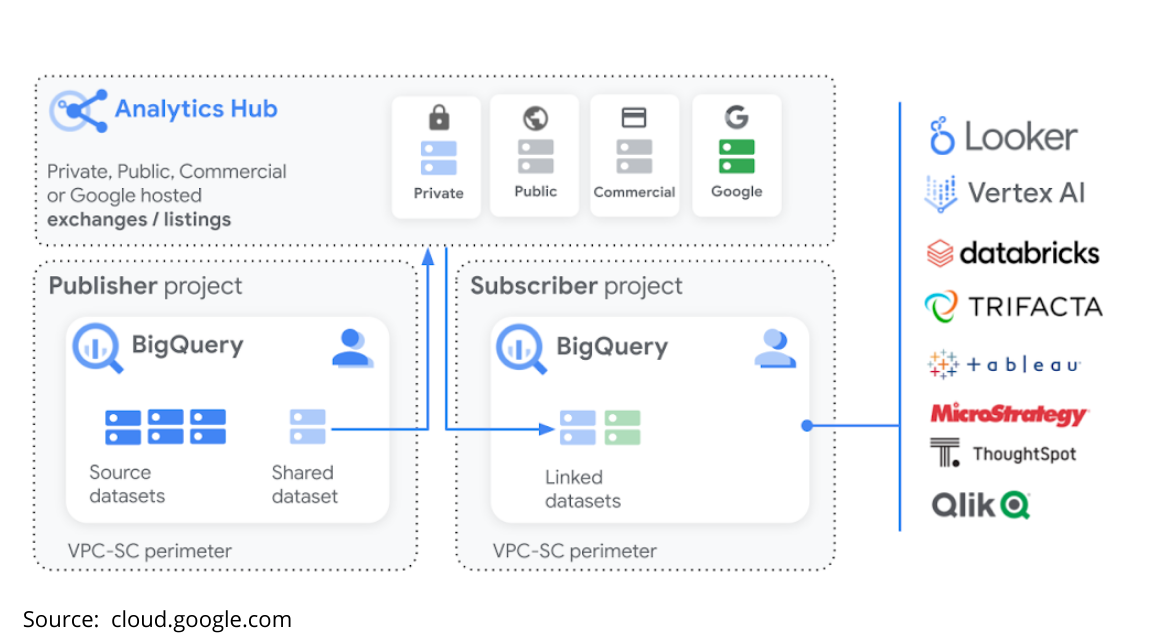 The platform allows enterprises to securely share data with employees, clients, and other stakeholders. Its capabilities help you drive innovation using unique datasets from Google commercial data providers or your business partners. Google said it offers unmatched scalability, security, and flexibility in analytics.
Wrapping Up
With a new, more evolved digital transformation wave sweeping industries, enterprises need analytics almost at every step of their management process. From identifying the most potential customers to finding crucial areas of cost-cutting, data helps you everywhere.
Dataplex, Datastream, and Analytics Hub will significantly change the way businesses use analytics in cloud environments. At OrangeMantra, a globally trusted digital transformation enabler, we help clients adopt the most evolved breeds of cloud and analytics solutions. Reach out to us to discuss your cloud and data management strategies.
FAQs
Q. What are the key Big Data use cases?
The most common use cases of Big Data include product development, predictive maintenance, customer experience analysis, fraud prevention, and operational efficiency enhancement, among others.
Q. How Hadoop is used for Big Data analytics?
Hadoop is an open-source, Java-based framework for storing and processing big data. The data is stored on inexpensive commodity servers that run as clusters. Hadoop uses the MapReduce programming model for faster storage and retrieval of data from its nodes.
Q. What are AWS fully managed services?
AWS Managed Services automates common activities, such as change requests, monitoring, patch management, security, and backup services. The managed cloud services provide full-lifecycle services to provision, run, and support a business's cloud infrastructure.