Our teams are working remotely to meet your tech requirements promptly – Contact us Today !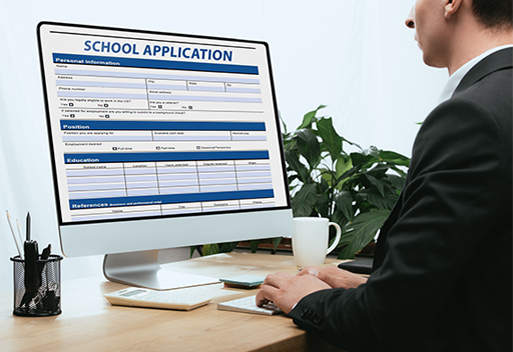 Manage Every Student Detail with Centralized Student Information System
The main objective of an educational institution is to boost the performance of every student. This is possible by analyzing each student's performance using analytic tools like a dashboard. The information thus gathered can be deployed to make effective as well as corrective steps to help them in performing better. If not done properly, this process may become annoying and tedious.
Student Information System (SIS) automates the management of every single detail about students in an organized and cost-effective way. It completely and efficiently removes the faculty members' need to spend a large amount of time in compiling student data. Thereby helping the faculty members in focusing on the students and their performance enhancement.
Student Record Maintenace
The data of every student can be systematically updated on the SIS, thereby facilitating the faculty to manage all kinds of information. The faculty can update report cards, manage transcripts and access information in real-time.
Online Fee Payment
Parents and students can pay the fees online through any mode of their preference. This ensures a flawless collection of fees without any trouble with the accounting staff. Notification is sent once the fee is received, making the transaction transparent.
Minimal Paperwork
The SIS is designed specifically for the institutions that help in streamlining and managing all the tasks. It makes the hectic process easy by eliminating the paperwork and digitizing all processes for complete transparency.
Seamless Communication
Effective, and quick communication is important to run any organization. The SIS software ensures fast and reliable communication between management, faculty, students, and parents. The data shared is kept secure to maintain privacy and safety.
Dashboard & Analytics Tool
Data insights are like an asset, especially when the data is processed in multiple ways according to multiple requirements. Analytics tools help the school staff in making a proper decision by presenting the data in a much simple, and coherent manner.
Cloud-Based Technology
SIS software is cloud-based making it customizable and flexible for every need of an institution. Also, very limited hardware is needed on campus, which makes it cost-effective as less maintenance is required.
Why Use OrangMantra SIS Services?
Our software products are time tested and passed through rigorous testing. We provide 100% reliable and compatible, SIS solutions. Educational institutes have been our priority which makes us different from others.
Few Attributes about our SIS services:
We have worked with major institutions and campuses all across the globe.
We have a professional team having a deep understanding of the educational sector requirements.
We cater to the different needs of the school staff as well as the students and their parents.
Skilled with all kinds of advanced technologies like RFID smart cards, biometric integration, secured online payment.
Keeps track of students' progress and offers safety on campus via student management software.
Integration of smart cards to track student entry and exit time.
Centralized system to establish a connection between students, staff, and teachers.
Eases administrative tasks including the admission process, attendance management, fee, online registration, and examination process.
Analytics tool to provides accurate, systematic, and valuable reports for different kinds of analysis, evaluation, and decision-making process.
Prestigious Awards

Our Clients
Exponential Growth

Valued Partners
Ready To Transform your Education Institutions?
test