Our teams are working remotely to meet your tech requirements promptly – Contact us Today !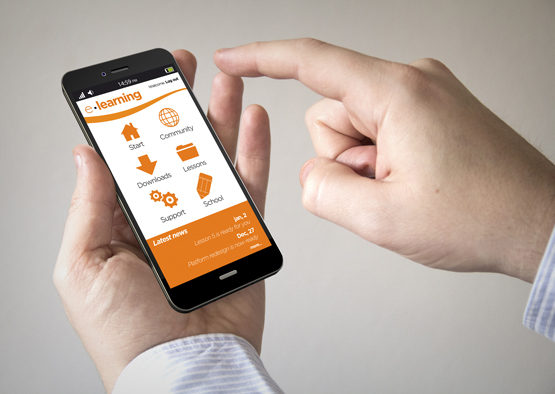 Transforming Your Learning Strategy with Mobile Technology
Mobile Learning is the advanced level of Electronic Learning using different mobile technologies to facilitate education for students, researchers, scholars, and teachers as per their convenience. With specialization in delivering a wide array of mobile learning services, OrangeMantra supports educational institutions in providing education to learners round-the-clock on their smartphones, tablets, and palm devices.
We excel at using innovative technologies & the latest tools such as HTML5, CSS3, JS, JQueryMobile and specific coding languages to build educational, game-based, and simulation-based Mobile Learning material for different platforms and mobile devices such as Android, iOS, Blackberry, and Windows.
Multi-Platform Development
We provide content for a wide range of mobile platforms including Android, iOS, and Windows. We are proficient to work with developing software including Flash and HTML, as per the client requirement.
Mobile Videos
Our mobile learning video development aims at delivering engaging & short video tutorials. This is a great way to learn a lesson with complete entertainment with inspiring content to build curiosity among the learner.
M-Books
We also offer story-based mobile learning solutions in the form of M-books that is very useful among students for the latest updates, training purposes and many more. M-books can be read via apps or downloaded as per the learner requirement.
Conversion
Conversion of existing learning solutions to mobile platforms for organizations that are eager to implement Mobile Learning but have time or budget restrictions.
Mobile Games
We develop light-hearted or quiz-based learning apps using multiple platforms including iOS, Android, Windows, etc. These games come handy in making learning interactive as well as measuring the IQ level of learners.
Micro Courses
The Mobile learning-based micro-courses are of the very short session and can be used on a smartphone as summaries to your electronic learning session. It proves to be a great learning tool based on cloud-technology.
Learning has become accessible on the go because Mobile Learning is the solution to train anytime, anywhere, despite any space and time limitations.
Rich in multimedia, interactive, responsive, and learner-engaging content, Mobile Learning creates a perfect platform for the learners.
Embedding creative learning techniques including scenarios, realistic problem-solving, game-based learning and decision-making have proven to be the most effective learning strategies.
Mobile learning in the form of micro-courses offers engaging learning solutions that make the content consumable and high in retention.
Android (Smartphone & Tablets)
iOS (iPhone & iPad)
HTML/CSS/JavaScript
Advantages of OrangeMantra Mobile Learning Solutions
Apart from imparting knowledge to the learners on smartphones, tablets and other gadgets, we promise several other benefits as well, including:
Portability and Mobility
Context-Aware Content
Personalized Learning Experience
Location-Aware Content
Proximity to Point of Performance
Formal and Informal Learning
Communication and Collaboration
Timely Reporting with proof of completion
24/7 Access to our Support Team
To summarize, our Mobile learning solutions are a blend of workforce demographics, organizational readiness and mobile device capabilities.
Ready to Transform your Education Business?
test