Our teams are working remotely to meet your tech requirements promptly – Contact us Today !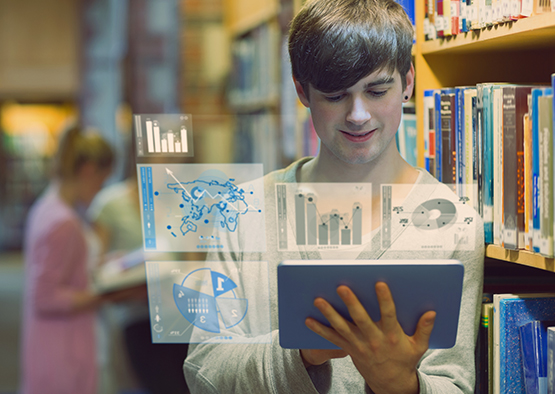 Complete, Automated Library Management Software
Library management software is developed to manage the inventory. Library software helps to keep a record of all the things present in a library including books, DVDs, CDs, and Magazines. It is a major software in colleges, institutions, universities and at Govt libraries to provide full support to the librarian and other support staff.
Library Management system works as an automatic library system that keeps complete track of each book, a magazine issued, returned, and added to the library. Various modules are used in the library management system for the smooth functioning of the system.
Catalog Management
It is the approach of creating a list of all bibliographic items including a short description, list of subjects, author name, and the classification.
Membership
This module keeps complete track of all important details of student, who has taken membership of the library. Members' database is managed for timely access to the user records.
Circulations
Circulation includes lending and borrowing of books and other relevant materials. With our Library Management Software all records regarding databases, profile, payment of fines, lost books etc, will be displayed.
Search Options
We have enabled the power of computing with the integration of data searches that made the job easy for the librarian.
Barcode Reading
With this software, each item including books, CDs, DVDs, Journals can be identified separately using the barcode accession number.
Acquisition
This solution helps the librarian for the selection and purchase of material or resources for the library. This automatically increases the efficiency of library work.
Features of Library Management Software
Library Automation helps librarian to keep track of all the books and other inventory that are issued, as well as returned.
Multilingual and multi-user support
A modern integrated library management system.
Compatible with Windows, Linux and Mac devices.
Print your barcodes.
Full catalog, circulation and acquisition system for library stock management.
Web-based Online Public Access Catalog system
Simple, easy search interface for all users
Export and import records
Easy way to get records of new books
Get complete access to the database having details like title, author name, & publisher name, etc.
Benefits of Library Management Software
Manage the whole working of the library through the software's simple interface.
It eliminates the manual process of issuing books by simplified software approach thus saving time & effort.
The staff can issue, return and reserve books for a specific student with the software's interface.
Keep a record of books like; Book name, Author name, Publisher's name, Date/ Year of publication, Cost of the book, and Book purchasing date/ Bill no.
The software automatically calculates fine as per the counting days from the issue date in case of late return. Add, update, search and view library items online
Generate customized reports for library items, library inventory and library fine collection.
Students can also check the availability status of a particular book online.
Get The Best Library Management Software And Serve Your Students Seamlessly
test