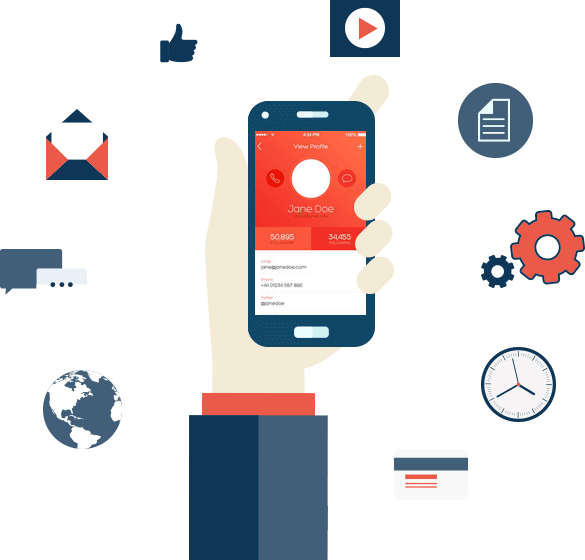 app marketing strategy
to push your mobile apps forward
Creating a comprehensive pre-launch plan based on the app USP, user expectations, and competition
Strategic launch along with the app store optimization to make the app visible
Post-launch viral campaigns to popularize the app and maximize its reach
Maintaining communication with the app users to add to its value through its lifetime
request a quote

Have an Idea? We will make it work
We Deliver Reliable Mobile App Marketing Services
Mobile app marketing is essential for the success of a mobile application as each one has to beat stiff competition to become visible on the app store. Mobile applications serve as powerful business assets as they increase the online reach manifold. Not only this, businesses can build long-term relationships and brand loyalty with these smartapps. The big challenge, however, is to reach the users and entice them enough to download these applications and retain them too. This is where investing in a marketing strategy can help. At Orange Mantra, we offer reliable app marketing services that take your business application to the next level. We make sure that your business application makes itself visible and wins the users as well.
We deliver end-to-end mobile app marketing solutions:
Pre-Launch Strategy
To begin with, it is important to understand the niche competition and app objective to frame a marketing strategy accordingly. Our experts craft a robust pre-launch strategy for ensuring the success of the application. We analyze the app store scenario to help you launch at the right time. We also provide consultancy regarding making the application unique so that it generates user interest.
App Store Optimization
At Orange Mantra, we improve your app's visibility by optimizing it for searches on the app store. Our ASO experts focus on in-depth keyword research and optimize the apps with the use of relevant keywords, titles, and descriptions. We also work on A/B testing to measure the app's performance and make sure that it turns up in search results of the customers. Our localization experts make sure that the search terms, description, and marketing materials are available in native languages.
User Engagement
An effective strategy does not only relate to making the application visible but is concerned with driving user engagement too. While the quality, creativity, and performance matter a lot, marketing too is equally vital for the app's success. We create a powerful post-launch campaign to engage users for the application as well as develop strong bonds with the customers. Our campaigns include promotional ideas such as videos, podcasts, social media, press releases, in-app advertising, review generation, and paid promotion.
Analytics
Another significant element of a comprehensive app marketing strategy is user analytics as it gives an insight into the performance. Our strategy includes tracking of the user during the entire app life cycle. The analysis empowers us with useful data related to the users, which can be used to optimize the application for long-term user retention.
Reporting
At Orange Mantra, we believe on delivering value with our services. As a result, we provide reports about the efficacy of the mobile application as well as the areas where there is scope for improvement. Our experts also provide suggestions for fresh updates and improvements so that the app serves as a powerful branding tool for the business.
Why Choose Orange Mantra For Mobile App Marketing
Orange Mantra is a leading mobile app marketing agency in India. We specialize in leveraging the popularity of your business applications to give you a competitive edge.
We believe in creating unique, tailor-made plans that cater to unique needs of clients
We have an impressive track record of delivering successful campaigns for hundreds of satisfied clients across diverse industry verticals
Our expert team offers a comprehensive range of services that encompass the mobile application marketing process
We are a team of certified and skilled professionals with a commitment to deliver the best
We excel in terms of versatility too as we hold expertise in apps for iPhone, Android, Windows and cross-platform apps
We integrate the latest tools and techniques in our marketing solutions to make sure that they deliver high ROI
Our services are competitively priced yet always meet the quality benchmark
Get In Touch With Us Today
Client's Testimonials
The quality of the work provided at OrangeMantra was simply superb. They have an impressive kind of response and follow up. They won our trust and confidence and we are eager to work with the talented Android team again.
– Mick
I recommend OrangeMantra's App Store Optimization team for their great work in maintaining and upgrading the mobile application. They were always on time and delivered the desired outcomes.
– Louis
OrangeMantra has a good App developer' s team and I enjoyed working with them. Communication and responsiveness were top-notch and their skills were strong. In case where the work was beyond the ability, they were in preparation and put more hours on work to get the task done on time. I enjoyed working with Orange and will likely have additional projects for them in the future.
– Cristiano
I have only one word to say about OrangeMantra. That is WOW!! Time, Cost, Efficiency, Professional, Cordial are some of the words that strike my mind regarding the App development moments. We are getting a successful number of downloads and are expecting more shortly. All due to their sincere efforts. Thank you Team.
– Omair
OM team did a great job. The mobile app was developed in a short time! I liked the consistency in their way of communication. I was always informed about the working status and the next steps involved. Thank you again!.
– Christoph
The Team excels in fast service. They designed, developed and delivered our android and iOS app within a short duration of time that anyone may not even imagine. It's the result of an amazing team effort.
– Bryan