Our teams are working remotely to meet your tech requirements promptly – Contact us Today !
Upgrade your PrestaShop store for optimal performance
The latest version of the PrestaShop eCommerce platform offers an array of new features and capabilities. A more comprehensive framework, an intuitive backend, a user-friendly dashboard, and much more. If you are still using an older version of PrestaShop, your online store is missing all these – and superior performance.
At OrangeMantra, we have a team of experienced eCommerce developers, web designers, and software testers to ensure a completely flawless PrestaShop upgrade. Having designed, developed, and upgraded hundreds of PrestaShop solutions, we know how to upgrade your store to ensure impeccable performance. Let us help you optimize your eCommerce by utilizing the most advanced capabilities of PrestaShop.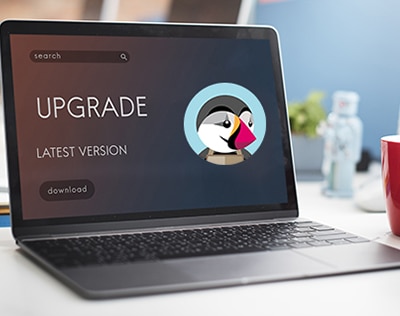 Advantages of Upgrading to the Latest PrestaShop Version
Security and reliability
The latest version of PrestaShop enables you to manage thousands of products simultaneously. The new version features the integration of the Symfony3 framework, enhances security, and makes eCommerce GDPR compliant.
Save time, enhance efficiency
PrestaShop offers an array of new tools to organize your online business and reduce errors and costs. It has introduced advice and assistance, an optimized backend, and automation of recurring tasks.
Architectural transparency
The open-source code of PrestaShop encourages developers to contribute to the community and make the platform better. PrestaShop enables developers to use GitHub and build solutions in over 40 languages.
Custom design and configuration
PrestaShop's latest version lets you set up your online store according to your choices. Using thousands of extensions, you can customize the design, functionality, and configuration of the store, among other areas.
Intuitive backend
Make the management of your online store seamless and efficient with user-friendly backend capabilities. The platform has removed useless options and superfluous information to make it more user-friendly and efficient.
Convenient dashboard
The new version completely reorganizes the Dashboard in terms of design and functionality. You can now more easily view information like key performance indicators and user engagement metrics, and other data.
Our PrestaShop Upgrade Process
Data collection & backup
We meticulously collect your data while ensuring that your online store faces no disruption during the process. We then create a backup copy of your store on our test server. Product info, customer data, and all other crucial information are stored carefully.
Software update
We upgrade the online store to the latest version. We execute the upgrading process on a test server so that your site faces minimal to no disruptions. If you have third-party modules and extensions, we upgrade them separately. Your site remains fully functional during the upgrade.
Theme development
We develop or customize a new theme after installing the latest version. You can also prefer to keep your older design. However, we suggest getting a new theme for a newer look and feel for your customers.
Bug fixes
Our testing team thoroughly examines your site after the upgrading process is complete. We fix any potential bugs and match the template with your online store. The testing team ensures that your solution is delivered without a single flaw.
Site Handover
Once the upgrade and testing processes are complete, we deploy the solution and handover all the data we stored and backed up. We then ask you to check everything thoroughly. The upgrading process culminates after we get your 'OK.'
Other PrestaShop eCommerce Services from OrangeMantra
We provide end-to-end PrestaShop design, development, and maintenance services for small, mid-sized, and large businesses.

PrestaShop Customization
Get your existing online store customized according to growing/changing business needs. We make the customization process seamless.

PrestaShop m-Commerce
We also develop an eCommerce mobile app using the PrestaShop development framework. Android, iOS, or cross-platform apps, we're here to help.

PrestaShop UI/UX Design
We have a talented design team to meet all your user experience and interface-related design needs. All your design needs are delivered promptly.

Migration to PrestaShop
Move your existing online store to PrestaShop and enhance user experience and sales. Choose our PrestaShop eCommerce store migration services.

PrestaShop Maintenance & Support
A team of eCommerce developers, tech experts, and business analysts solve all your queries related to PrestaShop online store design, development, and performance enhancement.
Frequently Asked Questions
If you are not a software developer yourself, the best way to upgrade is to choose a professional upgrade service from a reliable provider. Companies like OrangeMantra offer reliable and cost-efficient PrestaShop upgrade service. Such services also ensure complete data restoration and minimal to no downtime.
We rapidly complete the upgrade process and handover the site within the shortest turnaround time. However, there's no predefined average time. It depends on factors like the size and type of your site and the amount of data it possesses.
The costs of building a PrestaShop online store vary widely according to your requirements. If you need a simple store with basic features and storefront, costs are comparatively lower. OrangeMantra offers reliable PrestaShop solutions at a competitive price.
test