The COVID-19 pandemic has completely revolutionized the eCommerce industry. Customers have switched to online grocery retailing stores to stay safe during the pandemic. Many retailers are facing challenges with order fulfillment and gaining profitability quickly. What was to be achieved in years has now to be achieved in months. Envisioning the new future of eCommerce, it is important to be prepared ahead by developing strategies that help them thrive in a post-COVID world. If you want to ensure business continuity during the pandemic, now is the time to invest in eCommerce development services.  
 "One thing that kept me away from online shopping was the trust factor regarding the quality of products", Shivani, one of our customers said during a discussion. Due to this, she preferred to browse for products online and then purchase the selected products from the physical store. "However, this pandemic changed almost everything, you see. Now I had to shop groceries online to avoid the crowd as much possible".   
 "Having said that, I am still not satisfied with online shopping due to lack of personalization, delayed order fulfillment process amongst others." Shivani prefers to shop in-store after the COVID-19 pandemic ends.   
 Retaining new online customers like Shivani is one of the biggest challenges for online grocery stores today. Keeping these critical aspects of the customer experience in mind, we have come up with strategies that can help online grocery stores retain new customers even after the COVID-19 era.    
Moving on, online grocery stores need to prepare for the new wave of online shoppers. In this article, we have discussed some of the effective strategies that will help online grocery stores to retain new online customers.   
 Explore these strategies that can significantly expand your customer base in the post-COVID world

The Rise of Online Grocery Retailing 
 The COVID-19 pandemic has unquestionably increased the demand for eCommerce development services. During the ongoing pandemic, there has been a steep rise and fall of several trends. As countries are moving from one phase of the global pandemic to the other, we have witnessed everything from stockpiling and panic-buying to exploding demand for hygiene products. While some of these trends have frozen, it has led to the emergence of newer trends in the eCommerce world. Online grocery retailing, in contention, is emerging and going to be in vogue in the eCommerce landscape. The movement restrictions during this pandemic have accelerated the growth of online grocery retailing as many customers prefer to shop for groceries online now. Moreover, retailers are happy to have acquired new online customers. However, retaining these customers has become one of the biggest challenges for online grocery stores.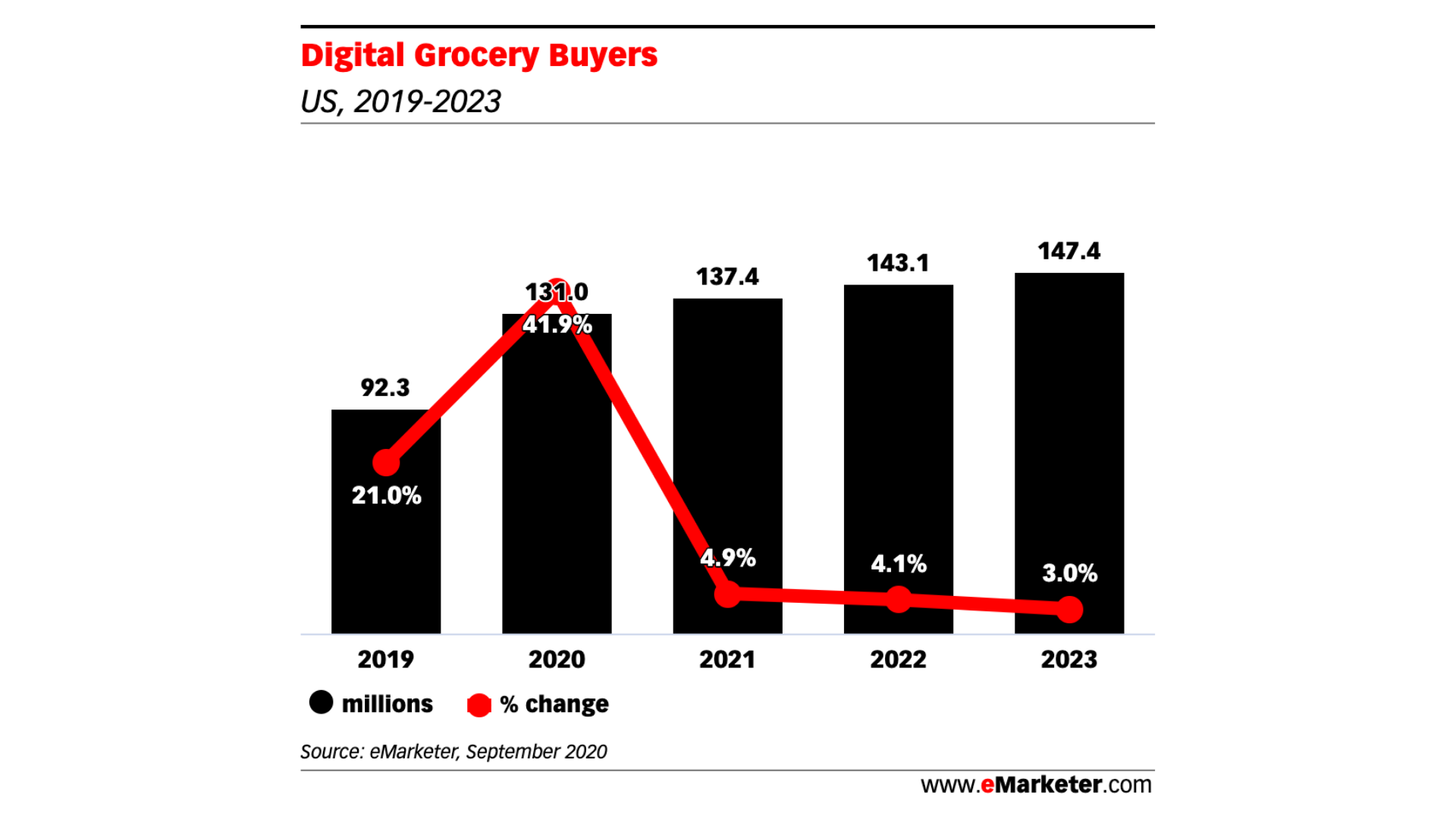 Get Inspired by One of the Leading Grocery Stores We Have Helped to Grow –

 

Read Case Study
The Need for Building a Robust Customer Infrastructure
In order to ensure successful online grocery retailing many grocery store owners have made efforts to meet the surging online demand during the initial phases of the lockdown. Many had to even expand delivery capacities to keep up with the demand of new customers. Thus, it is important for retailers to focus on creating the right physical infrastructure. If retailers want to continue fulfilling the needs of customers, they will have to focus on a more dynamic infrastructure – to accentuate the online customer experience.  
"The ease of online shopping is like a double-edged sword for online retailers. Today, customers have numerous options when it comes to selecting a retailer for online shopping. So, your rivals are no longer a kilometer away, they are just a click away."  Ritika, (Content Developer) had to say.  
How Can Online Grocery Retailing Businesses Retain Customers?
Improve Digital Experiences  
The rules for a great online customer experience are the same as the in-store experience. Ultimately, it is about helping people find what they are searching for. Ideally, a delightful digital experience is about keeping customers first and addressing their needs. Fortunately, eCommerce solutions help in knowing about these needs in detail through valuable data insights available to retailers. The data collected from the customers will help you create better and personalized shopping for individual customers shopping from your store.  
The use of inventory management solutions also helps in keeping track of the inventory and avoiding any unwanted surprises. Besides, it also helps in improving the overall customer experience as they are less likely to experience unexpected out-of-stock products.  
Here are some of the ways grocery retailers can act to retain new customers.
Make the Offline Customers Move Online 
While your customers may be new when online, most of them will be existing offline customers. You can use their loyalty card history to display the items that they already purchased. Moreover, predictive data analytics can identify which of those products are essential and regularly purchased that a customer might need right now, thus, helping them to build a basket efficiently and quickly according to their personal behavior. This information can also serve as an online virtual assistant that will assist customers to find alternatives for products that are out of stock and prompt them with products, they might have forgotten in their cart at the checkout step.  
Thus, online grocery retailing is not only proving to be beneficial for customers at large, but also for grocery store owners supporting them in building a new business infrastructure from the base
Provide Value to Your Customers
In today's digital world, customers can compare product prices at the flick of a tab. Therefore, it is vital to maintain price perception. However, this is not an easy task as customers won't prefer exploring the list of products you have on special offer for that week. You can use relevancy algorithms to curate your promotions list at the customer level based on their previous behavior and display each customer the offers that are relevant to them. [Text Wrapping Break] 
Optimize Order Fulfillment Strategies 
Fast order fulfillment is crucial in 2021 as customers are opting for curbside and delivery to receive groceries safely amidst the pandemic. However, many stores that were unable to meet the surge in online orders lost customers' trust, thus affecting the business bottom-line.  
To meet the orders and stay competitive, retailers need to improve their productivity. They can implement strategic methods throughout the order fulfillment process, like robotic technology, or wave and area picking to bolster the completion of several orders. Many online retailers like Walmart are focusing on optimizing store footprints to allot larger staging and pickup zones for online orders or micro fulfillment centers and dedicated dark stores.  
By automating the order pickup process, with alerts on store arrival through geo-location technology, it fulfills the orders quickly and significantly reduces wait times for customers, thereby boosting customer satisfaction.[Text Wrapping Break] 
Ensure Transparency with Your Customers  
Grocery retailers can take an extra step in building goodwill with their customers as we do know about our customers, what they want, and who our suppliers are. Therefore, it is important for retailers to connect with them even more.  
They should be transparent with their customers about problems they could face like surprising out-of-stocks or difficulty in finding a delivery window. You should be transparent about what you're doing, the innovation you are chasing, and your investments for ensuring a better experience.  
Wrapping Up
These are some of the effective ways by which you can retain your newly acquired customers during a pandemic. As a leading provider of eCommerce development services, we at OrangeMantra specialize in developing robust online grocery retailing solutions that will take your grocery business to level 2.0 by automating and streamlining all your day-to-day operations. Our team of eCommerce consultants can also help you build effective strategies to retain your customers and generate more revenue. Reach out to us to explore ways you can grow your grocery business and the means through which you can engage with your customers to ensure better customer retention.  
FAQs  
Q.1. Do you build a grocery store website from scratch or use ready-made designs?  
 Ans. We can build your online grocery retailing store in both ways. If you want to launch your business quickly, then you may go with ready-made designs which can be customized according to your requirements. However, if you have sufficient time and budget, then we can develop your grocery store from scratch, right from ideation and conceptualization to development and deployment.  
 Q.2. What are the must-have features of an online grocery store?  
 Ans. Here are some of the features your online grocery store must have:   
Easy user registration  

 

Cart sharing  

 

Order tracking  

 

Coupons and discounts  

 

Product delivery scheduler  

 

Product return/refunds/exchanges  

 

Multiple payment methods  

 

Reviews and ratings  

 

Referrals and rewards  

 

Quick reorder or repeat order, and many more. 

 
Q.3. Which are the best tools for building an online grocery store?  
 Ans. Some of the best tools for developing online grocery retailing stores include:   
Zielcommerce  

 

Ownmyshop  

 

Zemez  

 

Rocketbazar  

 

IONWE  

 

Essitco  

 

Mycloud Grocer, and many more. 

 
Have More Questions? Feel Free to Ask Our Ecommerce Experts Right Away!