In today's digital-first age, you need to go much beyond building an impeccable online store to drive organic traffic and sales to your store. Selecting the right eCommerce platform, for instance, is one such key decision. But what happens after you launch your online store? How are you going to draw potential customers to your store? How will you get them buy from your site and not from your competitors?
Search engine optimization (SEO) and ranking is the answer. If you're running a Shopify store, this Shopify SEO plan will walk you through the important steps you need to take to rank higher in the search results. You may use this Shopify SEO checklist to gain higher organic traffic and eCommerce sales.
But before we dive into the topic, let's find out if Shopify is good for SEO.
Is Shopify Good for SEO?
If you're wondering whether Shopify is good at SEO or not, the honest review will be yes, it is good at search engine optimization for most parts. The platform comes with numerous SEO-friendly features right out of the box. For more advanced SEO features, you need to explore Shopify's app store which offers myriads of applications for SEO with Shopify.
However, there's a lot more to do to reach the top position in the search results. While keywords play a pivotal role in search engine optimization, it takes more than just optimizing your website content with some keywords to attain the coveted #1 rank on the SERPs.
Step-by-Step Shopify SEO Checklist for Your Store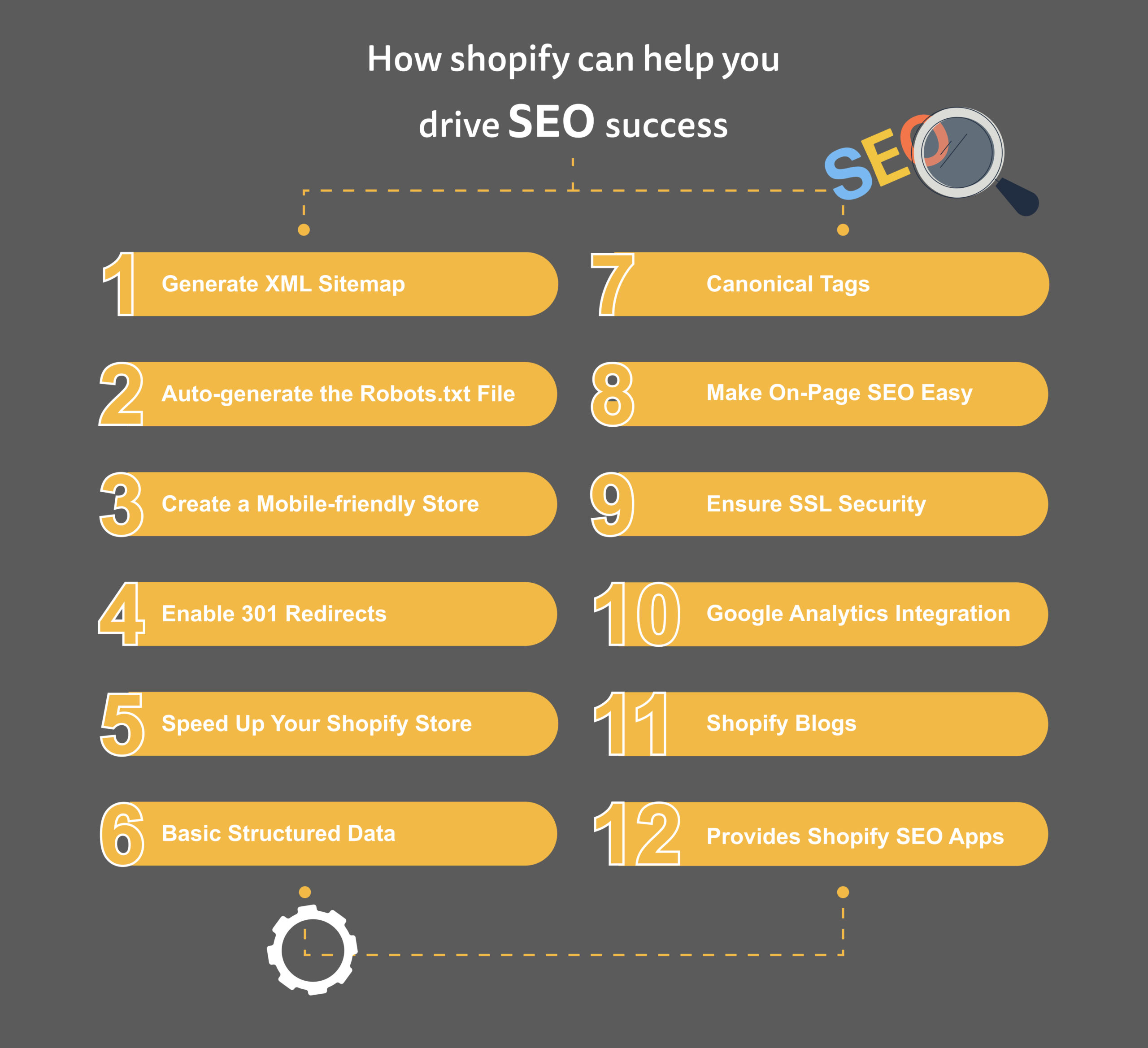 Let's start with the easiest yet most important step for Shopify SEO.
Add Your Shopify Store to GSC and Bing Webmaster Tools
If you're serious about your search engine optimization, you must start by registering your Shopify store with Google Search Console and Bing Webmaster Tools. By doing this, you are telling Google and Bing that you have a website, making sure that it gets indexed.
Once your Shopify store gets registered, you'll then need to submit an XML sitemap to both services to help them index your website quickly and accurately.
Helpfully, Shopify automatically creates a ready-to-use XML sitemap for you. The URL for this on your Shopify eCommerce store is www.yourdomain.com/sitemap.xml.
Here's how you can submit this sitemap in both Search Console and Bing Webmaster Tools:
Go to your site dashboard
Click 'Sitemaps'
It's pretty straightforward, isn't it? Next, you need to focus on how your content is organized on your web page since it is crucial for your Shopify SEO success. With that said, let's move on to the next step for SEO in Shopify.
Optimize Your Shopify Site Structure
Is your store easy to navigate? Are your customers able to find things easily and quickly? If not, then you're likely to experience higher bounce rates and lower site ranking. When customers are able to find products easily and quickly, they will stay longer on your website and view more pages. As a result, your website's search engine ranking will increase dramatically.
You can achieve this by keeping your site structure simple. A simpler structure of the site not only ensures easy navigation but also helps search engines crawl your site and rank your products.
A simple and SEO-friendly site structure may look like this: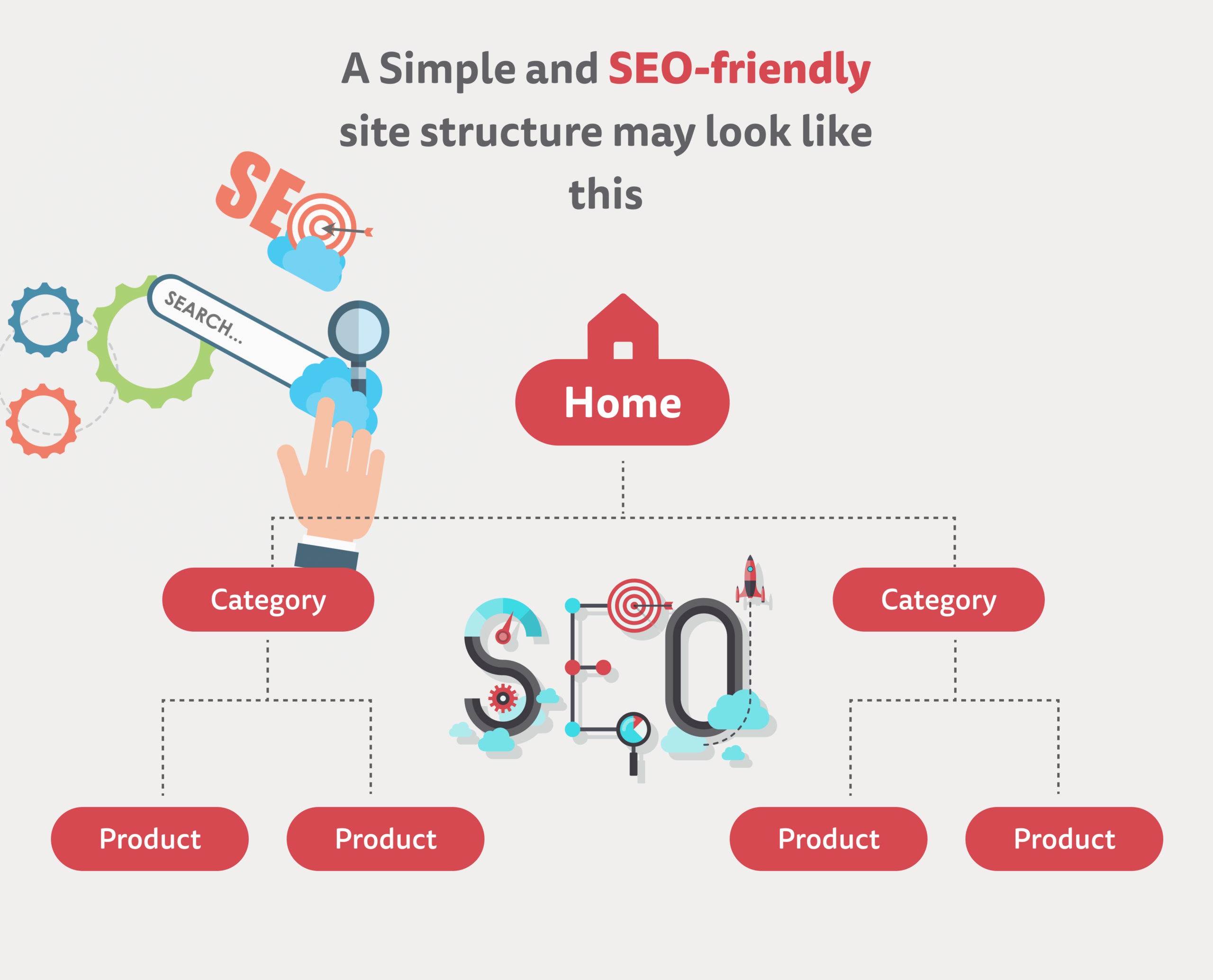 In the above diagram, you can see that your products are easy to reach from your homepage. This will make it easier and faster for customers to find what they are looking for and easy for major search engines to crawl your website.
Thanks to Shopify, organizing your content is much easier using any one of these structures.
Homepage » Category » Product
Homepage » Category » Sub-Category » Product
Always remember that your store must be created for your customers first.
Additionally, you also need to create an 'About Us' and a 'Contact Us' page on your site. These pages allow customers and search engines know that your brand is credible and trustworthy.
Lastly, add a search box at the top of your page. Will it improve your SEO? Well, not directly. However, it will help site visitors to easily find what they are searching for. This is crucial for your eCommerce optimization and sales conversion.
Enhance Your Store's User Experience
Now, let's take a look at how you can improve the user experience of your Shopify store. A seamless and pleasant user experience helps you rank higher in the search engine results. And it adds significantly to a wide array of other benefits that Shopify offer.
Optimize Your Shopify Page Load Speed
Website speed optimization is all about making your site accessible. When your website is easy to navigate and has a fast-loading speed, it delivers a delightful shopping experience for customers. Hence, they would love to spend more time on your website.
Here are some of the ways you can optimize your Shopify page load speed:
Use a lightning-fast, mobile-responsive Shopify theme
Add smaller and well-optimized images
Avoid adding image sliders to your page
Remove any unused Shopify apps
Avoid using too many web fonts
Use minimum external scripts or custom code on your website
With Shopify store development, optimizing the page load speed is easier. Shopify has recently introduced an 'online store speed' report to its dashboard. As a merchant, you can use this report to evaluate how your store is performing compared to your competitors in terms of speed.
Here's how you can access this report:
Go to Online Store > Theme > Click the 'View report' placed beside the Online Store Speed section.
You can also use Google's PageSpeed Insights tool for a more comprehensive analysis of the page speed of your Shopify store. If you're a newbie, it's good to hire Shopify developers with rich experience and expertise. They can optimize your Shopify store as per the Core Web Vital standards.
Use a Mobile-responsive Design
A responsive Shopify storefront will look great on any device such as desktops, laptops, smartphones, and tablets. Choosing a mobile-responsive Shopify theme helps you enhance your user experience and keep your visitors more engaged.
Since Google looks at how long your visitors stay on your website to evaluate your site's value, having a mobile-friendly and readable website can improve your ranking. Higher site rankings and better usability lead to higher conversions and revenue for your Shopify store.
Moreover, since customers are using smartphones for online shopping, eCommerce businesses must go with a mobile-first approach to Shopify store development.
Do a Thorough Keyword Research
Search engine optimization relies heavily on keywords. Therefore, it is important to perform extensive keyword research to find the right keywords for better SEO on Shopify. Using target keywords in your content and products can improve your Shopify store's search rankings significantly.
Proper keyword research involves obtaining three important pieces of information.
The keywords or phrases that people are typing into the search engine box to look for a similar business, product, or content as yours
The search volume of those keywords
How difficult will it be to rank for high competition keywords?
With this information, you can identify the right keywords to create fresh content or optimize the existing one. Keywords with higher search volumes generate a considerable amount of organic traffic to your Shopify store. You can use a dedicated keyword research tool like SEMRush, UberSuggest, Google Keyword Planner, etc. to find the most relevant keywords for your SEO efforts.
Once you've optimized your content with the target keywords, make sure to monitor how your content is performing with those chosen keywords.
Create Appropriate Page and Product Titles
Your website's page title is one of the key elements of your web page. Search engines categorize and rank your content based on your page title. Since a title is shown in the search result pages and at the top of browser windows, you must make sure that it is catchy, optimized with the target keyword, and of appropriate length. It's a good practice to start your title with the keyword you want to rank for in the search engine results.
Shopify store development provides you with two different approaches for editing page titles of the home page and other types of pages.
Here's how you can edit your Shopify home page title:
Click Online Store > Preferences.
Now, use the 'Homepage title' box in the available 'Title and meta description' section to write your home page title.
To edit other Shopify page titles, the process is somewhat the same, whether you're editing a static page, blog post, or product page.
First, locate your page, product, or post in the Shopify dashboard:
Online Store > Pages and Online Store > 'Posts' (for pages and blog posts) or Products tab (to access products).
Once you have located it, scroll down to the bottom of it, and then click the "Edit website SEO' link in the 'search engine listing preview' section.
You can now edit the page title using the given 'page title' field.
Use Text Headings Correctly
Another step in this Shopify SEO plan is using headings properly in your content. Applying headings to your text is crucial as they make your content easy to read and understandable.
If you're using Shopify for SEO, you can easily add headings and subheadings. While editing a page or product description, you simply need to highlight a piece of text and then select an appropriate heading type (H1, H2, H3, H4, H5, and H6) from the text formatting drop-down menu.
H1 heading has a significant role to play in improving SEO in Shopify. Search engines use it, along with page titles, as the main factor for page ranking. Therefore, it should ideally start with the main target keyword always.
Adding H2s, H3s, and H4s with related keywords to your page and product descriptions can also improve your Shopify SEO.
Write Catchy and Compelling Meta Descriptions
A Meta description is a summary of web pages that are displayed below the blue clickable page links in a search engine result page. A well-written and optimized meta description can encourage people to click on your website. This will improve the clickthrough rate (CTR) of your web page.
Many SEO experts believe that the CTR of a web page is a ranking factor. So, make sure to use meta descriptions that work for you. Always remember that the meta description for your product and pages should
Be of a maximum of 155-160 characters in length
Be precise
Include the focus keyword you want your page to rank for
Just like page titles, there are different processes for editing home page meta descriptions and meta descriptions for other pages.
For editing the home page meta description, you need to click Online Store > Preferences and use the 'homepage meta description' field that appears on the right of the screen to add or change it.
You can edit a meta description for other page types by locating your page, product, or post first. And then, scroll down to the bottom until you find the 'Edit website SEO' link in the search engine listing preview. You will get an option to edit your meta description.
Create Unique Product Titles and Descriptions
One of the easiest ways of speeding up the product addition process to a Shopify store is by using Shopify's 'Duplicate product' option.
While this may seem a handy way to add new products to your online store, it can lead to the creation of entirely duplicated product titles and descriptions due to laziness.
This is not good for your SEO in Shopify. Duplicate content can result in a lower search engine ranking. Therefore, make your product titles and decryptions fresh and unique, as long as it is possible.
Optimize Your Image Alt Text and File Name
Search engine algorithms not only consider the text on your Shopify store but also factor in its images. They do this by evaluating two pieces of information – image alt text and file names.
Let's look at one by one.
Alternative Text (Alt Text)
Adding alternative text (alt-text or alt tags) to your images is essential because:
Screen readers use this information to describe an image to visually impaired site visitors.
It is easy for search engines to categorize and understand your content.
If the image does not load in time, its description will help eliminate confusion.
Therefore, you must always add alt text that is understood by both search engines and screen readers. An image description should also include target keywords for better search engine ranking.
Shopify store development provides a very straightforward method for editing alt text.
How to Add Alt Text to Shopify Pages/Posts
Here's how you can add alt text to your Shopify pages or posts:
Go to Online Store > Pages or Online Store > Blog posts
Navigate to the relevant image
Double click on the image
Then, you will see a dialog box where you can edit all aspects of your image, including alternative text.
How to Add Alt Text to Shopify Product Pages
To add alt text to your Shopify product pages, you need to
Go to Shopify dashboard > Click on Products to locate your desired product
Then, click on the relevant product image
Click the 'Alt Text' option present on the right-hand side of the image to add your alt text.
Image File Name Optimization
Editing image file names is not as easy as editing alt text in Shopify. So, make sure to optimize your image file name before uploading it on the platform.
When optimizing your image, you must ensure that your file name includes your focus keyword and has a short name. So, if you're selling a red toy car in your store, the image file name should be 'red-toy-car.jpg' instead of any random name like 'IMGTOY1.jpg'.
If you want to change the file name after uploading it to your Shopify store, you need to delete the existing image and replace it with the re-uploaded one that contains your focus keyword.
If you have tons of images, you can use an app like the Bulk Image Edit app from the Shopify app store to accelerate the image optimization process. However, charges will apply if you have a lot of images to update.
Ensure Using Clean, SEO-friendly URLs
This is an inseparable part of any Shopify SEO plan. Google loves pages with clean, SEO-friendly page URLs. By the term 'clean', we mean that the URL is simple, short, and easy to understand.
Your Shopify store's URL should be intelligible and include a focus keyword. This will help search engines and site visitors to understand the context of your content.
To edit the URL of your Shopify page, you need to
Navigate to the Shopify page, product, or post you want to edit
Scroll down to the bottom of it
Click on the 'Edit Website SEO' option
Make changes in the 'URL and handle' field
It's worth noting that if you edit or change a Shopify URL, you must check the 'create URL redirect' option.
This reduces the possibility of visitors and Google encountering broken links. It informs Google that you have changed a particular page's URL.
But what if you need to change the URL of a page with a high ranking, high traffic, and a lot of backlinks? You need to proceed with the process more carefully. All these would go in vain if you do not create a redirect from your old page URL to the new one.
A URL change can also affect your page's social proof since it will reset the statistics of the page's social shares to zero. Ideally, you must get the URL right when creating a Shopify page or product, or shortly afterward. And, if you need to change a particular page URL, make sure to tick that 'Create a URL redirect' option.
Create Rich Snippets for Your Products and Pages
Rich snippets are bits of structured data that you can add to your content. They can help both search engines and searchers better understand what your page is about. They are an important part of your SEO with Shopify as they tell you how your website behaves in search engine result pages.
Rich snippets demonstrate visuals hints of the content of your product, page, or post. They may include star ratings, the number of reviews, prices, author, etc. These are displayed underneath the page or post title and above the meta description.
Search engines encourage the use of rich snippets because they give an additional source of information that they use to categorize and index content effectively. People like them because they make the search results more relevant and contextual. This drives more clickthrough, which leads to higher rankings.
One way to generate a rich snippet is by adding Schema Markup. It is an HTML code that features tags defined by Schema.org. It helps webmasters give more precise information to search engines such as Google, Bing, and Yahoo to help them refine their search result pages.
Other ways to add a rich snippet to your Shopify store include:
Adding some 'data markup' code to your Shopify design templates manually, and
Using rich snippet apps available in the Shopify app store
You can even hire Shopify developers who can handle everything for you.
Take Full Advantage of Shopify Blogs
Many Shopify users tend to focus more on their product catalogs, optimizing the images, descriptions, keywords, and so on. They often forget one of the most crucial aspects of SEO in Shopify – creating high-quality content, mostly in the form of blog posts.
Websites that regularly publish comprehensive and informative blog posts on interesting topics tend to rank higher in search results.
Also, you need to optimize your blog content with relevant target keywords to rank higher for those keywords. Make sure to do extensive research to identify the niche topics people are searching for and how difficult it will be to rank for the chosen keywords.
Create Quality Backlinks to Your Shopify Store
Another important step in this Shopify SEO plan is to create quality backlinks. Search engines treat backlinks as up-votes for content quality. So, the more of these votes that your page or products receive, the better they will rank in search results.
While it is difficult to get quality backlinks to your Shopify store, it is worth investing time in building them. Ideally, you can obtain backlinks by pitching other niche-based site owners and persuading them to provide a backlink to your content. This is only possible if you create a strong, informative, and relevant piece of content.
Make Use of the Best Shopify SEO Apps and Tools
When you choose Shopify for SEO, you get access to numerous Shopify apps and tools that can boost your website's ranking.
Some of the best Shopify SEO Apps and tools include:
Plugin SEO
Smart SEO
SEO Image Optimizer
Yoast
SEMrush
OptinMonster
You can select from the ones mentioned above or explore more applications for advanced Shopify SEO.
Make Your Customers Spend More Time on Your Shopify Store
Technically, we are talking about increasing a user's dwell time on your Shopify store. The longer the 'dwell time', the better your content will perform in search results. So, you need to create a Shopify store that compels users to stay longer on your website.
You can do this in the following ways:
Create high-quality and relevant content – Whether it is writing engaging, informative blog posts or featuring fantastic product images on your site, always give a reason to people to get hooked to your content for ages.
Make use of bucket brigades in your content piece – Use phrases or questions that persuade readers to continue reading.
Create an easy site navigation structure – Seamless site navigation can encourage users to browse longer.
Use internal linking wisely – By adding a 'Related Products' or 'Related Articles' call to actions, you can encourage users to stay longer on your store and explore other pages as well.
Encourage your readers to leave comments on your posts
Add videos to your pages so that visitors spend more time on your site.
At the end of the day, whatever you add to your website, make sure you provide genuine value to your customers, and they would love to spend more time on your site.
Summarizing All the Shopify SEO Steps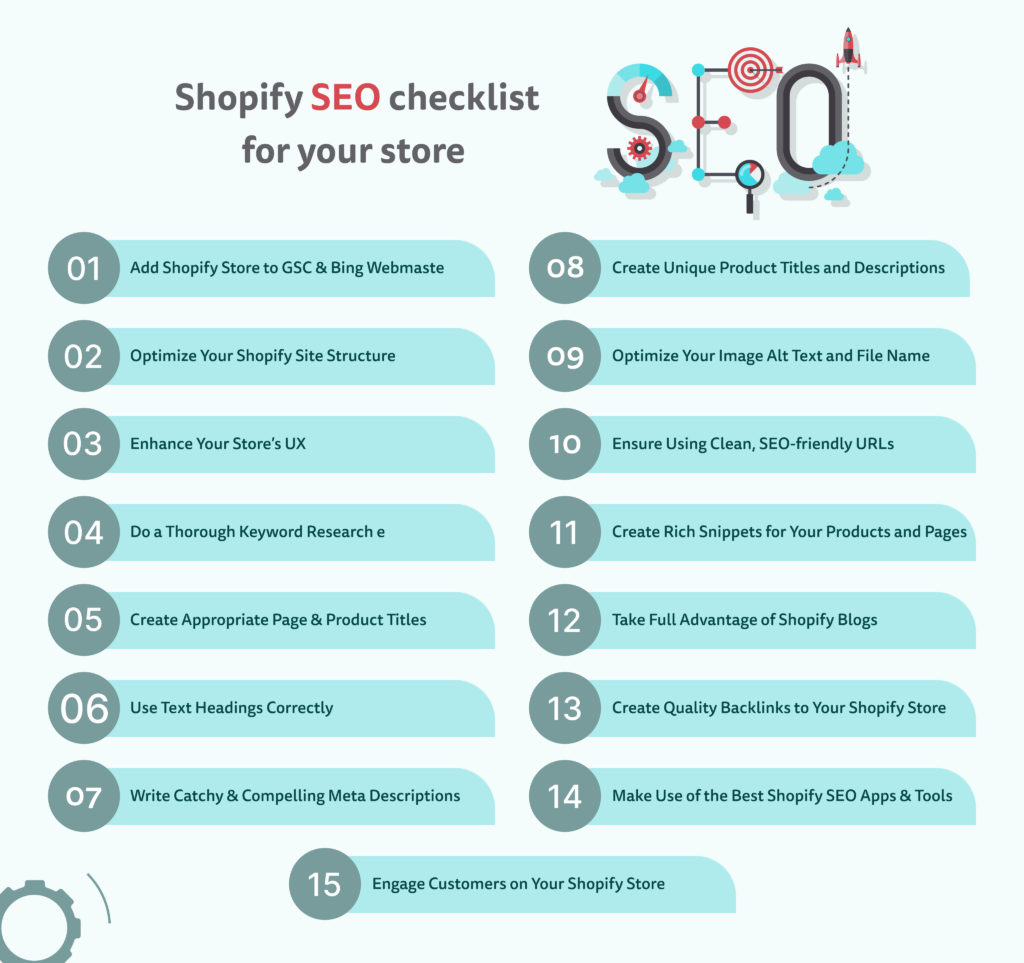 Hire Shopify Developers from Us for an Effective SEO Strategy
As the usage of Shopify continues to grow, you need to understand the SEO implications of the platform. We hope this Shopify SEO plan has provided you with ample knowledge to improve your Shopify store ranking in search results.
However, when it comes to creating an effective Shopify SEO strategy, there is no one size fits all approach. Every business is unique and demands a unique strategy for SEO in Shopify. If you want to reach the coveted No.1 rank on the search engine result pages, you can hire Shopify developers and marketers from us. Our Shopify experts are here to take care of all your Shopify SEO requirements and challenges. Just sit back and relax, and we will help you reach the top.
FAQs
 Q.1. How investing in Shopify SEO services can help?
Ans. Shopify SEO helps you to boost your business' search visibility, enabling you to potentially attract more organic traffic, and increase conversions and sales. As a reliable Shopify SEO service provider, we have helped numerous businesses to refine their Shopify SEO strategies and boost their online visibility. And we would love to do the same for you.
Q.2. How does content marketing help enhance SEO on Shopify?
Ans. Content is an integral part of any Shopify SEO strategy. You can take advantage of Shopify Blogs to create quality blog posts and use them for marketing purposes. Content marketing can help you boost web traffic, increase users' dwell time on your site, and enhance brand recognition to drive more sales and conversions.
Q.3 How much does Shopify SEO cost?
Ans. On average, the cost of Shopify SEO may range between $1,000 and $10,000+ per month based on the level of SEO initiatives taken.