E-commerce has entirely changed the business scenario, with sellers showcasing their products online rather than in brick-and-mortar stores. As a result, there is a need to develop e-commerce stores that reflect a perfect blend between aesthetics and functionality. Magento, WooCommerce, PrestaShop, OpenCart, and BigCommerce are some of the popular e-commerce platforms. Besides these, Shopify is a preferred choice for online sellers who want quality and efficiency along with simplicity and rich features. Keep reading further to discover some more benefits of choosing Shopify for e-commerce store development.
What is Shopify Great for?
Shopify is great for stores that sell goods or services that need a minimal configuration. You can sell a single product or a handful of products by implementing an advanced Shopify homepage section as per your business requirement. This ultimately increases your ROI and boosts your e-commerce business revenue.
Therefore, if you want to grow your eCommerce sales with minimal effort, you should consider investing in Shopify development services and solutions.
Facts that Reveal Why Shopify is Meant for Your Store
Here are some facts to convince you why you should consider choosing Shopify for e-commerce store development.
Shopify is, undoubtedly, the most popular e-commerce platform across the globe. The number of Shopify stores has globally tripled during the COVID-19 pandemic.
Over 1.7 million online merchants now have eCommerce stores built on Shopify.
E-commerce stores on Shopify increased by 201.53% between March 2020 and January 2022. Shopify powered over 2.5 million new online stores in less than two years.
As of January 2022, the highest number of Shopify stores is coming from the USA (2,666,627 stores), UK (156,466 stores), Australia (101,795 stores), Canada (93,680 stores), France (59,560 stores), and Germany (78,638 stores).
Shopify store setup is easy as compared to other platforms. So, you don't need to be a specialist to use Shopify. Many startups now are using Shopify.
The platform is easy to use and offers greater flexibility. It has 6000 plus applications on the Shopify App Store to help merchants customize the user experience.
Also Read: Top 10 Reasons That Make Shopify Plus Ideal For E-commerce Development
More than 100 free and paid Shopify themes are available online.
The Shopify POS system enables merchants to integrate online stores with any retail setting.
Shopify Plus, the enterprise edition, supports greater customization of online stores.
Shopify pricing plans are reasonable for most online merchants. The pricing starts at just $29 monthly for the basic plan.
The platform offers a vast affiliate program, where affiliates can earn $58 on average for every user who signs up for the paid, premium plan.
It has an extensive database of Shopify professionals who provide marketing services, including Shopify SEO services.
Currently, Shopify eCommerce stores run businesses in 175 countries.
In 2022, mobile commerce sales are anticipated to exceed $432 billion from $148 billion in 2018.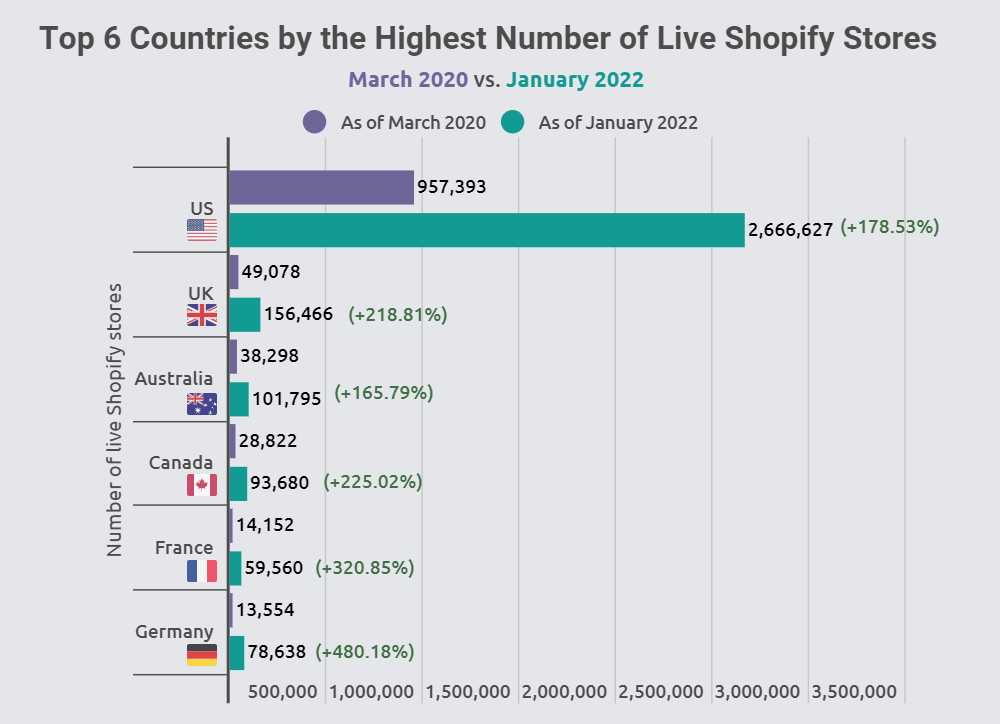 Image Source
What Makes Shopify a Go-to E-commerce Platform for Merchants
Easy to Setup and Use
Shopify is a no-fuss platform that is extremely easy to set up and use. It is the best alternative for those who want a complete solution with no technicalities related to the development and hosting of the online store. The platform itself offers the software and hosting needed for launching the website. The admin interface is intuitive and user-friendly, while the use interface is also compelling.
Visually Appealing Online Store
The platform bundles up a variety of professional templates that facilitate the creation of unique and visually appealing online stores. It comes with a bare minimum theme, but designers and developers can work on it to create a store with rich UI and exceptional UX.
App Integrations
The platform boasts exceptional customization abilities as it supports easy integration with apps. Hence, the seller can easily integrate additional features and functionalities to his store and enhance its value manifold.
Security and Reliability
Another benefit of Shopify is the security and reliability it offers. Security is essential for an online business because it deals with confidential, personal, and financial information about its customers. Similarly, it must always be available online. This hosting solution offers all of these features by taking care of upgrades and maintenance.
Fast Loading Speed
Being a globally-hosted e-commerce solution, Shopify provides a reliable infrastructure along with optimized hardware and software. It gives the platform a super-fast loading speed, and the e-commerce made on it loads within seconds.
Powerful Marketing Tools
As a complete platform, Shopify has the marketing edge too. The basic version offers SEO features along with advanced e-commerce analytics. In addition to these, it also offers more marketing tools such as custom gift cards, discount coupons, store statistics, targeted email marketing, and more.
Mobile Responsiveness
Mobile responsiveness is the key to the success of an e-commerce store because the number of mobile shoppers is increasing by the day. The Shopify themes are mobile responsive, which means you can use them to build mobile-optimized stores. There are even free iPhone and Android apps that you can use to manage the store.
Outstanding Customer Support
By choosing this e-commerce platform, online sellers can avail reliable, round-the-clock customer support. Shopify experts are available 24/7 via email, live chat, or phone to resolve any queries and keep the store running flawlessly all the time.
Easy Payment
A big challenge for an online retailer is to integrate a secure and reliable payment gateway. The payment service you have should allow buyers to pay using different payment options. Shopify makes it simple for the store owners to set up the payment gateway. The platform supports the Stripe payment option, giving buyers the liberty to make transactions without paying any extra fees.
SEO Friendly
Once your store is ready, it is crucial to make it search-engine friendly to drive more traffic. SEO is vital for ensuring the web store is easily accessible to shoppers searching for your products. Shopify improves the ability to design landing pages for the campaigns, which is a major distinguishing factor from other e-commerce platforms. It also supports SEO parameters like custom title tags and meta tags.
With our strong expertise and years of experience in delivering high-end Shopify solutions to our global clientele, we have helped businesses of all sizes and types to boost their growth and revenue. Here's a complete case study on how we strengthened a Fitness Startup's digital presence using Shopify.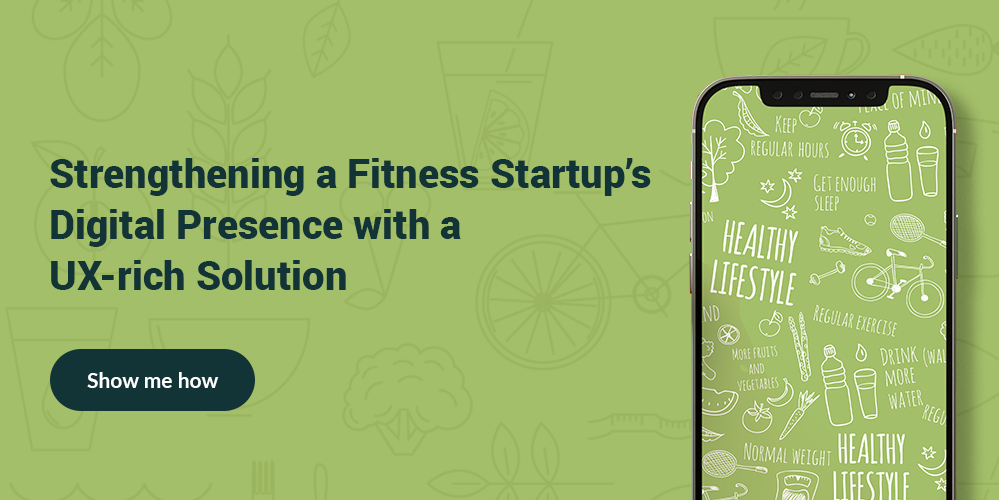 How Shopify Gained Traction During the Global Pandemic
Shopify provides a robust infrastructure for online retailers for e-commerce store development. The platform emerged as the pandemic winner in the eCommerce market. During the global health crisis and country lockdowns, many businesses were compelled to shut down their stores. Hence, switching to online platforms was the only solution to business continuity during the Covid 19 pandemic.
Shopify witnessed a steep growth in 2020 as the pandemic brought more retail businesses online. The platform's user-friendliness and simplicity attracted many business owners to build powerful online stores without requiring strong coding skills and technical knowledge. For instance, Shopify users can customize the storefront, do stock counts, extract analytics, and check the bestsellers with a single click of the button.
The rising eCommerce store trend is playing a vital role in transforming the outlook of the entire eCommerce business. Merchants are looking to create a digital presence to help their potential customers access their products at any time and anywhere.


If you also want to join the online bandwagon to accelerate your eCommerce business growth, consider this as an invitation to invest in Shopify development services.
It's also worth noting that some retailers are attempting to balance their physical and online retail stores. Some merchants are integrating components of their digital presence into their brick-and-mortar stores. They are leveraging the benefits of eCommerce solutions that allow customers to try products in their physical store virtually.
With the help of the Shopify POS system, merchants can sell almost anywhere, including physical retail stores, markets, and pop-up shops. The synchronization between Shopify POS and Shopify allows retailers to track orders and inventory across their retail locations, online eCommerce stores, and other sales channels.
As many physical stores are reopening with the relaxation of lockdown guidelines, this integration can help businesses cater to all segments of customers efficiently.
Wrapping Up
With state-of-the-art eCommerce features and benefits, Shopify deservingly emerges as one of the best choices for e-commerce store development. Sellers can have their online stores created on this platform or have their existing ones migrated to it. If you want to embark on your e-commerce journey with a robust online store, now is the right time to invest in Shopify development services. Reach out to a reputed Shopify development company having relevant experience and resources to build an engaging and secure online selling store.
If you're looking for reliable Shopify support services, you can contact our Shopify experts at OrangeMantra. Share your Shopify store setup requirements with us and get the perfect solution for your retail business.
Frequently Asked Questions
Is Shopify the best e-commerce platform?
Shopify is one of the most recommended e-commerce platforms on the market today. It has features that allow merchants to build customized, flexible, and scalable online selling stores with hundreds of remarkable built-in features and tons of apps. Store owners can sell products directly on the website and across numerous marketplaces and social channels.
How does a Shopify store work?
Shopify is a cloud-based, software-as-a-service online selling solution. A monthly fee provides access to the admin panel where the store admin can enter data related to product addition and order processing. In addition, you'll be able to select from a rich collection of free and paid design templates.
Is Shopify safe to order products online?
Shopify is a secure and one of the most popular e-commerce solutions used across the globe. It provides high-end security features and questioning its security standard is not appropriate. Shopify is the probably safest e-commerce platform to start your business by almost every measure.
Do big companies use Shopify?
Since its launch in 2004, Shopify has made its mark as the world's top-rated e-commerce platform. It provides solutions to startups, small-medium businesses, and enterprises to help them ease the process of running an online store of any size. Renowned brands have trusted Shopify for e-commerce store development.
What companies use Shopify?
Budweiser
Bulletproof
Sunday Somewhere
WaterAid
New York Times Shop
The Economist
Leesa Mattress
Penguin Books
What is Shopify Plus?
Shopify isn't limited to small and medium businesses. With Shopify Plus, enterprise-level and fast-growing merchants can build a fully-hosted and SaaS e-commerce platform at a relatively low cost. Store merchants enjoy unlimited sales and visitors. The Shopify Plus platform helps any enterprise build effective solutions enriched with features, comprising:
Unlimited bandwidth
99% uptime
Up to 10,000 checkouts per minute
Unlimited transactions
4 million hits per second
40+ migration tools
Level 1 PCI DSS compliant