Our teams are working remotely to meet your tech requirements promptly – Contact us Today !
The One-Stop Hosted CMS For Business Websites And Online Stores
We have a team of expert Business Catalyst developers who excel at creating high-quality, custom websites for agencies and businesses.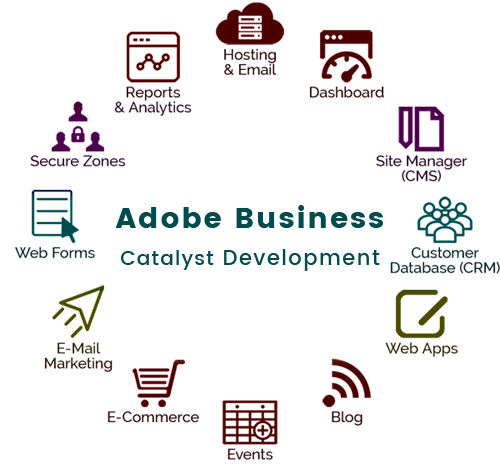 Business Catalyst-The Comprehensive E-Commerce Solution At Your Doorstep
Business Catalyst is an ideal solution for building an online business site from start to end. From content management to e-mail marketing, integrated CRM database, social media integration, reporting and analysis, payment gateway integration, and more, it incorporates all the features that an e-commerce store requires.It is the best choice for digital agencies too as it unifies powerful digital marketing tools for securing high website rankings and enabling long-term management of the sites.
At Orange Mantra, we are a team of expert Adobe Business Catalyst Specialists. We use the amazing features and functionalities of Adobe Business Catalyst to design, develop, and deploy perfect websites for taking your business online. Whether your business is small, medium, or large, we deliver solutions that guarantee success for your enterprise.
Power Up Your Online Enterprise With The BC Advantage
E-Commerce Capabilities
BC bundles up an impressive range of e-commerce capabilities which enable creation of an aesthetically appealing and functionally robust online store
Flexible Content Management
Content management is hassle-free as there is no need to be tied down with constrictive theme frameworks, rather it is possible to control the look and feel of the site
Built-In CRM
The built-in CRM database empowers the businesses to deliver a superior customer service, that too without the need of coding or configuration
Targeted E-Mail Marketing
With a reliable CRM database, it is easy to create a targeted recipient lists and deliver personalized e-mails to them, all in a few clicks
Built-In Modules For Advanced Functionalities
Advanced functionalities like blog and webapps can be easily implemented by the site, without plug-ins or server-side coding
Analytics And Reporting
The powerful reporting suite offers tracking tools which need no extra tracking code, but can be used to record every customer interaction with the store
Why Choose Orange Mantra For Adobe Business Catalyst
At Orange Mantra, we have the skills and expertise to provide complete e-commerce and digital marketing solutions. We serve as an excellent choice for Business Catalyst Design and development as we focus on building websites that personify creativity with functionality. There are more than one reasons that we stand apart as a service provider in this field.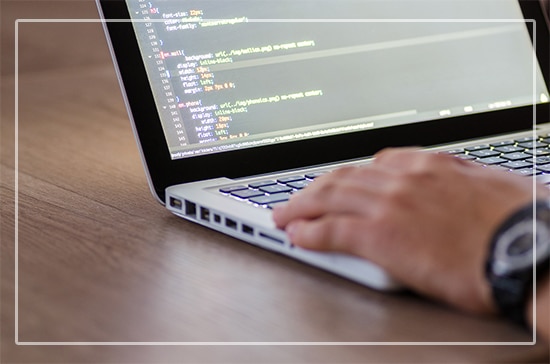 A highly qualified team of certified developers, designers, testers, and digital marketers

An impressive track record with a large number of successful projects and satisfied clients

Adherence to the best practices in the industry

A client-centric approach with round-the-clock availability for communication and support

Adoption and application of the latest technologies for creating unmatched solutions

Proven methodologies to deliver high-quality solutions within deadlines
Let's Build Amazing Websites For Your Business
Client's Testimonials
"Fantastic!!! The entire process was perfectly done, right from the start to finish. Orange Mantra is a true technology partner and has lived up to its reputation. We engaged them for an Adobe Business Catalyst solution on a friend's recommendation. Thanks, Vic for connecting us with OM. And thanks OM for such an awesome job!!"
–Monroe Mitchell
"There's not much I would say about the quality of services that Orange Mantra delivers…….their work says it all! They are a tremendous team with amazing skills and a flair for technology. I hired them for my AEM project and they did a great job at it. These are great at turning things around quickly, yet make sure that quality is not compromised at any stage. We are deeply appreciative of their effort and engagement."
–Vivian Hudson
"OM has turned out to be a great technology partner for my business. I have been taking their services for the last 5 years. They have developed high-quality mobile application and website for my business. The team has also been maintaining it with regular updates as and when needed. I trust them fully as they have always delivered the best solutions in time."
–Gerard Logan
"We partnered with Orange Mantra several years ago, and have found it to be the most amazing service provider. The team is thoroughly professional and the support they provide is unsurpassed. They simplify complex technical issues so that we can understand them and think of a solution together. They are responsiveness and knowledge is impeccable too. Every single interaction with Orange Mantra is a positive experience."
–Samantha Jacob
"Orange Mantra is truly a team of Shopify Ninjas who rock. They are the coolest professionals and treat us with utmost care, making sure that all our requirements are well looked after. They have won our lifelong trust and will be our partner all through our business life cycle."
– Ben Chandler
"Orange Mantra has given our business the Prestashop advantage by creating an absolutely wonderful e-store for us. And they do a stellar job at supporting and maintaining the store too. Great work, guys!!"
– Rachel Owen
"We hired Orange Mantra for Drupal custom development and they have done a fabulous job. A dedicated team that always delivers on time. Great work, guys!!"
– Louise Jansen
"We are impressed with team Orange Mantra's dedication and expertise. We handed them the responsibility of upgrading our online store from Magento 1 to 2 and they have done an amazing job, right within our budget and in time."
– Amarpreet Singh
"Till date, I have worked with several IT providers, but I have found the best partner in Orange Mantra. They developed our Magento business website and have done an awesome job at it. What a team…quick response and always available!!"
– Richard Anderson
test