Our teams are working remotely to meet your tech requirements promptly – Contact us Today !
Event management apps drastically change the way you plan, execute, and measure the success of an event. With a well-developed event app, you can sharply increase management efficiency for every single event. We build event apps that drive participant engagement. Our event apps also give deeper insights from every event via data analytics and dashboards.
With the right event planning app, you can create an immersive experience for attendees and the organizing team. A tech-driven approach also boosts your brand image as an organization or event planner. Choose the event app development company that suits your needs and let technology take care of your events.
Features for Event Planners / Managers

Event Creation
Create events with date, time, venue, and other details. You can also add details like the organizing team, sponsors, etc.

Event Calendar
You can create a calendar of events for all the upcoming events and get access to a calendar of past events.

Attendee Management 
From registration to visiting your event, you can manage attendee detail and check the status in real-time.

Event Insights 
Learn from every event to continuously improve your craft with data like the number of conversions, attendee engagement rate, and more.
Features for Event Attendees / Participants 

Event Detail
Eventgoers can get event detail like date, time, venue, and special attractions, etc., using the app.

Online Ticket Booking
Enable one-click ticket booking for all paid events and exhibitions. Enable booking via secure payment gateways.

Event Map
Let attendees find and reach the event venue without any hassle with an in-built app and navigation.
Social Media Sharing 
Event buffs love to share their experiences on social media. It's also great for the marketing of your event.
We Build Event Planning Apps For
Event Management Agencies
Independent Event Planners
Wedding Planners
Trade Show/Exhibition Organizers
Corporate Event Planners
Party Planners
Hotels & Conference Halls
Party Planners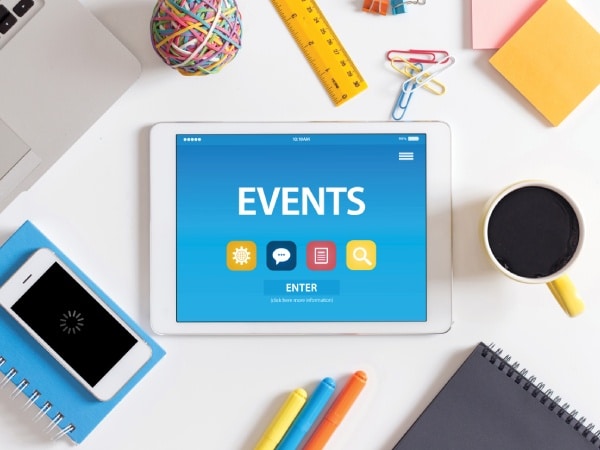 What Clients Say

OrangeMantra built an amazing app for our agency. We offer event management services in cities across India. The app changed the way we managed events and interacted with clients.
– Co-founder at an event management startup

We wanted to make our events more fun and interactive using technology. OrangeMantra's mobile app team helped us tremendously. Our corporates events have become more engaging, and our management efficiency has increased too.
– a reputed corporate event planner 
Frequently Asked Questions
You can build a personalized event planning/management app according to your specific need. OrangeMantra has an award-winning app development team to make a perfect event app for you at market-best pricing.
The Development cost for an event app mainly depends on your requirements. If you need a basic event app with limited requirements, the cost will lower. OrangeMantra offers feature-rich event apps at competitive pricing.
We build event management apps in the shortest development time possible. However, the time for developing a chat app depends on what kind of event app you need. Development time will be a bit longer if you need a feature-rich app with various cutting-edge technologies. We can rapidly build event apps as quickly as within two weeks.
Want to build a feature-rich app for your event management services?
test