Our teams are working remotely to meet your tech requirements promptly – Contact us Today !
Control Access to Your Data with Advanced Face Recognition Applications
Similar to fingerprint or eye recognition technologies, face recognition technology is an important tenet of machine learning that recognizes individuals by capturing their facial snapshots using an application or software system. In this advanced technological era, myriads of face recognition systems are being used to facilitate several industries, organizations, and individual clients with a high-end security system. Over the years, technology has set up new benchmarks in this digital era by inventing excellent applications, software systems, and machines. Protecting the privacy and managing the integrity of the system are the major concerns of every organization or individual clients. To prevent fake operations and unauthorized access, most of the companies, organizations, and industries are moving forward to implement the face detection technology for approving access. Using a face recognition application is a great way to establish lock/unlock security and preventing unauthorized access to your personal data in a technologically smart way.
As a top-notch face recognition app developer, we are committed to delivering state-of-the-art face recognition applications that come with a plethora of amazing features such as face recognition, face identification, face analysis, face detection, eye tracking, face and head tracking. Over the years, we have served various industries ranging from small start-ups to renowned multinational companies. We employ a perfect mélange of research, knowledge and expertise combined with bespoke app development services to provide our clients with the best-fit applications for their business purposes. We pride ourselves in delivering the most effective, superior-quality and user-friendly face applications to attain the highest level of satisfaction from our clients.
Build Face Recognition Apps Laden with Amazing Features
Our experts are the masters in developing feature-rich face recognition apps with superior security features to enhance your security paradigm.
Accurate User Authentication
Our technologically smart face recognition system captures apparent facial snapshots, detects faces at superior detection rate, and reverts highly authentic results to facilitate accurate face identification.
3D Face Recognition and Tracking
Unlike the traditional 2D face recognition systems, 3D face recognition delivers more accurate results to ensure high-end security and privacy. We develop highly consistent and feature-powered face recognition apps for our clients.
Superior Technology
We offer highly effective and consistent face recognition solutions to enhance your security paradigm by preventing fraudulent and unauthorized access.
Intelligent and Fast Face Scanning
The biometric technology performs smart and fast scanning and recognition of faces using watch lists in several live video streams. We build apps that deliver swift, smart and highly authoritative face scan results with the blink of an eye.
Face Features
Our unmatched facial recognition applications facilitate face analysis based on facial images. This enables you to easily uncover various face attributes such as age, gender, emotions, smile intensity, and more. With us, you will be assured of spectacular matching performance.
Iris Detection
This hi-tech biometric identification technology analyzes the video images of either one or both of the irises of an individual's eyes by employing distinctive face recognition techniques.
Multi-angle Face Scanning
Our high-end facial recognition app analyzes a wide range of angles and key spots while processing face recognition. It also supports a wide array of facial expressions and poses with superlative accuracy.
Easy integration
Our face recognition application is easy to install and setup on your device with minimal disruption. This application permits easy integration, in line with the existing programs on your device.
Discover the Amazing Uses of a Facial Recognition Application
Leverage the potentials of our face recognition solutions to augment your business reality ad security.
Industries We Serve

Hotels

Finance

Retail

Marketing

Entertainment
App Development Tools We Use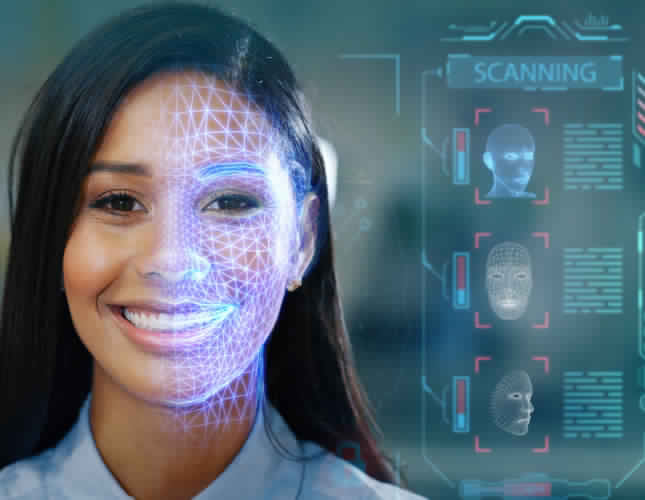 What Makes Us Different?
Advanced Knowledge and Expertise
We have successfully launched plenty of AI-driven projects for our cross-industry clients.
Adaptive & Custom Models
We offer flexible and custom models to build apps that meet all your business requirements.
Proprietary Technologies
We employ proprietary technologies to deliver unique and best-fit solutions for your business.
Premium Quality Outputs
We are committed to delivering superior quality products that will take your business to the next level.
test