Our teams are working remotely to meet your tech requirements promptly – Contact us Today !
STAY SECURE, STAY AHEAD
In today's interconnected environment, businesses are availing unmatched advantages of IT to boost their profitability and enhance their services. On the flip side, it exposes the information assets to cyber risks, with hackers constantly looking to steal, destroy and pilfer them. In this scenario, information security no longer remains a choice but becomes a necessity for organizations. Since these security risks are so critical for the business, their management requires an extensive level of governance.
We, at OrangeMantra, provide a tailored solution that secures your information assets based on parameters such as "Nature of Business" , "Risk Appetite" , and "Stakeholders Expectations". Utilizing this approach, we enable you to strike a balance between the investment and security controls to ensure that the risk stays within the permissible range and the business get an optimum Return on Investment (RoI) from their IT infrastructure.
SECURITY SERVICES OFFERINGS
Governance, Risk & Compliance
Governance, Risk & Compliance (GRC) encompasses the identification of security risks and compliance with the regulations for maintaining the right to do the business. A leading name in the field of Governance, Risk & Compliance consulting, we offer a combination of advisory services, tools, and methodologies to address the strategic and regulatory needs of enterprises across diverse industry verticals. These are designed to enable the organization to identify, understand, and manage the dynamic inter-relationship between risk and compliance and incorporate disciplinary practices into daily business activities. We bring automated GRC systems that are capable of proactively managing compliance for asserting effective control over the complex risk and compliance dynamics.
Our Governance, Risk & Compliance portfolio comprises of
Audit and Assessment Services : Assessment of the organization's Governance, Risk & Compliance capabilities by performing audits and assessments related to IT governance, Information Security, regulatory policy compliance, and third-party control
Governance and Risk Management Services : Setup and enhancement of IT governance and risk management processes with result-oriented strategies and implementation of effective operations, policy, and regulatory risk management processes
Data Privacy Services : Strengthening of security in a data-sensitive environment with measures such as impact assessments, Inventory and Data flow mapping, regulation analysis, privacy program implementation, and incident management
GRC Platform Implementation and Support Services : Enhancement of visibility with effective implementation, integration, and monitoring of the Governance, Risk & Compliance solution within the organization
Identity & Access Management
Another critical security concern for organizations relates to deployment of diverse applications that brings the possibilities of incompatible security models and absence of governance controls. This, in turn, elevates the risks of identity theft and unauthorized access to business-critical data and applications. As a result, there is a need to deploy robust access and governance controls that are capable of bringing down these risks. OrangeMantra offers reliable Identity and Access Management (IAM) services and solutions that drive customer growth without endangering the security. Our end-to-end IAM services include consulting, architecture, implementation, integration and operational services, that help in securing the business data, information, applications, and assets from both internal and external risks.
Identity & Access Management services at OrangeMantra comprise of
Access Management
Identity Lifecycle Management
Identity Governance
Privilege Identity Management
Strong Authentication
Infrastructure Security Management
Implementation of robust network security is no longer a choice for businesses as the current scenario bring challenges related to cloud service adoption, stringent IT governances and compliances, and continuously evolving threats. Additionally, they cannot simply afford to overlook the need for an infrastructure security layer as sensitive data is being increasingly disseminated within the infra and cloud environment. We, at OrangeMantra, bring a robust and multilayer secured perimeter that ensures unmatched security for business infrastructure and data resources. The Defend & Protect framework we have innovated helps organizations to build a strategy for protecting their data irrespective of the hosting environment, whether on-premises, in the cloud, or at third-party locations. Our security management systems are based on the principles of greater visibility, awareness, and protection.
Our infrastructure Security Management services comprise of these elements:
Data Security : Identification of the loopholes in the IT infrastructure security and implementation of point solutions to prevent data leakage or misuse
System and Platform Security : A comprehensive overview of the system and platform security to ensure complete protection against threats
Perimeter & Network Security : Resolution of the dynamic challenges to enhance the security of the elastic perimeters of the networking architecture
Cloud & Virtualization Security : Empowering the enterprises with robust and reliable cloud security of workloads and environment
Endpoint & End User Security : Ensuring end-user security by implementing tried and tested security measures
Security Incident and Event Management (SIEM): Real-time analysis of the IT environment to identify, monitor, and record incidents and events
BCP & DR Services
OrangeMantra brings a specialized Business Continuity and Disaster Recovery ( BCP/DR) solution suite, which is designed to facilitate operational continuity, enhanced system availability, industry-specific regulatory compliance, and integrated IT risk management. Our BCP/DR consulting framework comprises of greenfield implementation, review, and assessment, across the various stages of the BCP lifecycle. The delivery methodology consists of five phases including analysis, review, design, implementation, and finally, sustenance and support.
Our BCP/DR services we offer comprise of:
Assessment services : Current state evaluation, risk and threat assessment, DR solution review/design, policy and plan reviews, business impact analysis
Implementation services : Implementation of a customized disaster recovery and business continuity plan for swift post-interruption recovery
Audit services : Internal audits for BCP/DR adhering to SAS 70 and BS25999 standards, in addition to external audits support
IT and data continuity services : Assured maintenance of  IT continuity along with the post-disaster recovery of data
Hosted DR solutions : Flexibility for dedicated infrastructure at partner centers, comprising of:

Vaulting BCP consulting solutions
Management of virtualized environments
Media/tape management services

Managed DR solutions : Shared and dedicated delivery models (offshore, onsite, hybrid) for enhanced solution delivery, with-

Global compliance management services
Vendor management services
Technology management services
Profile/policy administration
Drill administration services
Our Competence
Making Compliance Simplified
PCI DSS
QMS
HIPAA
HITRUST
GDPR
ISO22301
ISO27001
ISO31000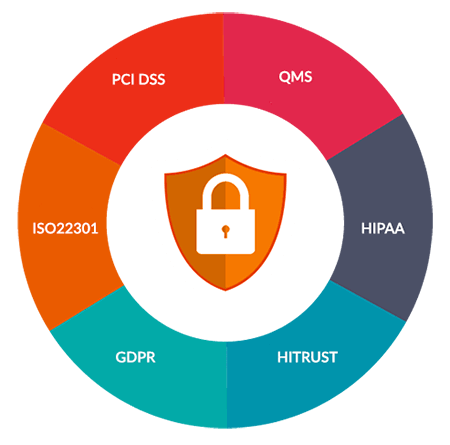 Looking For The Right Information Security And Compliance Solution?
test