Our teams are working remotely to meet your tech requirements promptly – Contact us Today !
Avail expertise in

Custom Website Designing

to craft an amazing online presence

Standing apart in the hyper-competitive scenario is essential for any business to make a mark and impress the customers. Leverage the power of custom design to make a statement about your brand. The websites we create blend unique design and fluid movement to present an appealing and user-friendly look and feel that will connect with your clients and engage them. The fact that we create tailored designs on time and within budget makes makes us a top web design company that you can rely on. Our process involves seasoned design professionals who are committed to keeping your unique requirements in mind while designing an online presence for your business. We focus on building sites that not only excel in aesthetics, but are custom-crafted to blend seamlessly with your brand and meet your goals first. Avail our web design services to craft an impressive online presence that attracts the potential buyers, retains the existing ones, and heighten the trust in your business.

Looking to build a elegant and sophisticated website that is designed to drive conversions?

Lets Talk
We've done custom website designing for reputed brands and budding startups
Over the years in the industry, we have emerged as a leading web design agency that is trusted by brands and startups alike. We excel in custom designing to ensure that the web presence of the clients is a replica of their brand's image. Check out the clients we have worked for!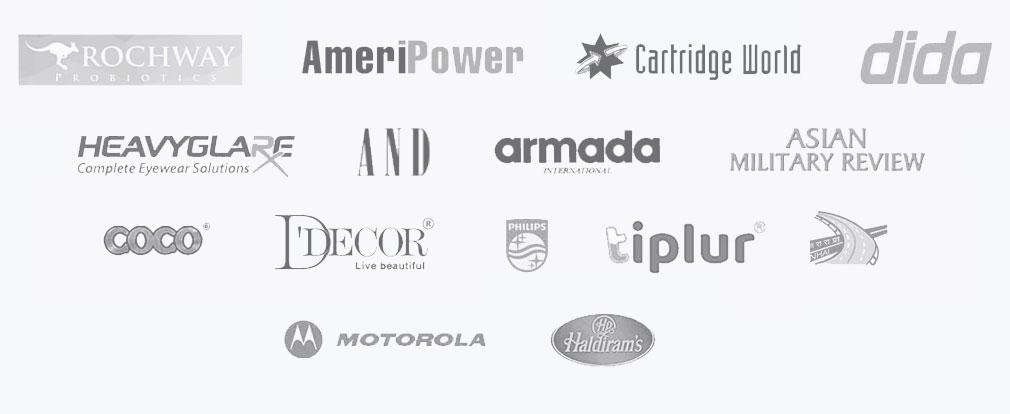 Our Web Design Expertise
We offer comprehensive website designing services to ensure that the entire needs of business are addressed at a single destination. Whether it is e-commerce stores, corporate websites, blogs, or landing pages, we create the most amazing ones.
Want to know more about the services we offer?
Contact us
Custom Web Design

We make sure that we understand the unique requirements of the clients and businesses before fabricating a website design for them. Every single website we design is tailored to match the expectations of your customers and match perfectly with your brand's image for the sake of consistency.

Responsive Web Design

Creating a responsive web design that blends aesthetics and functionality to deliver seamless experiences across a range of devices is our specialty. Our designs are sleek, eye-catching, and intuitive, in addition to fitting all screen sizes perfectly so that the users are impressed right at the first look.

Landing Page Design

Our team has seasoned landing page designers who are capable of crafting amazing landing pages. We ensure that the pages are visually appealing and have all the elements that are needed to make an impact on the customers and keep them engaged as well.

Copywriting

Beyond the look of the websites, we also work on the content. Our prime objective is to craft compelling stories with an effortless blend of content and imagery. At the same time, our expert copywriters make sure that the content complements your brand's tone of voice.
Our Approach To Website Designing
As a leading website designing company, we embrace an approach that prioritizes the client's needs and focuses on perfection in every element of design

Visual Appeal
UX emerges as one of the key factors to consider while designing a website. Primarily, the visual appeal of the site influences the user experience it delivers.

Compelling Storytelling
As stories are what sell products and brands in the current competitive market, we take the storytelling approach to website design.

Good Branding
While aesthetics are essential, they will not work singularly to make your website attractive for the customers. There is a need to establish a solid brand presence through design.

Focus on Performance
A website that is lightweight loads quickly and is smooth to navigate. Even though we create sites that are flawless and appealing to the eye, our focus while tailoring the designs is always on performance.

Mobile Responsiveness
Since mobile has become the preferred mode of accessing websites, no business can afford to miss on this platform. Further, Google ranking prioritizes sites that are mobile-compatible.

SEO-Friendliness
A website's design needs to align with search engine optimization strategies to extend its outreach and propel conversions. All our websites are tailored to be SEO-friendly from the core and rank high from the start.
Our Web Design Process
We adopt a tried-and-tested process methodology to create designs that cater to unique needs of diverse businesses






Want to know more about our web designing process?
Why Choose Us As Your Website Designing Partner?
Our years of experienced and a reputation of being a seasoned website designing company are only just two reasons to choose us as your design partner. There are many more that make us a name that you can trust!
User-focused design philosophy
We believe that websites should be created to match the expectations of the end users as they are the ones for whom it is built.
Story-driven approach
For us, a good design is the one that narrates stories to connect with the audience and drive them to convert.
Holistic solutions
We craft holistic website designs that extend beyond visually appealing sites and ensure seamless performance across all devices.
test