Our teams are working remotely to meet your tech requirements promptly – Contact us Today !
Making Cities Smarter With IoT Connectivity
As countries across the globe witness rapid urbanization, city administrations experience unprecedented pressure while managing public utilities and services infrastructure. Further, they have to accommodate the growing urban population in sustainably and efficiently. The best thing that city governments can do is harnessing next-gen technologies in the form of smart city solutions. OrangeMantra's smart city solutions are designed to empower city administrations with IoT connectivity so that they can deliver services to improve efficiencies, create safer neighborhoods, lower carbon emissions, and enhance the overall quality of life for citizens.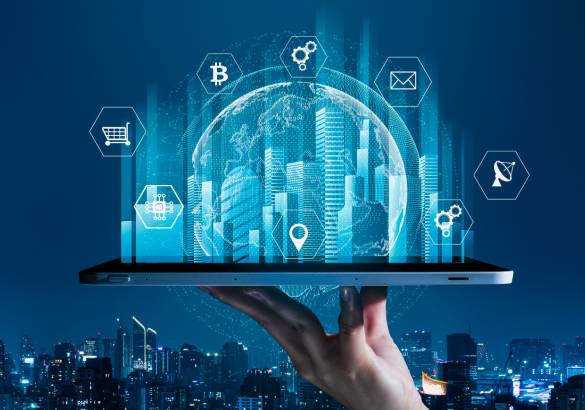 Address your biggest challenges
Unleash the potential of smart sensors and applications for easing congestion, mitigating crime, accelerating emergency response, and much more. Address your biggest public administration challenges, whether it is about safety, healthcare, environment or energy savings.
Lay the foundation for a better future
Get started with a proven anchor applications, such as smart street lighting, smart parking, smart waste management, and more to create a solid foundation for smart infrastructure for enabling a better future for your city and people.
Unlock value for community
With IoT-enabled sensors deployed across the city, you can fetch, fuse, and correlate vital statistics and data to unlock powerful and actionable insights that can help you in enhancing operations and long-term planning.
Smart City Solution Areas
Smart Buildings
Buildings in smart cities utilize automation with IoT and sensors to avail extensive benefits of the optimization of services such as ventilation, heating, and air conditioning (HVAC), while ensuring energy efficiency as well.
Smart Mobility
With smart mobility solutions, cities have electric vehicles, self-service bikes, carpooling networks, and smart public transport. Smart mobility takes a holistic approach with aspects such as smart parking and EV charging stations covered as well.
Smart Roads
Control sensors are used for monitoring traffic patterns and traffic jams. Additionally, smart technologies can identify the predictive deterioration of equipment like traffic lights and the environmental impact of traffic.
Smart Lighting
With lighting optimization through intelligent and weather-adaptive streetlights, smart cities can reduce the energy usage of its lighting systems by providing a requisite amount of lighting at the right time with efficient fixtures.
Smart Governance
Smart governance is all about empowering the public administration of cities with powerful data analytical capabilities to enable organized information management and provide easy access to services for the public.
Smart Asset Tracking
With smart asset tracking solutions, authorities can use state-of-the-art sensors to track and monitor key data from critical assets across location, temperature, movement, and voltage for increasing asset utilization and preventing loss or misuse.
Environmental Monitoring
Smart cities rely on environmental monitoring solutions to get visibility and control of the environmental conditions for the key facilities and assets and ensure the maintenance of optimal parameters to prevent environmental impact.
Citizen Safety
The smart citizen safety solutions empower the residents with wearable safety devices which are capable of tracking and recording user movement, issuing alerts when triggered, and delivering assistance when needed.
Benefits Of Smart City Solutions
Environmental impact
Reducing the carbon footprint is the main benefit delivered by the adoption of smart and sustainable technologies. This advantage is coupled with enhanced energy efficiency and storage, better waste management, and smoother traffic conditions.
---
Transportation
Efficient and hassle-free transportation of goods, services and people, makes lives easier for the community as a whole. Cities are embracing smart technologies by optimizing mobility, which enables them to reduce traffic congestion and simplify commutes.
Optimized utility management
Smart grids and water management systems are the key elements of smart cities. Optimal utility usage with smart energy consumption and water monitoring ensure the constant availability of energy and clean water across the entire city.
Security for everyome
Safety is top priority for all cities across the world. Smart cities empower administration to better monitor citizens via state-of-the-art CCTV cameras which are equipped with motion and smoke detectors, fire alarms, and even facial recognition.
Sustainability goals
With optimize energy and water usage, traffic congestion control, and effective waste management, it becomes possible for smart cities to achieve their sustainability goals with reduced operating costs and increased system uptime.
Connect and inform the public
Bridge the digital gap and address the information barriers with public wi-fi that can provide the residents, visitors and businesses instant and real-time information and updates about traffic, transit, and community news.
Frequently Asked Questions
To convert your city into a smart city, you will need a smart city solution that optimizes infrastructure and provides smart and responsive governance to engage citizens in the management of your city. This intelligent system of sensors, networks, and applications collects valuable data including traffic congestion, energy consumption, CO2 levels, etc. At Orange Mantra, we develop smart city solutions that are intended to empower city administrations with IoT connectivity so that they can deliver services to improve efficiencies and enhance the overall quality of life for citizens.
Smart cities use the Internet of Things (IoT) devices including connected lights, sensors, and meters to gather and analyze data which is then used to improve infrastructure, public utilities and services, and more.
Smart cities provide better use of space, cleaner air, less traffic, and more efficient civic services. All these altogether improve the quality of life. Additionally, smart cities offer more career and economic opportunities and stronger links with the community.
Building a smart, sustainable city requires a technology partner you can trust. We can help!
test