Drupal 10 finally got launched on December 14, 2022, and Drupal developers can't stay calm over its exciting features and releases.
Drupal is one of the most preferred and widely used open-source content management systems, which is now changing the way businesses and content creators use technology. The most integral aspect of Drupal's gaining popularity is its updates released by the community on regular basis.
The newest array of Drupal features is all set to make the platform more exciting for everyone. In this blog, we shall discuss all the vital information you need to know about the latest release for a smooth Drupal 9 to Drupal 10 migration.
Before getting started, if you want to jump directly on Drupal 10 development services from a well-renowned Drupal app development company, OrangeMantra can help. Connect with our experts for end-to-end assistance.
Let's get started!
A Brief Introduction to Drupal
Drupal is the most popular open-source content management system that helps build distinct types of websites. This CMS platform has achieved new heights of success, owing to the contributions of the Drupal community and subject matter expert group collaborations.
Apart from the developer's community support, Drupal features some calculated measures that allow the end-users to secure their websites and make them more user-friendly. Plus, some supreme benefits offered by this CMS include multilingual support, ease of integration, and compliance with WCAG (Web Content Accessibility Guidelines) guidelines.
Why Drupal Introduces New Versions Frequently?
The shortest answer is "Its amazing designs."
2011 marked the release of Drupal 7 and extended its official support until the next year. In 2015, Drupal 8 came out, which is no longer supported today. Drupal 9 in 2020 is all set to get replaced by Drupal 10. How? Let's understand it.
Drupal was entirely rearchitected in Drupal 8 development, with two crucial points relevant to the upgrade timelines.
Firstly, Drupal was designed for easy upgrades. Unlike Drupal 7 to Drupal 8 migration, site owners need not rebuild their websites to install the upgraded version. The new versions of Drupal are well-designed to stay backward compatible with previous versions. When Drupal 9 got released, developers were able to upgrade their client sites from Drupal 8 with minimal effort, and the same goes for Drupal 10.
Secondly, Drupal 8 development was rebuilt on the Symfony framework, which is an existing code base that allowed Drupal to build new features upon and around. Instead of maintaining a unique, built-from-scratch framework, developers can easily migrate to the next version. However, this dependency demands Drupal updated each time Symfony gets an update. For instance, when Symfony updated to version 6, a new version of Drupal got released to support it.
While Drupal 9 development had a relatively short lifespan, it is expected that Drupal 10 is here to stay for the next 3+ years. The Drupal 10 release is going to be the next major release after Drupal 9, and here is everything you need to know about this upgrade.
Drupal 10 features You Must Know
Here is the list of features introduced in Drupal 10.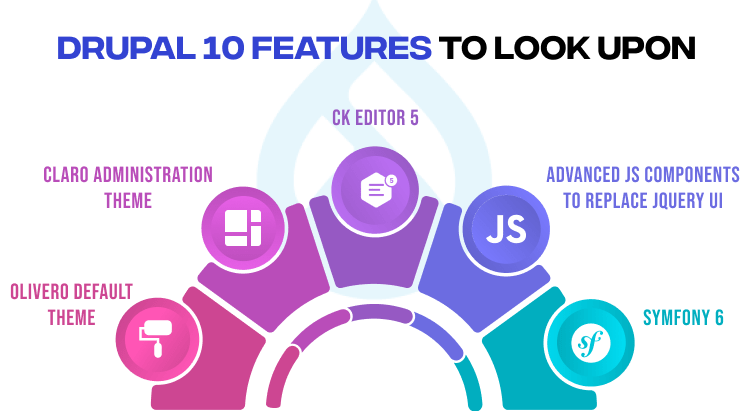 Olivero Default Theme
The Drupal upgrade is packed with the Olivero default theme, which is an improved theme playing a crucial role in deciding the visuals of your website. This Olivero project was in the development cycle for some time now, and it is also provided in Drupal 9 development.
The new Drupal 10 installation will create an impressive visual impact for new users than previous themes offered in Drupal core. Olivero also makes it relatively easy to quickly launch a minimal website or help developers look for a complete theme as a starting point for their custom themes.
With the Drupal 10 launch, developers can now stop creating themes based on the designs available for their websites. For headless projects, this Olivero theme can use the staged content in a well-structured manner before the final application consumes the entire content. Being a default theme will enhance the first impression of Drupal websites, but it is also the perfect tribute to the ex-community member Rachel Olivero.
Claro Administration Theme
The administrative and editorial experience is a crucial aspect of any Content Management System. For a long time, Drupal development services operated on a clean administrative theme – Seven. It worked well enough for most Drupal developers and users. It helps integrate new features provided by numerous contributed modules.
However, Drupal 7 doesn't blend well with the recent improvements made to the introduction of Modern JavaScript concepts. These improvements pushed the community members to develop a new administrative theme with a highly accessible user interface, which gives birth to the project "Claro."
Claro enhances the administrative experience and gives Drupal's editorial UI a modern feel. At the same time, it preserves the core of Drupal CMS to help experienced users streamline their processes. With Drupal 10, Claro can now become the default admin theme and receive updates bundled with Drupal core releases.
CKEditor 5
CKEditor 5 has been around for some time now. It was entirely rebuilt to leverage the developments in how a JavaScript application can get developed. Most of the frameworks and CMS prefer adopting it to provide the best available editorial experience in managing text data in an app.
This initiative to integrate CKEditor 5 with Drupal has been highly successful, and therefore, Drupal 10 becomes irreplaceable using CKEditor 5. Many developers contributed CKEditor plugins on Drupal.org, which have been upgraded and are now compatible with CK5.
Advanced JS Components to Replace jQuery UI
Many developers in the JavaScript community have started relying more on ES6 standards. They also prefer using vanilla JS more than jQuery for tasks related to DOM manipulation or sending an AJAX request. There are numerous reasons for this, including the jQuery API, which is a part of the browser functionality. Also, the constant dependency on advanced frameworks like React and Vue.js for application development becomes evident.
Many Drupal developers observed this segment, and it has been reported that the existing UI will replace with better and more streamlined JS components. To meet the ever-evolving requirements of users and content creators, advanced JS components get finally replaced with jQuery UI.
Symfony 6
Drupal 10 will now use Symfony 6, and PHP 8.1 will act as the minimum supported version. It will help ensure all the improvements done at the backend processing level are part of the Drupal projects upgraded in Drupal 10. Symfony 6 offers improved routing, services, locales, multilingual aspects, and more. Also, most of these features get incorporated into Drupal development services.
Upgrade to Drupal 10 Today
The new Drupal 10 release will affect your website or not, that depends on where you are today.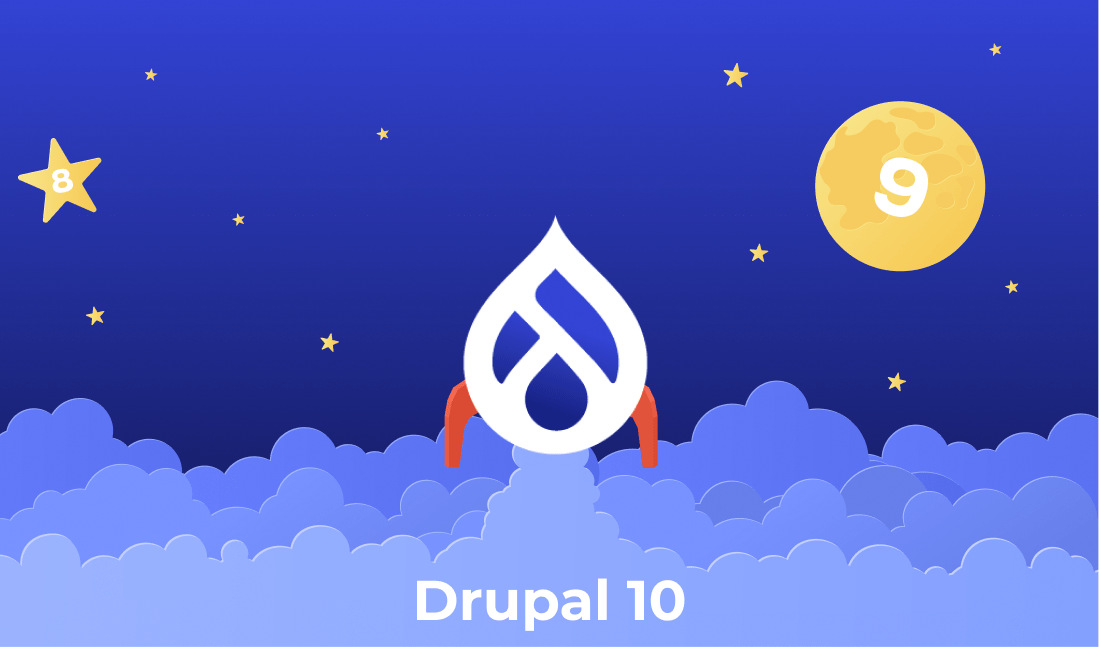 If you're running a Drupal 7 website, it's high time to plan a major upgrade. Its time intensive and costly, but you've got many years out of your website to make it worth the investment. Although Drupal 7 has continued to receive extensions to its life, there's very little advantage to continuing such an old version.
Also, if you're on Drupal 8 development, your version of Drupal will lack assistance. The good news is that the upgrade path isn't hard, from Drupal 8 to 9 to 10. Most of the migration work involves verifying and updating modules as required. Also, any custom features or custom modules in use require migration. You might also like to explore options like a headless CMS solution for your business.
If you're planning to upgrade your website to Drupal 10, we can help. Hire Drupal developers or connect with our experts to know more.
FAQs
1. What is new in Drupal 10?
Olivero default theme will now replace Bartik
Introduction to CKEditor 5 with enhanced authoring experience will replace CKEditor 4.
Modern JavaScript components will replace some uses of jQuery
Theme Starterkit tools will help create bespoke themes
2. Is Drupal 10 stable?
The automatic updates contributed project is extremely stable, allowing you to apply patch-level core updates to your Drupal website.
3. What are the key features of Drupal?
Versatility
Architected for an enhanced mobile experience
Great multilingual support
Powerful taxonomy and menu structures
Workflow and content moderation
Decoupled Drupal for multichannel experiences
Drupal is unique