Technology is dynamic and keeps on changing at regular intervals. And so do the way we live and work. It implies that with changing technology, businesses require on-demand technical staff and the requirement is increasing year after year.
So, how can businesses get the right technical talent to embrace new technical changes?
IT staff augmentation plays a pivotal role in the current urge to hire talent and retain. With the rising hiring cost prevailing these days, augmenting staff temporarily is a viable option.
As per the facts, around 37% of the employers relied on staff augmentation services in 2018. The ratio is expected to reach 57% by the end of 2022. Hence, enterprises looking for highly skilled workers rely more on contractual hiring i.e., IT staff augmentation external hiring model.
By using this blog as your information medium, know-how exactly staff augmentation helps you save on hiring costs & retain talent for a long.
Prevailing Issue of Rising Recruitment Cost
You all know that there are plenty of costs involved in recruiting a technical resource at each step of the hiring process. Starting from job posting, ad creation, and advertising, to publishing. Even listing particular resource requirements involve a substantial cost.
Additionally, there are other recruitment expenses involved like onboarding, paying salary, software training, psychometrics, and more.
Wait…full-time recruitment expenditures do not end here. There are some hidden costs involved too while maintaining the resource.
However, with IT staff augmentation external hiring, attain the flexibility to reduce 50% of the above expenditures. And that is specifically at times of needing temporary and on-demand resources for a particular project in between. With this hiring model, you can bridge your technical skill gap in a short period. Connect with a reliable staff augmentation company to state your requirements and get resources ready to join your team temporarily.
Comprehending IT Staff Augmentation Services
The augmented or the IT contract staffing model is simple and cost-effective. It is an addition of a new or higher skill to your existing in-house team on a short-term or long-term basis. You find the need to hire a specialized skillset due to an upgrade in technology and missing resources in the current team.
Clearly speaking, you could possibly do the full-time hiring. But what if the technology becomes obsolete? In that case, you have to bear the full-time employee expenditures.
However, resource availed from the staff augmentation model is hired on a contract basis. You desire to acquire a specialized technical skill for an ongoing or a new project in particular. Thus, you only cover up the skill gap for the time being, and that too in an expensive manner.
Also Read: A Short Guide On Staff Augmentation To Extend Your Team
How Does Staff Augmentation Lower Recruitment Expenses?
Now come to the relevant part of this piece which is how staff augmentation lowers the hiring cost. To understand the same, look at the following few key points.
No cost is involved in resource training.
The augmented staff or the team provided by an external partner is hired based on an upscale level of skills and expertise. There is hardly any scenario of providing your industry-level training to the contractual staff.
However, minor virtual onboarding and a little brief of your process are more than enough to be on the same page. Thus, strong augmented resources would not require any technical training. That means you need not spend extra on training and travel cost.
Continued operations on a limited budget.
Enterprises always have an emergency continuation operational plan to continue the work process during seasonal or unexpected fluctuations. Just like in the post-Covid-19 scenario, where companies had no resort but to operate remotely and cut down unnecessary costs.
Now, it's more than 2-year since the pandemic, and several organizations are finding it flexible to operate remotely. Concerning the same, hiring an augmented team further assist in spending less and earning more. It allows not to shell out extensive expenditures on in-house infrastructure, rents, maintenance, and insurance. Basically, the operational costs get virtually distributed with the combination of remote augmentation & limited in-house staff.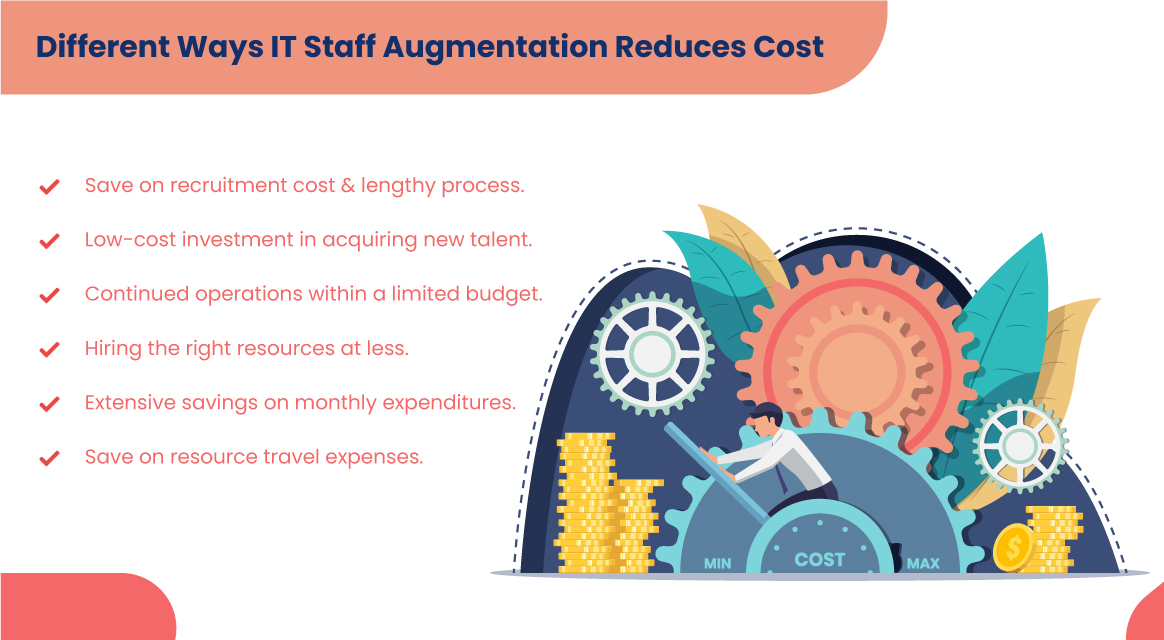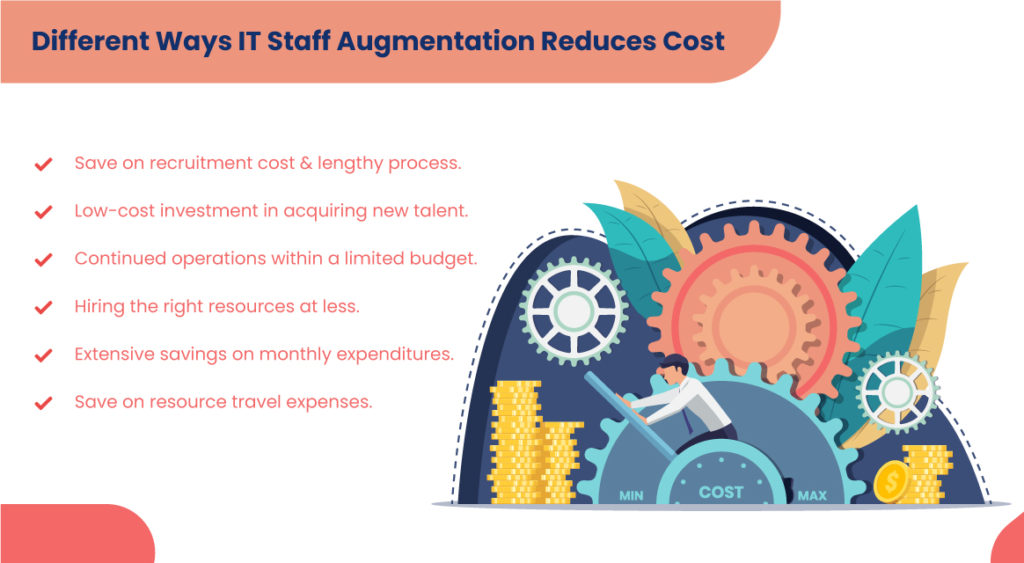 Hire the right skillset at a lower cost
IT staff augmentation provides you the flexibility of remote hiring. It allows you to continue to follow the remote working strategy while investing less and producing more work. Additionally, augmentation helps you expand the talent pool working from any demographic. Yet providing innovative skillset, development assistance, and room to grow more.
Undoubtedly, with a bigger and expanded talent pool, there is a greater good for experiencing enhanced productivity. And so is the abundance of innovation and scaling up development projects.
Extensive savings on monthly expenses
Most importantly, office maintenance is an expensive affair. Running a full-fledged office floor or building demands an extended set of expenditures. It could be spending on rent, furniture, stationery, IT infrastructure, parking, utilities, and much more. The expansive list is sure to burn a hole in your pocket along with the additional burden of hiring respective talents for the projects.
At least, hiring is the avenue where you can save an exponential set of money. Again, staff augmentation service can save your overhead expenditures. On top of that, create BYOD (bring your own device) concept among augmented employees who bring their own system. Also, the least you can spend is paying for internet charges and mobile bills of the augmented members.
Benefits of Staff Augmentation Contributing to Business Growth
Staff augmentation offers a variety of benefits to the organization that is as follows:
Improve business scalability
With staff augmentation, you can easily scale up your capacity to work on more projects. By accessing on-demand, cost-effective, and high-end resources, you will not say no to diverse customer requirements. Thus, it will help diversify your product and service offerings to a wide range of clients.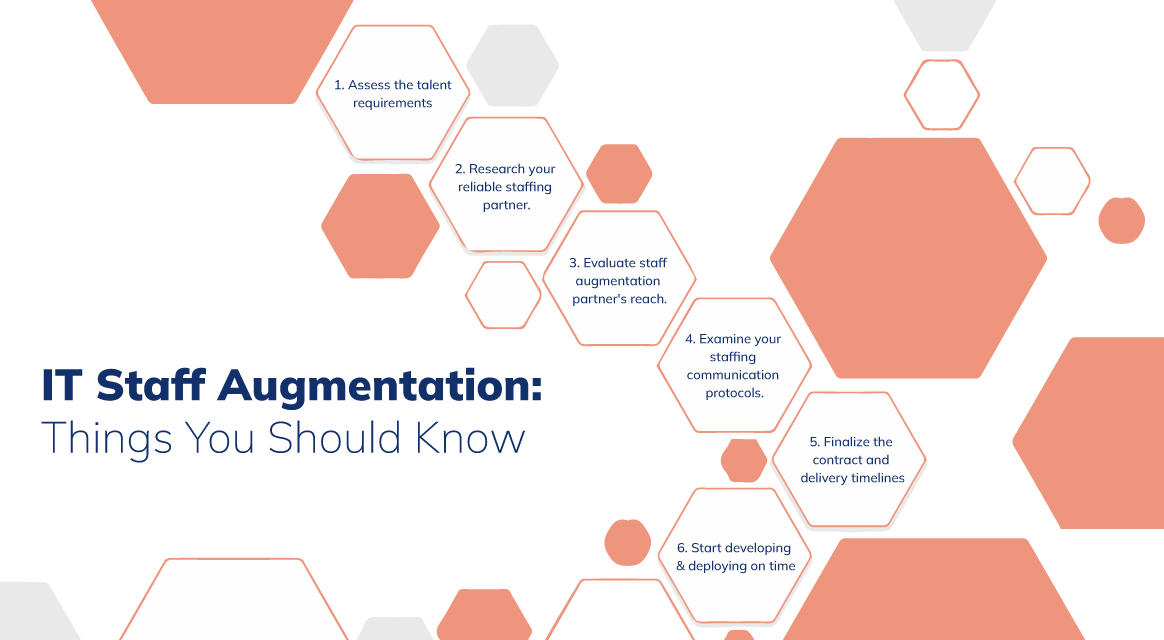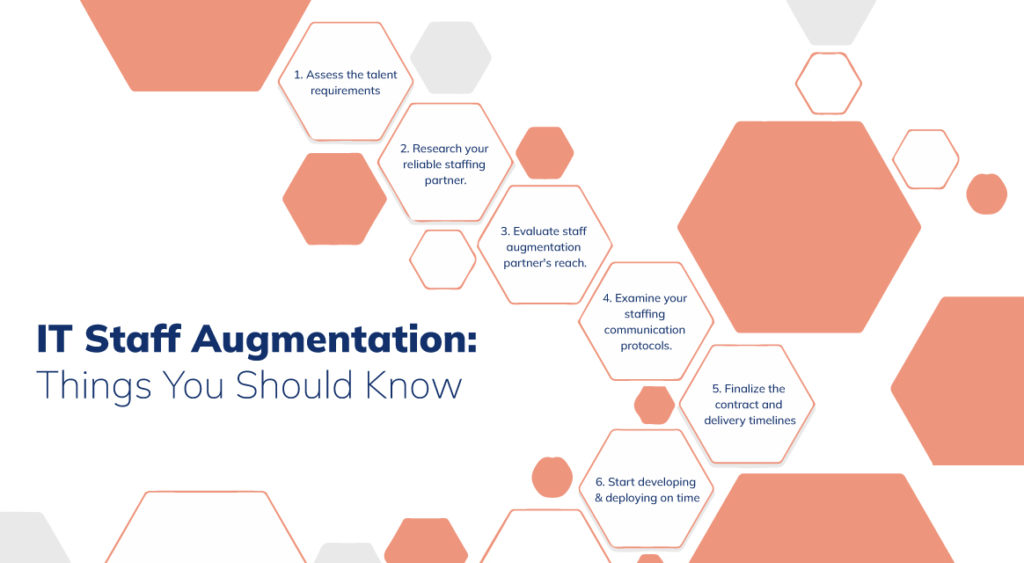 Access to high-end resources
Augmenting your staffing requirements is further beneficial in terms of accelerating the speed of software development projects. You can focus on hiring particularly skilled resources to fulfill the lack of expertise in the team. Hence, it allows you to venture into a new software development category while having the required resource to boost the overall ROI.
Flexibility to scale & down
Sometimes your project requires a minimal timeline to complete. In that case, there is no point in hiring a permanent resource that you ask him to leave after the completion. To deal with the issue, staff augmentation offers the flexibility to expand or contract your team according to the project requirement.
How OrangeMantra can be your Potential Staff Augmentation Partner?
With more than two decades of being an IT leader in the industry, OrangeMantra knows how to provide you with the required staff at the right time. We already have an extensive range of delightful clients and successful projects in our arsenal. Additionally, we provide an upscale level of skillset and resources to meet your project requirements.
Frequently Asked Questions
How staff augmentation improves business?
In a way, staff augmentation helps businesses meet the skill gap and hire the required talent when needed the most. Thus, it accelerates the software development project to meet the timeline and improves business productivity. Additionally, the external hiring service enriches the capacity of an organization to take up new projects and complete the same efficiently.
What is the purpose of staff augmentation service?
The key purpose of staff augmentation service is to meet urgent and unexpected resource requirements. Any enterprise facing the current resource crises due to the absence of an employee or vacant position can best rely on IT contract staffing. This service allows hiring the required resource instantly, temporarily, and cost-effectively.
How does staff augmentation work?
Staff augmentation services work in a simplistic manner. As an organization, you raise the request of a particular technical resource. After that connect with one of the leading IT staff augmentation companies in India to hire resources instantly and start working on the project.